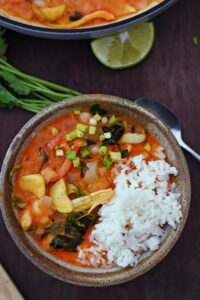 If you need a quick night dinner that's cozy and comforting and packed full of deep fragrant flavors this Vegetarian Thai Red Curry is the dish for you! We all need meals during the week that we can make in less than 30 minutes, and surprisingly with all the flavor that curry has, it doesn't take long to throw it together. What is curry?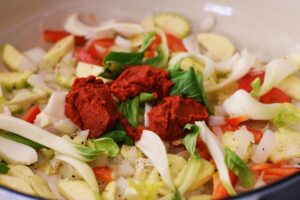 Maybe you haven't had curry. I understand, we ate very traditional dishes growing up and I hadn't even tried curry until my teen years, but I feel in love with this sweet, salty and spicy dish and I hope you will too!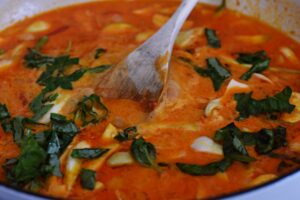 Curry is a blend of spices that we use to make a "curry" dish. Curry powder and curry paste are different and used differently. The spices in curry powder are a blend of coriander, turmeric, ginger, fenugreek, and red pepper. This is the powder you can find in the spice aisle of your grocery store. I use this powdered spice to sprinkle on dishes to add a bit of a curry flavor. You can sprinkle curry powder on poultry, vegetables, potatoes, etc.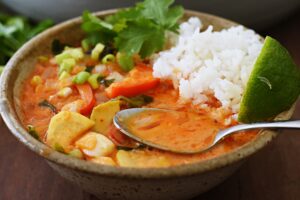 The spice I most often use is curry paste. Its made up of red chili pepper, garlic, lemongrass, Thai ginger, lime, and some other spices. This is the paste I use to make Thai red curry. This curry paste is mild and fragrant and has a wonderful flavor! It is most often found in a small glass jar in the international food aisle of the grocery store. This paste makes this curry dish fast and easy to make!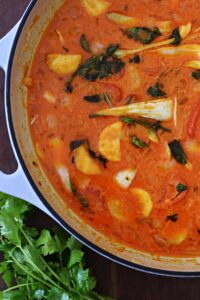 How to make Vegetarian Thai Red Curry
With the convenience of curry paste, this dish is quick and easy to make!
I start with sauteing onion, red bell pepper, and zucchini in coconut oil. Add garlic and ginger and saute for a couple more minutes. Spoon in 3 tablespoons of curry paste and saute a couple of minutes more. It may seem like a lot of curry paste, but it's not! Stir in a can of full-fat coconut milk. Add some seasonings and wal-ah, it's ready and oh so good! You can serve it up with some jasmine rice (like I have pictured) or rice noodles. Both are a delicious choice!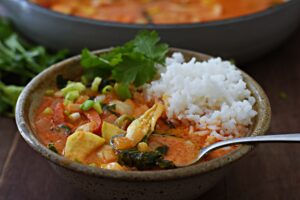 Make it your own!
You can make this dish your own by adding whichever vegetables you like! I like to use up what I have on hand. Some other options are:
carrots
broccoli
cauliflower
asparagus
mushrooms
chickpeas
kale
spinach
poultry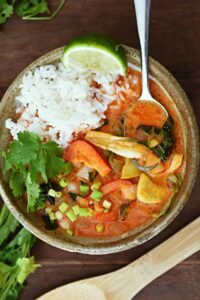 You can top with:
Lime
Red or green chilies for spiciness
green onions
cilantro
Thai basil
 Sprouts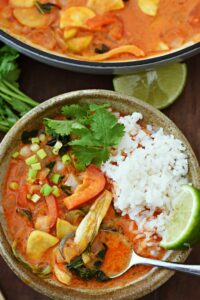 I hope you try and love this dish!
For other quick dinner, ideas try Brown Butter and Sage Pasta!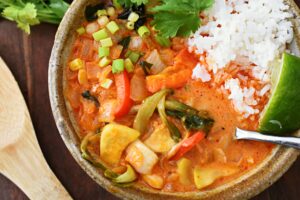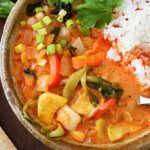 Print Recipe
Vegetarian Thai Red Curry
This Thai red curry dish is big on flavor and little on time! It's a delicious quick and easy dinner option
Ingredients
1-2

tablespoon

refined coconut oil

3

garlic cloves

grated

1

inch

fresh ginger

grated

1

medium

onion

diced

1

medium

zucchini

sliced and halved

1-2

bunches

baby bok choy

¼

cup

basil leaves

roughly chopped (use regular or Thai basil)

½

red bell pepper

cut in stripes

3

tablespoon

red curry paste

1

can

full-fat coconut milk

1

tablespoon

brown sugar

1-½

teaspoon

pink salt or sea salt

½

teaspoon

pepper

juice of a half of lime

top with chopped cilantro, lime wedges, fresh sliced chilies.

optional
Instructions
In a medium-size skillet or cast iron casserole skillet melt coconut oil.

Add in diced onion, red bell pepper, and zucchini and saute over medium heat until vegetables are tender and onions translucent.

Pull leaves off bok choy and stir fry a couple of minutes.

Add in grated ginger and garlic and saute a couple more minutes.

Stir in 3 tablespoons of red curry paste and saute 2-3 minutes.

Stir in the can of coconut milk.

Stir in chopped basil, brown sugar, salt, pepper, and lime juice. Taste and add more sweetness or salt if desired.

Top with desired toppings and serve with jasmine rice or rice noodles!
Notes
For the casserole skillet, I love and use in this dish check it out here!
You can get the red curry paste I use here.
For easy fluffy jasmine, rice recipe check out my recipe here
Check out the post above for other veggies and topping you can use in this recipe!