Who can resist these bite-size lightly sweet cookies that I call pecan snowball cookies? These delicious cookies are also known as Italian wedding cookies are light, sweet, and they are perfect to have around over the Christmas Holiday! I've made these cookies dairy-free and with coconut oil instead of butter.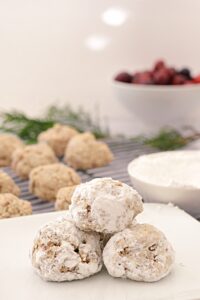 You can't beat that they look like little snowballs, they look perfect on a Christmas Cookie Spread!
Does anyone notice an insane amount of butter being used over the holidays? The average number of calories eaten at a holiday meal is 3,000! I wouldn't be surprised if a lot of that is in butter! When I decided to make these cookies I wanted to eliminate the butter. I wanted to make your holiday a little healthier!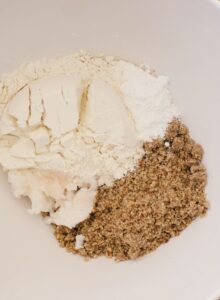 Making the perfect pecan snowball cookie
I wanted to make these snowball cookies butter-free and with coconut oil. Coconut oil has a lot of health benefits including:
Aids in weight loss
Boosts metabolism
Help treat Alzheimer's disease
Helps heal candida
Provides energy
Anti-fungal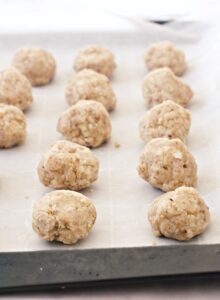 On my first try, they tasted absolutely delicious but they flattened out like a regular cookie. I was so disappointed! I didn't want to give up so I tried again only by setting the dough in the freezer for 10 minutes. That did it, they turned out perfect! Chilling the dough was the key when using coconut oil!
Some other tips in making these little beauties are:
Grind the nuts until they are fine. Don't over-grind them. Make sure to pulse them until you get the consistency you want. If you grind them too much you will start to release the oils in the nut and you could end up with nut butter.
Make sure the dough isn't really wet. This dough will seem dry, but just mix it until it comes together. I got in there with my hands and worked it until I had a nice dough ball.
Lastly, as I said above, chill this dough. I chilled in the freezer for 10 minutes, but you could also chill in the fridge.
You can use a tablespoon or melon baller to scoop these out so they will come out the same size.
Dust these with powdered sugar while they are still warm, then again when they cool to get a nice coat of powdered sugar on them!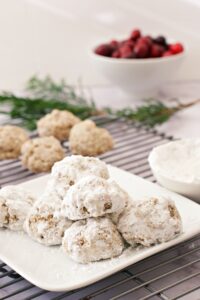 Can I use a different kind of nut?
Yes! I love these made with pecans but you can also use almonds or walnuts or a mix of these nuts! If you have hazelnuts on hand they will also work well.  Other nuts like cashews or pistachios would not work well. If you stick with pecans, walnuts, or almonds they will turn out great.
I love to add vanilla and almond extract to these cookies. The almond extract adds a great touch and makes them Christmasy!
How to store these cookies
These cookies can sit at room temperature covered or in a container for several days, even up to a week. I have read these cookies can also be frozen although I have no experience with this because they only last a couple of days in our house!
For other Christmas cookies, check out some of my favorites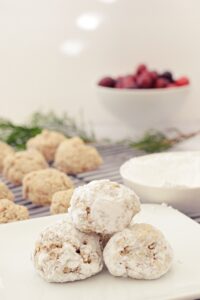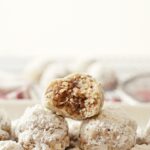 Print Recipe
Pecan Snowball Cookies
This lightly sweet melt-in-your-mouth Holiday cookie is made dairy-free baked perfectly and rolled in powdered sugar!
Ingredients
1

cup

pecans

ground fine

⅓

cup

refined coconut oil

soft not melted

¼

cup

powdered sugar

⅛

teaspoon

salt

1

cup

unbleached flour

3

tablespoon

plant-based milk

I use coconut milk

1

teaspoon

vanilla extract

1

teaspoon

almond extract

½

cup

powdered sugar

for rolling
Instructions
Preheat oven to 325 and line a cookie sheet parchment paper. Pour ½ cup powdered sugar on a plate for rolling cookies in after baking and set aside.

Put pecans in a Nutri-Bullet or other grinder and pulse quickly. Don't over-grind or you will end up with nut butter.

Pour pecans into a medium bowl and mix with coconut oil, milk, salt, powdered sugar, and extracts.

Mix in flour. The mix may seem a little dry. It works well to mix up with your hand and form a ball with the dough.

Cover and chill the dough in the freezer for 10-15 minutes or if you want to use dough at a later time you can refrigerate for several hours.

Remove dough and with a melon baller or teaspoon, spoon out even size amounts of the dough and roll with your hands into a ball. They shouldn't spread so you won't need large spaces in between them.

Bake at 325 for 12-15 minutes or until the bottoms are lightly brown.

Remove from the oven and let cool for a couple of minutes. While they are still warm roll them in powdered sugar. Roll them again when they are cool.
Notes
I blend these nuts with a Nutri-Bullet. I use this blender daily! Buy one here!