Its the time of year for Christmas parties and Christmas cookies! So many of my recipes include coconut, but yet here I am again with another mouth-watering cookie recipe with coconut! These Christmas coconut macaroons are rich, sweet, and they only have 5 ingredients!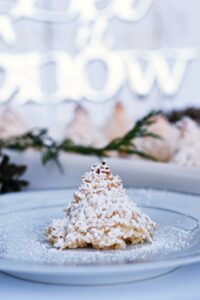 We can always find ingredient heavy recipes, but I have to admit its nice when you can just whip up a handful of ingredients and make something as beautiful and delicious as these.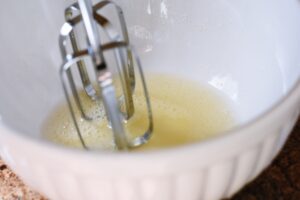 Making Christmas Coconut Macaroons
Making these macaroons aren't hard, but you will need to follow each step to ensure they come out correctly.  You want to be able to form them into these cute little Christmas trees!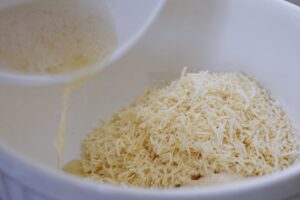 First, you may be wondering what is aquafaba? Aquafaba is simply the liquid off of a can of chickpeas. Surprisingly it whips up with a similar texture as egg whites and can be used to replace them. You will just need to whisk or mix it for a couple of minutes to make it light and frothy.  I recently made a chocolate mousse with aquafaba as the thickener and it came out great! It's a great plant-based replacement that works well! However, if you would like to use egg whites in this recipe you can!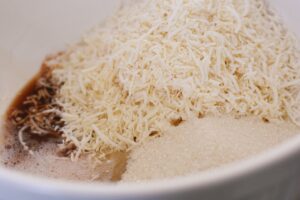 The other ingredients in this recipe are unsweetened coconut, sugar, lots of vanilla, and a touch of salt.
I like to use unsweetened coconut to avoid adding any extra sugar to this recipe. Coconut macaroons are very rich and sweet and they don't need the extra sugar.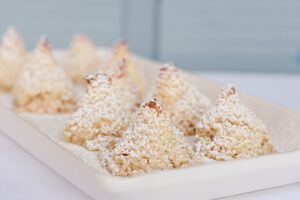 Things to expect
After I mix up all the ingredients, I place them all in a blender or a Nutri-Bullet. I blend the ingredients for about 20-30 seconds. Don't skip this step! If you decide to skip this step it will be to difficult to form them into the Christmas tree shape!
When the Christmas Coconut macaroons are cooking you will notice wetness bubbling around them. That's ok. The cookies will stay in the Christmas tree shape! When you remove them from the oven let them cool completely, then cut any excess that bubbled out around them. Remove them from the parchment paper with a metal spatula and place gently on a plate.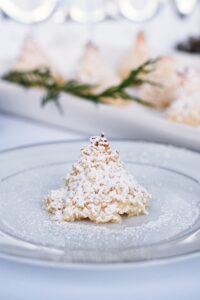 To add chocolate or not add chocolate
These cookies are delicate. I have melted chocolate and dipped the bottoms into the melted chocolate. This does help hold the cookies in place. If you decide to dip the bottoms in melted chocolate make sure to transfer them back onto parchment paper to dry!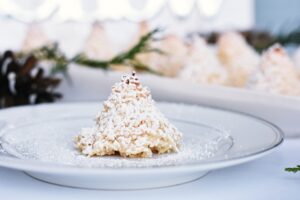 If you need more Christmas cookie ideas, check out these snowball cookies!
This recipe is adapted from Martha Stewart.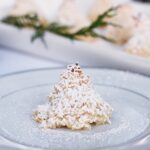 Print Recipe
Christmas Coconut Macaroons
These Christmas coconut macaroons are rich, sweet, and they only have 5 ingredients! They are the perfect vegan Christmas cookie!
Ingredients
2 ½

cups

unsweetened shredded coconut.

4

tablespoon

aquafaba whipped for 2 minutes

also could use 2 whipped egg whites

4

teaspoon

vanilla extract

⅛

teaspoon

Pink Salt

½

cup

granulated sugar
Instructions
Pre-heat oven to 350 and line a cookie sheet with parchment paper.

In a small bowl measure in aquafaba (chickpea liquid) and mix with a hand mixer or vigorously whisk for 2 minutes, set aside. (or egg whites if you prefer)

In a medium bowl measure in coconut, sugar, vanilla, and salt. Pour in aquafaba and mix all ingredients well with a wooden spoon.

Pour all the ingredients in a Nutri-Bullet or blender and blend for a few seconds until all ingredients come together.

Form a couple of tablespoons of mixture at a time into Christmas tree shapes and place on parchment paper prepared cookie sheet.

Bake 10-15 minutes or until firm and lightly brown.

Remove from the oven and let cool completely before removing. (you may need to cut around them with a knife to remove them from any liquid that bubbled out and hardened)

If you would like you can sprinkle the trees with powdered sugar to resemble snow. You can also dip bottoms in melted chocolate! (see above post)