Do you drink eggnog? This cozy drink can be pretty unhealthy. I was at the store checking out some popular eggnog brands. It was shocking what was in them!  I'm going to give you a rundown of the horrible ingredients in most store-bought eggnog and show you how this eggless eggnog is healthy and delicious!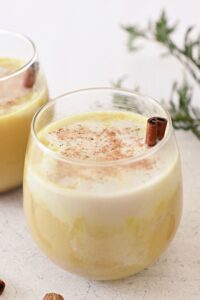 What's in store-bought eggnog?
I was shocked to see such awful ingredients in this favorite Holiday drink. Here is a rundown of some ingredients I saw:
High fructose corn syrup- Sugar is the #1 cause of obesity. You always want to avoid high fructose corn syrup in foods. It can cause cancer, diabetes, high blood pressure, leaky gut, and heart disease!
Carrageenan- Yes, this food additive is derived from seaweeds, but after it goes through processing it becomes inflammatory, gastrointestinal issues, and birth defects! It can even cause a suppressed immune system and has cancer-promoting effects.
Artificial flavors- Artificial flavors are a horrible ingredient! Up to 1300 ingredients can make up "artificial flavors". The effects of this can be nausea, headaches, dizziness, hyperactivity, kidney damage, and even cancer!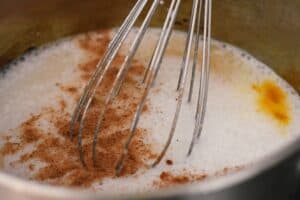 How to make healthy eggless eggnog
You can make your own healthy eggnog in just minutes!
Thickening your eggnog
I noticed a lot of people like to thicken their homemade eggnog with banana, but I don't personally love bananas so I choose to thicken my eggless eggnog with non- GMO corn starch! The cornstarch thickened it up perfectly!  The thickness resembles classic eggnog which gets its thickness from egg yolks and heavy cream. Another way that could work well to thicken eggnog is soaked cashews. If you decide to use this method, soak cashews for about 20 minutes in hot water and blend in your choice of milk.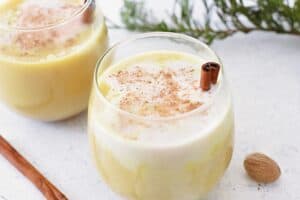 Flavoring your eggless eggnog
We don't need artificial flavors and high fructose corn syrup to flavor our eggnog! I use real spices with real benefits. Spices like cinnamon, nutmeg, a touch of clove, and vanilla are the perfect combination for this delicious drink! I also add a touch of turmeric for color and add sweetness with maple syrup. You could sub honey or your favorite natural sweetener! Top this cozy drink with a dollop of coconut or regular whipped cream and a sprinkle of nutmeg!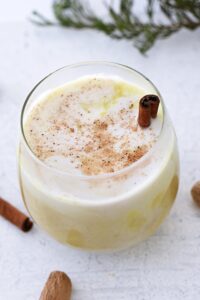 Merry Christmas!
For more traditional drinks made healthy, check out this Pumpkin Spice Latte!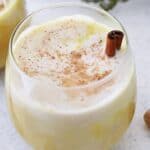 Print Recipe
Eggless Eggnog
A thick and creamy eggless eggnog that is perfect for the Holidays!
Ingredients
3

cups

unsweetened milk of choice

I use coconut milk

1

tablespoon

cornstarch

I use non-GMO

2 ½

tablespoon

maple syrup

or more for taste

½

teaspoon

cinnamon

¼

teaspoon

nutmeg

⅛

teaspoon

both clove and salt

I use salt because I make my coconut milk and it has less sodium

⅛

teaspoon

turmeric

for color

coconut cream for whipped cream

optional
Instructions
In a medium saucepan pour in 3 cups of milk.

Before turning on the heat whisk in 1 tablespoon of cornstarch until it's fully incorporated with no chunks.

Turn the heat on medium and bring to a boil, then reduce heat so the milk is at a simmer.

Continue to simmer for 5 minutes or until the mix starts to slightly thicken.

Whisk in the remaining ingredients (spices, vanilla, and maple syrup).

Top with a dollop of coconut whipped cream(or regular if desired) and a sprinkle of nutmeg.
Notes
Get my coconut whipped cream recipe in this recipe.
For other options for thickening see options in the post!