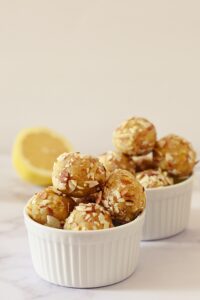 Did you know that protein is an important part of obtaining optimal health? Most of us are on a journey to be healthier. For some of us, that means weight loss or fighting inflammation in our bodies. For others, it may be battling a disease or taking care of our muscles and bones as we age. Whatever our journey, everyone strives toward looking and feeling their best. Protein is an important part of this journey as it allows our bodies to grow function properly. Foods like these lemon protein balls are a fun way to get in some extra protein on the go!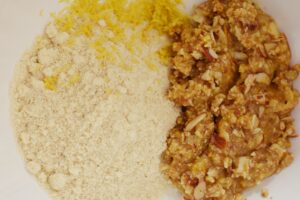 Making Lemon Protein Balls takes minutes!
I'm not sure about anyone else, but somehow our schedules seem to get busier and busier. Will the busyness it's tempting to grab processed snacks from the grocery store. Sure, we all do that from time to time, but if you could make a protein snack in under 10 minutes wouldn't you do it? Making things at home eliminates high sugar, and low quality processed ingredients. These lemon protein balls only have a handful of ingredients and they are worth the little bit of time to get a quality source of protein! If you have ever made your own snacks to go (like this simple trail mix) you know you just feel better after you eat them! It matters what we put in our bodies if we want to have energy, and feel good!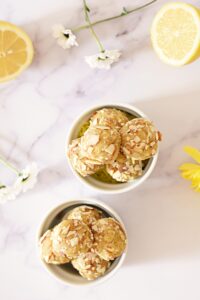 Why almond flour?
Almond flour is packed full of protein! Aside from the high protein content, they also have:
High fiber content and antioxidants!
Almonds are also sodium-free and low in saturated fat.
Not a milk drinker? Almonds have a higher content of calcium than any other nut!
Trying to lose weight? Almonds and other nuts can help you feel full longer so you don't eat as much!
Almonds are also high in Vitamin E, biotin, copper, and manganese!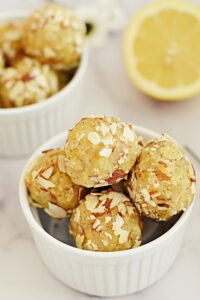 If you are looking for other high protein snacks using almond flour, check out these almond flour cookies! They are gluten, dairy, and refined sugar-free!
"Food has the power to heal us. It is the most potent tool we have to help prevent and treat many of our chronic diseases."
Dr. Mark Hyman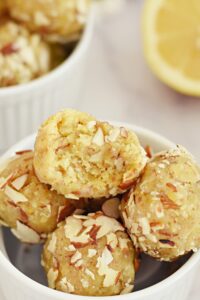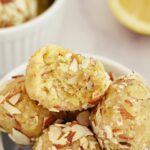 Print Recipe
Lemon Protein Balls
These lemon protein balls whip up in just a few minutes and are gluten, dairy, and refined sugar-free! They are the perfect snack to help you get fit!
Ingredients
1

cup

almond flour

1

cup

slivered almonds

2

tablespoon

refined coconut oil

Melted

zest of one large lemon

1

tablespoon

lemon juice

3

tablespoon

Maple syrup

couple pinches of pink salt or sea salt

½

teaspoon

vanilla extract

optional

⅛

teaspoon

turmeric powder

For color- optional
Instructions
In a medium mixing bowl measure in almond flour.

With a zester, zest one large lemon into the bowl.

In a food processor or Nutri-Bullet blend remaining ingredients. Don't over blend. Just blend a few seconds or until everything is incorporated but stop before it turns to a paste.

Pour this mixture into the bowl with the almond flour and zest and mix until all the ingredients come together.

Roll in your hands about a tablespoon of dough at a time until all dough is used.

Roll in some crushed slivered almonds if you prefer.

Place in the fridge for a few minutes to slightly harden.