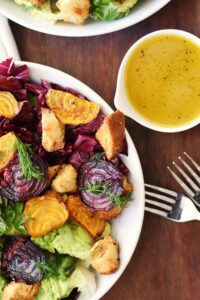 I don't know about you, but I love beets! What's not to love with their slightly sweet earthiness. Not that I eat dirt, but I adore that straight out of the dirt flavor that they bring. When I was pregnant with my fourth I ate loads of beets. I couldn't get enough! I also love juicing them. Their vibrant color makes any juice delicious and beautiful (check out these juice recipes). Thinking about yet another way I could enjoy this highly nutritious veggie I came up with this roasted beet salad and it is amazing!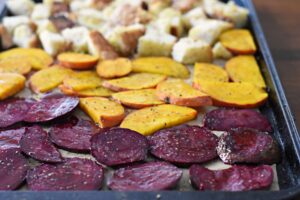 Beets are high on the chart when it comes to the benefits they provide. Let's take a look at some of the benefits and how it could be beneficial for you to incorporate this vegetable into your diet.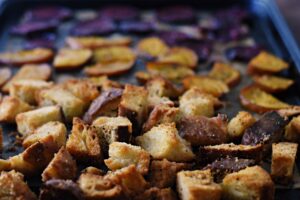 Benefits of beets
Beets are high in antioxidants which help to neutralize free radicals.
Reduces inflammation which is at the root of most diseases.
Nutritious beets can help reduce blood pressure due to their rich source of dietary nitrates.
Your liver is a way that your body naturally filters our toxins by removing toxins from the blood. Beets help benefit liver function by cleansing the liver which in turn helps to keep the body free of toxins.
They can help your performance at the gym by producing energy for the cells.
This root vegetable provides essential vitamins and minerals like vitamin C, B6, magnesium, potassium, high fiber and much more!
Beets provide amazing benefits and they are a great vegetable to incorporate into your diet!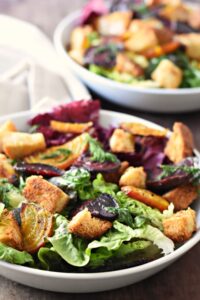 Roasting beets
Roasting beets are a delicious way to enjoy beets. Roasting them brings out the naturally sweet flavor. For this recipe, I sliced the beets rather thinly and drizzled them simply with a little maple syrup, olive oil, salt, and pepper. You could use other natural sweeteners of your choice in the place of maple syrup if you would like. If you prefer steamed beets you could also prepare them that way for this salad.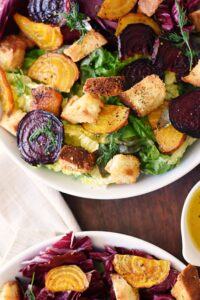 Homemade croutons
I also made homemade croutons for this salad. To make them I used leftover Crusty Artisan Bread which made the most perfect croutons! This bread is awesome and is mixed up in 5 minutes and ready to rise with no kneading or electric mixer! Just cube a couple of cups of this bread and seasoned it with olive oil, salt, and pepper and roasted them with the beets. If you don't have this bread available, you can buy a loaf of artisan bread from your local market and make them from that. Homemade croutons are super easy to make and absolutely delicious!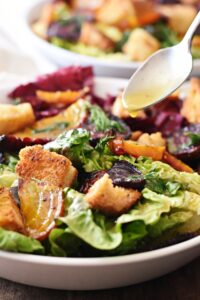 I hope you try this roasted beet salad with homemade croutons and a honey dijon vinaigrette!
For other recipes using beets check out this recipe for Nourish Bowls!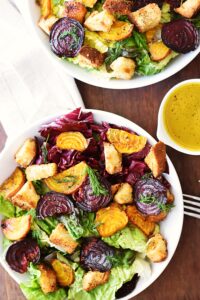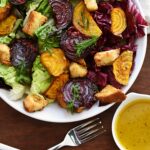 Print Recipe
Roasted Beet Salad (with homemade croutons and honey dijon vinaigrette )
This delicious Roasted beet salad makes the perfect nutritious salad topped with roasted beets, homemade croutons, and fresh dill. It's perfect for entertaining!
Ingredients
3

cups

red leaf lettuce

chopped

1 ½

cups

radicchio

or other bitter greens like arugula

2

large

beets (color of choice)

sliced (recipe below)

2

tablespoon

fresh dill

roughly chopped

2

cups

diced artisan bread for croutons

or croutons of choice (recipe below
Honey Dijon Vinaigrette
2

tablespoon

fresh lemon juice

1

tablespoon

dijon mustard

3

tablespoon

olive oil

1 ½

tablespoon

local honey

¼

teaspoon

both salt and pepper
Easy Homemade Croutons
2

cups

cubbed Artisan bread

3

tablespoon

olive oil

¼

teaspoon

of each- salt, pepper, and garlic powder
Roasted Beets
2

large

beets

sliced

2

tablespoon

olive oil

2

tablespoon

maple syrup

¼

teaspoon

both salt and pepper
Instructions
Roasted Beet Salad
Cut 2 cups of Artisan bread in about 1-inch cubes and set aside. Place in a bowl and drizzle and toss with olive oil and spices.

Cut beets in slices and set aside.

Line a large cookie sheet with parchment paper. (If you don't have a large cookie sheet use 2 small cookie sheets.)

Pour the seasoned croutons on half of the cookie sheet and place the sliced beets evenly on the other half.

Drizzle the beets evenly with maple syrup, olive oil, salt, and pepper.

Place cookie sheet in the oven and roast for 25-30 minutes turning the croutons halfway through the baking time.

While the beets and croutons are roasting, chop and arrange lettuce in bowls.

When beets and croutons are finished remove them from the oven, let cool slightly and arrange on top of the salads.

Add roughly chopped dill and drizzle with the desired amount of honey dijon vinaigrette.
Honey Dijon Vinaigrette
In a small bowl whisk together all the ingredients well and set aside.