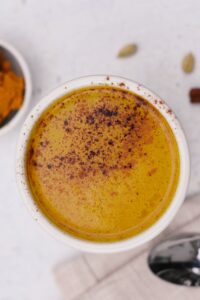 Golden milk is a delicious way to enjoy the amazing benefits of turmeric. It's a warm creamy drink that's lightly sweetened and mixed with your favorite warm spices.
Benefits of Turmeric
Turmeric is a potent anti-inflammatory. With inflammation being at the root of almost every disease. It's an amazingly beneficial spice to add to your diet!
It's antimicrobial (which means it can destroy microorganisms that might carry disease)!
It is a natural antibiotic. My kids have never taken an antibiotic! I believe that is due to not only having a healthy diet but also adding beneficial natural antibiotics like turmeric!
Turmeric also has been shown to be able to fight against certain types of cancer, prevent the regrowth of stem cells, and reduce the effects of chemo!
Most of us could use some extra help with digestion. Turmeric promotes healthy digestion by stimulating the production of bile.
We all need to keep our livers clean due to the increase of chemicals we consume. Turmeric is a potent liver detoxifier!
It can help to promote and stimulate strong immune systems!
Research has shown that turmeric and black pepper may help to lower bad cholesterol levels!
Turmeric can help to fight depression. Research has shown that turmeric can have powerful mood-boosting effects!
Because it is an anti-inflammatory, it could help skin conditions like acne and dermatitis!
Sites like Dr. Mercola can provide you with more information on golden milk!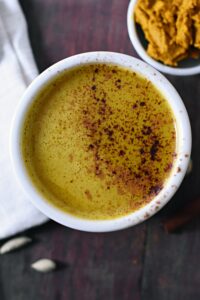 Wouldn't it be great if we could help our kids and family develop a taste for drinks like this? We can!  By doing so, we can help their immune systems to be strong and fight against inflammatory diseases.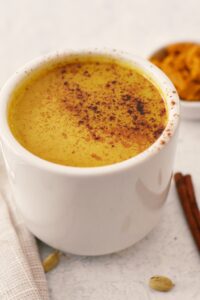 Every day we are programming our children and families to like things like soda, concentrated juice, or sweet tea. It would take the same effort to introduce things that are not only good, but that could provide healing to their bodies. Drinks like golden milk, kombucha, and warm lemon water are good options to start with.  Let's be intentional and take control of our health! I believe we can do it one step at a time!
Can drinking Golden Milk have negative side effects?
Tumeric does help thin the blood. If you are taking any medications to consult your doctor before taking Tumeric or drinking golden milk.
If you are pregnant you should consult your doctor before using turmeric as a supplement.
Tumeric may increase stomach acid and cause nausea or diarrhea in some people.
The best and easiest way to make golden milk is to use turmeric paste which has added black pepper to make the benefits more bioavailable to your body! Check out a simple turmeric paste recipe here!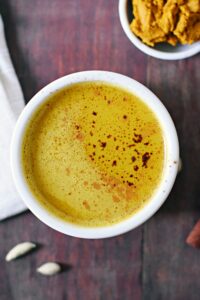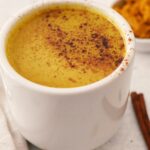 Print Recipe
Golden Milk
Making this golden milk at home will help your kids acquire the taste for healthy, healing drinks.
Ingredients
2

cups

of unsweetened coconut or almond milk

1

teaspoon

turmeric paste (find this easy recipe in the recipe notes)

Get organic turmeric here

1

tablespoon

local honey or maple syrup

¼

teaspoon

each of cinnamon, ginger, clove, and cardamom
Instructions
In a medium saucepan over medium-low heat, add milk and turmeric paste.

Whisk until turmeric is completely dissolved and the mixture is warm but not boiling. Turn heat off.

Whisk in sweetener and spices.

Pour into your favorite mug, and enjoy, and be healthy!
Notes
I like to wait until the golden milk is cooled slightly before adding honey to avoid the nutrients being killed by the heat!
You can find the Turmeric Paste recipe here!