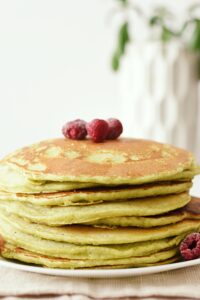 By the end of the week, there are times I feel discouraged thinking my kids didn't get enough of the "good stuff" into their diet. Although my kids eat rather healthy, the more I learn about health and nutrition, the more encouraged I feel to take steps toward being the healthiest we can be.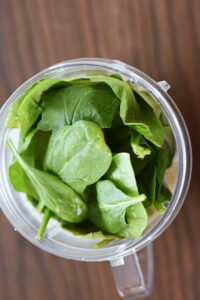 That's why I create recipes like Popeye (spinach) pancakes!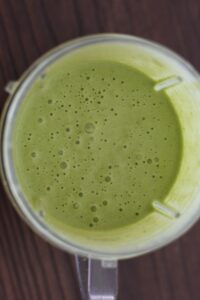 When four kids are added to the mix, it can provide some obstacles when one doesn't like this, and another doesn't like that. Yes, my kids will eat a salad, and even get excited when I make Miso Easy Homemade Ramen, but we don't always get the recommended 2-3 cups of veggies a day. Greens are at the top of the list when it comes to healthy veggies.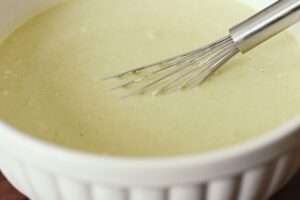 Why Spinach?
Spinach is one of the easiest greens to hide things in because it doesn't have much flavor. It seems when people aren't big fans of greens spinach is their go-to. It can be a perfect add-in to smoothies, fresh juices, and recipes like these popeye pancakes!  Although spinach is small in flavor that doesn't mean its small in nutrition. Spinach has lots of health benefits!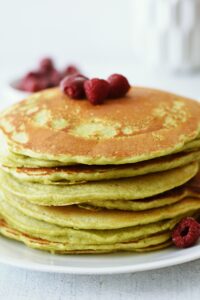 Spinach nutritional facts
Spinach is high in iron.
It's high in fiber and magnesium.
It helps boost the immune system.
Spinach helps prevent constipation and helps maintain low blood sugar.
It's great for bone health, gut health, and aids in detox.
It has vitamins A, K, E, and the minerals magnesium, beta-carotene, zinc and more!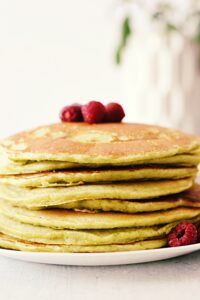 In our house, we have two ways to prepare veggies…..the ones you know your eating, and the ones you don't. I have to admit, it's pretty exciting to watch your kids, or even your husband, eat something you know you made healthy.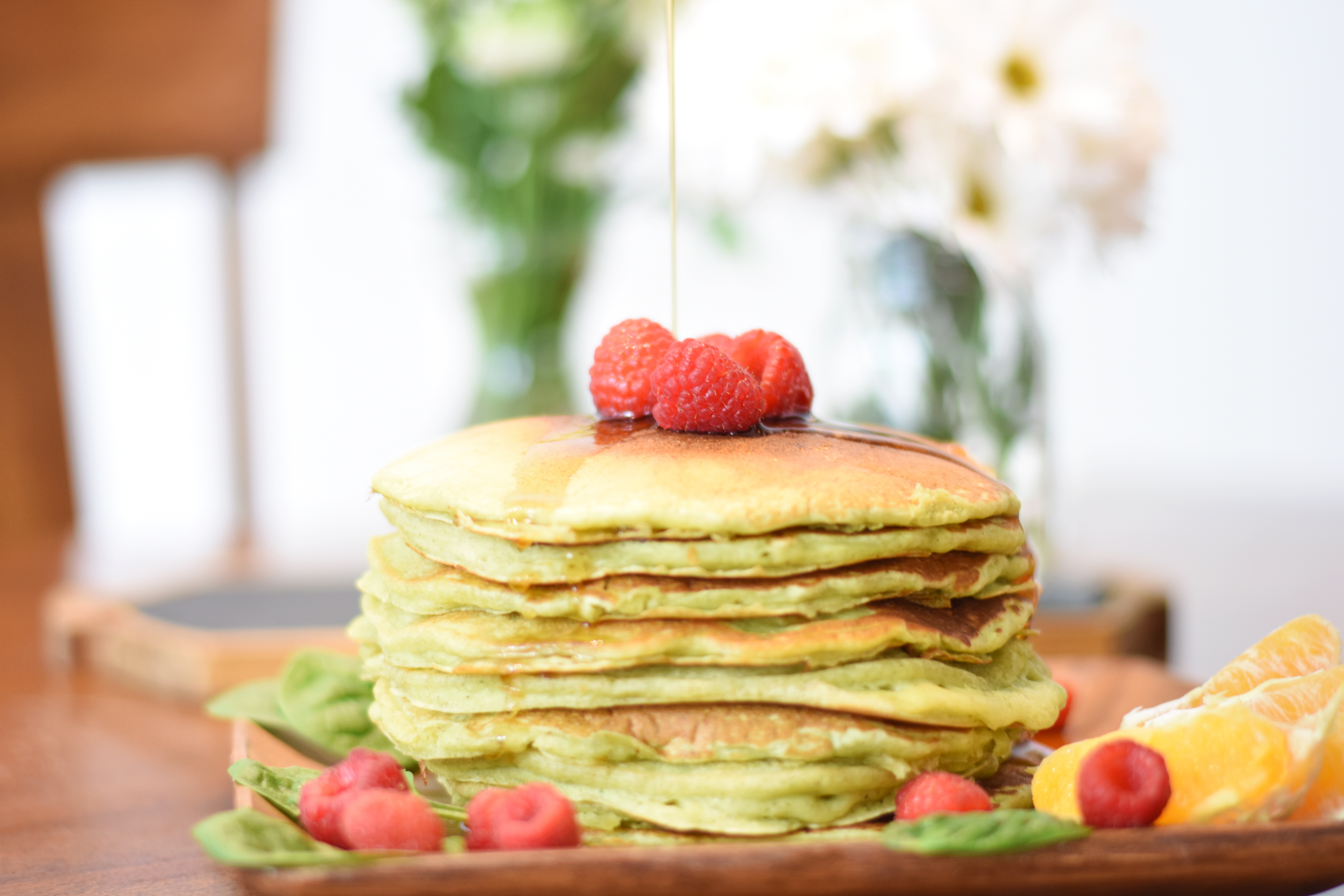 Other Add-in Ideas
There are many variations you can make with these pancakes. Think about what your family prefers. Here are some ideas
Blueberries or other berries.
chocolate chips
Pecans or other nuts
Lemon zest
Ground chia seeds
Other spices like nutmeg, cardamom, ginger.
For more recipes like this check out these Gluten-Free strawberry waffles!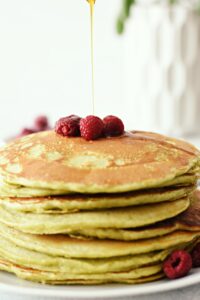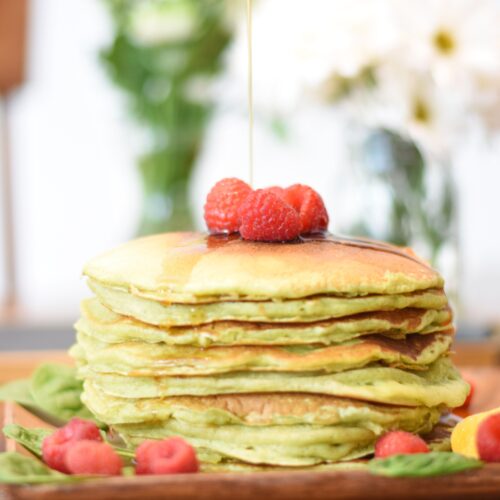 Print Recipe
Popeye (Spinach) Pancakes
Spinach is easy to hide as it has a mild flavor. You only need a little to pack a nutritional punch in these green-tinged Popeye pancakes.
Ingredients
4-4 ½

cups

unbleached flour

2

eggs or chia eggs

2 tablespoon chia seeds + 6 tablespoon water

4

teaspoon

baking powder

aluminum-free

1

teaspoon

baking soda

1

teaspoon

cinnamon

½

teaspoon

pink salt or sea salt

1

tablespoon

whole flaxseed (optional)

Get organic flaxseed here

2-3

tablespoon

honey or sugar

4

cups

plant-based milk or whole milk

I use coconut

2

tablespoon

coconut oil or butter

melted

Zest of one orange

optional

1

cup

spinach

packed
Instructions
If using chia eggs, mix chia seeds and water let sit for a couple of minutes.

In a medium bowl with a whisk, mix milk, eggs, honey or sugar, melted coconut oil, and orange zest.

With a whisk or wooden spoon mix in baking powder, baking soda, salt, and cinnamon. Whisk together well. Mix in flour 1 cup at a time until you get a good pancake batter consistency. (If you used coconut oil you may see it throughout the batter, this is ok.)

When everything is mixed well, ladle one cup of the pancake mix into a blender or Nutri-bullet with spinach and flaxseed.

Blend until you have a nice and smooth consistency.

Pour your blended mix back into the bowl and mix well.

In an iron skillet heat a teaspoon coconut oil over medium heat.

When your skillet is hot, ladle pancake mix in. (The amount of batter per pancake will vary depending on the size you want to make.)

When your pancake forms little bubbles on top, its time to flip.

Cook on the other side until lightly browned.

Continue to do this until all the pancake batter is gone.

Serve hot with real butter, and real maple syrup!
Notes
Buy a Nutri-Bullet here
Get an iron skillet here
Leftover pancakes can be placed in a ziplock bag and refrigerated or frozen for later use!
Elke is a participant in the Amazon Services LLC Associates Program, an affiliate advertising program designed to provide a means for sites to earn advertising fees by advertising and linking to Amazon.com.
Clicking on an Amazon link from http://www.quadcoptercloud.com/ does not increase the cost of any item you purchase.
We will only ever link to Amazon products that we think our visitors may be interested in and appreciate learning more about.