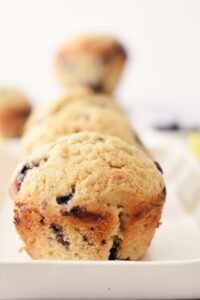 A couple of years ago, some friends of ours invited us to their house to pick blueberries. She said they had more blueberries than they knew what to do with, and even with the birds getting their bellies full there was still plenty to pick. I had in mind what to make…. blueberry lemon muffins with lemon sugar sprinkle!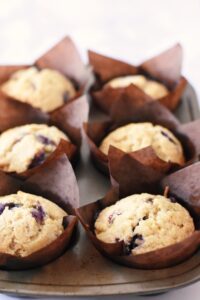 It was on the 4th of July, so I knew I had some convincing to do with my husband. After a few minutes, he agreed to take me and our 4 kids and another family came along with their 3 kids. We were on our way, and I was so excited. After a long, and I mean loooong drive that leads us far into the country down a narrow dirt road we finally arrived.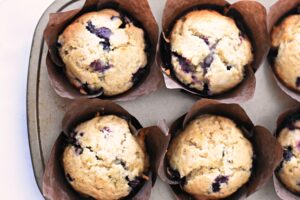 To my amazement, it wasn't just "some" blueberries, but a field of beautifully loaded blueberry bushes, and not just a couple of bushes, but probably 50 bushes!!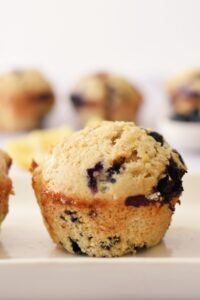 So we picked and picked and picked and picked. There was no slowing down for me, I was focused. I knew in my mind I would pick until I heard these words come out of my husband's mouth, "ok, I'm done" It was the same words I would hear when he would come shopping with me at the mall. "Done…. how could we be done with so much picking still to do…give me 5 more minutes" and so I got 5 more minutes and I recruited the kids to pick as they have never picked before.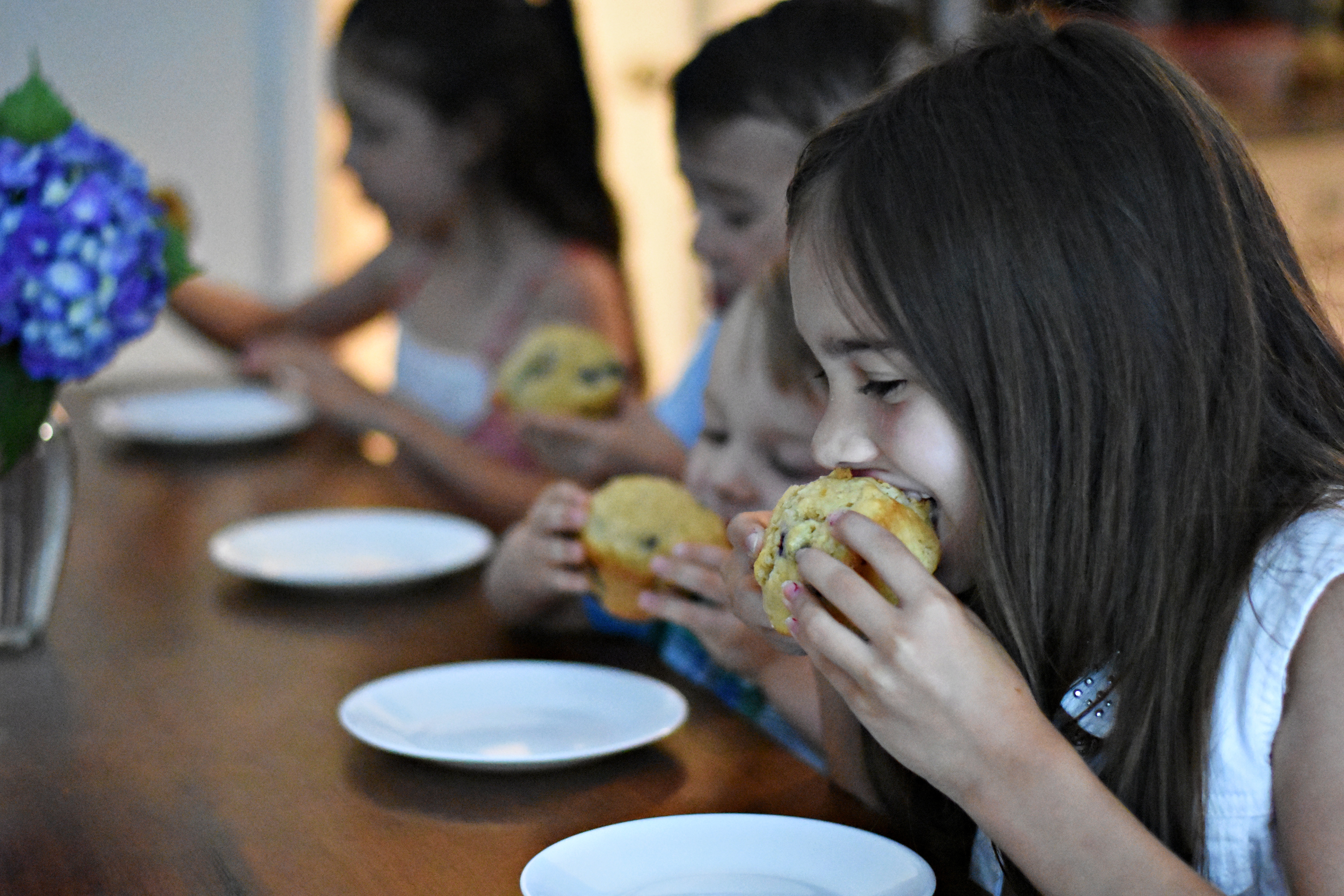 We walked to the car with a few gallons of blueberries that day, and it was totally worth it.  For the next few weeks, I made blueberry pies, scones, muffins, blueberry pound cakes, and blueberry pancakes, it was wonderful!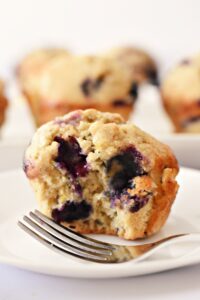 These blueberry lemon muffins with lemon sugar sprinkle are delightful, they are a variation of the ones I would make back in the day when I sold baked goods at the farmers market. I replaced the butter with coconut oil, and cows milk with coconut milk.
Blueberries are super healthy!
Check out some health benefits of blueberries
Blueberries can fight aging.
They help with premature graying and hair loss.
This berry can help prevent cancer!
Blueberries are loaded with vitamin C.
They help fight urinary tract infections.
This wonderful berry is full of dietary fiber.
Blueberries are packed full of antioxidants that help fight free radicals.
They can help fight memory loss, and improve your eyesight.

Making these blueberry muffins with lemon sugar sprinkle your own!
You can use any kind of milk or oil you prefer for these muffins. I like using unsweetened coconut milk and coconut oil, but others would work nicely.
Not a huge blueberry fan? You can add other berries like raspberry, chopped strawberries, and even blackberries!
If you are not using eggs, other egg substitutes could work well too like flax egg or aquafaba!
For other healthy breakfast, recipes check out these delicious Overnight Oats with Chia jam!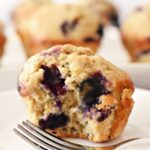 Print Recipe
Blueberry Lemon Muffins with Lemon Sugar Sprinkle
These muffins are delightful, they are a variation of the ones I would make back in the day when I sold baked goods at the farmers market. I replaced the butter with coconut oil, and cows milk with coconut milk.
Ingredients
2

cups

unbleached flour

2

teaspoon

baking powder

½

teaspoon

cinnamon

½

teaspoon

pink or sea salt

2

eggs or chia eggs

1 tablespoon chia seeds with 3 tablespoon water

⅓

cup

melted refined coconut oil

½

cup

coconut milk

or other milk

¾

cup

sugar

Zest of 1 lemon

1

cup

blueberries
Lemon Sugar Sprinkle
1

tablespoon

sugar

teaspoon

lemon zest

A squeeze of lemon juice
Instructions
Muffins
Pre-heat oven to 400

Line 6 jumbo (or 12 small muffin tin with paper liners. The tulip liners help muffins to come out flawless!

In a mixing bowl whisk together all dry ingredients but the sugar. Whisk until mixed well.

Melt coconut oil, just until melted and let set until warm.

Prepare chia egg if you're using them.

In a separate mixing bowl mix oil, coconut milk, eggs, sugar, and zest.

With a wooden spoon, mix dry ingredients into the wet.

Gently stir in the blueberries.

Spoon batter evenly into lined muffin tins.
Topping
In a small bowl mix sugar, lemon zest, and lemon juice.

Mix and with your fingers evenly sprinkle a little on the top of each muffin.

Bake muffins 20-25 minutes or until lightly brown.

Enjoy!
Elke is a participant in the Amazon Services LLC Associates Program, an affiliate advertising program designed to provide a means for sites to earn advertising fees by advertising and linking to Amazon.com.
Clicking on an Amazon link from Elke does not increase the cost of any item you purchase.
We will only ever link to Amazon products that we think our visitors may be interested in and appreciate learning more about