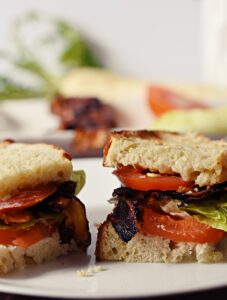 There's no better place for homemade bacon than a perfectly made BLT. Not just your normal BLT, but a BLT sandwich that is vegetarian! If you haven't thought of making your own bacon I think you will be pleasantly surprised how delicious it is. Easy and delicious, now that's what I'm talking about. You may ask what's the point in eating less bacon? Well, it may be in your best interest to reduce the amount of this flavorful meat you consume.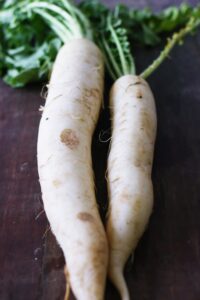 Is Bacon Bad For You?
According to Dr. Axe. a report was released by the International Agency for Research on Cancer. 22 experts evaluated the risks of environmental and lifestyle factors that might contribute to cancer. There is evidence to report that processed meats raise the risk of colon cancer. These processed meats were also added to the WHO's group 1, or carcinogenic to humans group. Processed meats are described as meats that have been cured, salted, and smoked to improve preserving the food.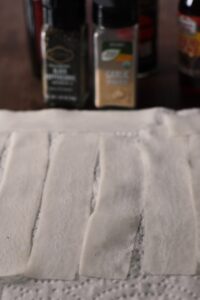 There are many processed foods to avoid, some at the top being, of course, processed meats like we are talking about here, instant noodles, potato chips (this is a hard one for me), sugar-sweetened drinks, microwave popcorn, refined vegetable oils like canola and soybean, artificial sweeteners, french fries, fast food, store-bought cookies and cakes and more. It's easier to make small changes in your diet than to change overnight. Once you start eating healthier and feeling better, you won't want to go back!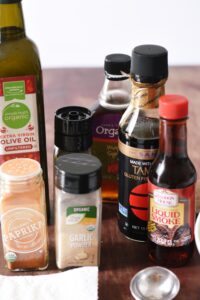 The perfect BLT sandwich!
Sandwiches are one of my favorite foods! You can easily make perfect BLT!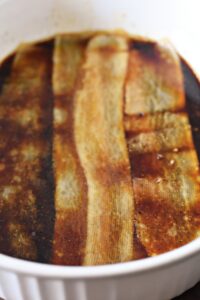 First, you need to start with the perfect bread. You will bring your sandwich to a whole new level when the filling is in between two perfect slices. The bread you need is this homemade Crusty Artisan Bread.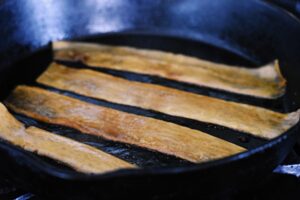 Don't be intimated if you have never made bread before! This bread doesn't require any kneading or mixer. All you need is 4 ingredients a bowl and a wooden spoon! You will be so happy you made this bread and it will be the perfect foundation for your perfect BLT! After you have the perfect bread you can layer your sandwich with big slices of tomato, crunchy lettuce, and even cheese if you would like! Dress your sandwich with regular or vegan mayo or in our house we love to use this homemade Quick Habenero Honey Mustard!

Benefits of turning Daikon Root into bacon for your BLT Sandwich
This winter white radish is a cruciferous vegetable and has lots of health benefits.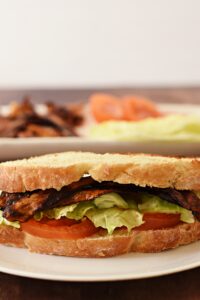 Daikon radish has lots of nutrients including calcium, magnesium, potassium, and copper.
It is high in Vitamin C and folate which can improve immune function.
This radish is high in antioxidants which help to fight against harmful free radicals and help prevent damage to the cells.
They are high in fiber which can be helpful for weight loss.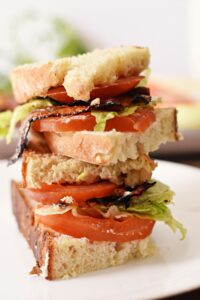 This BLT Sandwich that is vegetarian/vegan is adapted from The Sauce Stache!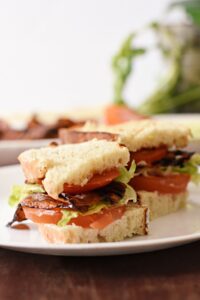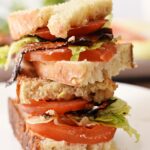 Print Recipe
BLT Sandwich - Vegetarian
This vegetarian BLT is amazing! This vegetarian bacon is made with daikon radish and all the right spices for the perfect vegetarian BLT experience!
Ingredients
Marinade
3

tablespoon

soy sauce

Non-GMO

3

tablespoon

maple syrup

½

teaspoon

liquid smoke

¼

teaspoon

each- garlic powder, paprika, black pepper

1

tablespoon

olive oil

1-2

medium

daikon radishes

OIl for frying bacon

I use refined coconut oil
BLT ingredients
good quality bread of choice

1

large

tomato

sliced

lettuce of choice

dressing of choice

mayo or mustard
Instructions
Line a plate with a couple of paper towels.

With a potato peeler peel the daikon radish then slice "bacon size" pieces of bacon from the radish. Work from the same side of the radish instead of turning it each time you make a slice. This will ensure you get wide thin pieces. (look above for pictures)

Set your slices on the paper towels and sprinkle lightly with salt. Let sit while you make your marinade. This will allow the moisture to be pulled out of the radish.

Make the marinade by whisking together soy sauce, olive oil, liquid smoke, maple syrup, and spices.

Wipe excess salt from the radish and pat dry with paper towels.

Transfer the radish slices to the marinade.

In a large skillet heat oil over medium-high heat. Fry daikon slices turning them when they turn slightly brown.

Transfer to paper towels to absorb any extra oil.

Build your BLT by dressing your sandwich. Add the tomato slices, daikon bacon slices, and lettuce.
Notes
I like to use Crusty Artisan Bread for this recipe!