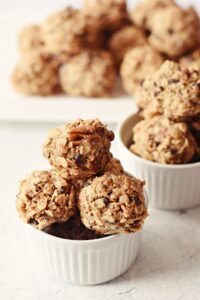 Have you found it is hard to find quick healthy options for breakfast or snacks? I know I have. Quick and simple no-bake snacks like these Raw Energy Balls make it easy to have a healthy breakfast on the go!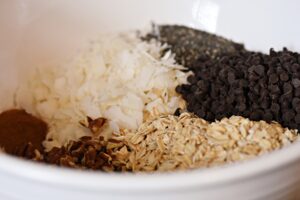 Let's talk about breakfast for a minute
I think most Americans breakfast consists of processed cereal, toaster waffles,  oversweetened oatmeal, and I hope I'm not right….but pop tarts. You may wonder why these are bad, well,  these processed morning treats are full of GMO's and MSG which cause more side effects than we would like to know. They are also packed full of synthetic vitamins. This may look good on the package, but for the most part, they are rejected by our bodies as anything real, and that's because they aren't. These vitamins are processed in a lab and are in fact fake vitamins. So before we "pop" another pop tart we may want to reevaluate what we are giving ourselves and our families for breakfast and snacks.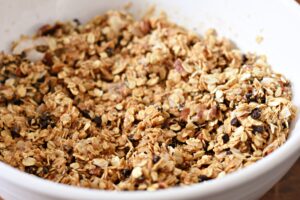 With that being said I'm far from a morning person, and also not good at stopping to make a healthy snack in a midday rush. I need something quick, and although these are quick to make, I like to make them the night before so they are ready in the morning. They are also perfect to pop in a baggie for lunch to replace that "treat" that's full of refined sugar or for your after-workout snack. These energy balls are full of protein and not overloaded with GMOs!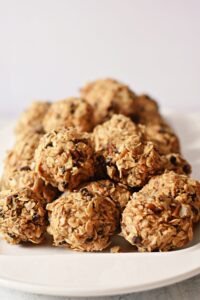 Raw energy balls are a healthy breakfast or snack!
These are packed full of good ingredients like:
Organic oats- oats help relieve constipation, and they are a good source of carbohydrates and protein that provide energy.
Flaxseed- Flaxseed is also high in fiber. They also contain vitamin B, magnesium, manganese, and lignans (which help protect you from cancer)
Chia seeds- Chia seeds are loaded with potassium, calcium, and omega 3's!
Maple syrup- Maple syrup contains essential minerals like calcium, magnesium, potassium, and zinc
Cacao nibs- cacao nibs provide high levels of antioxidants,  provide magnesium, iron, calcium,  release endorphins to give you a feeling of pleasure, and can act as an antidepressant!
The nut butter and coconut oil provide good fat which can help you lose weight!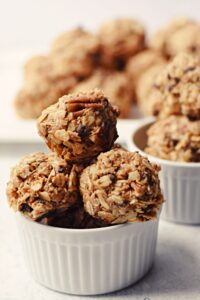 Make these raw energy balls your own!
You can easily make these raw energy balls your own by using some of these ideas!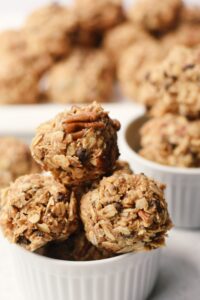 Switch peanut butter for healthy almond butter.
Add in banana chip pieces.
Add in your favorite dried fruit pieces like cranberries, or raisins.
Switch up the nuts recommended for pistachios or almonds.
Add cacao powder to the mix for chocolate raw energy balls!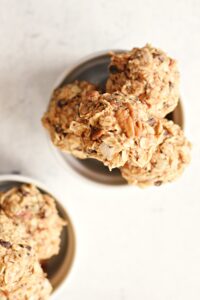 No matter which part of your day you choose to eat them, these protein-packed bites can make you feel good about snacking!
For other quick snack ideas, check out these delicious Lemon Protein Balls!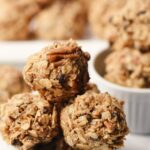 Print Recipe
Raw Energy Balls
Made with nut butter, chia seeds, oats, lots of flavorful spices, and sweetened with maple syrup, these raw energy balls are the perfect breakfast or on-the-go snack!
Ingredients
3 ½

cups

raw oats

quick or old fashioned

1

cup

unsweetened shredded coconut

1

teaspoon

cinnamon

¼

teaspoon

nutmeg

2

tablespoon

flax seed

optional

2

tablespoon

chia seed

½

teaspoon

pink salt

3

tablespoon

chocolate chips

you can substitute cacao nibs

½

cup

walnut or pecans

1

cup

unsweetened peanut butter

or other nut butter -You made need to add a couple of extra tablespoon depending on the consistency of your peanut butter.

4

tablespoon

refined coconut oil

softened or melted

⅓

cup

pure maple syrup

local honey could also be used
Instructions
In a medium-size bowl, add all dry ingredients mix well.

In a small saucepan melt coconut oil

Pour coconut oil into oat mixture and mix well.

Add peanut butter and maple syrup mix until completely incorporated.

Take a handful of the mixture - about 1-2 tbs and squeeze together into a ball, place on a cookie sheet. You will need to work it together into a ball.

Continue until you use all the mix. (should make 25-30 balls)

Place in the refrigerator for 15-20 minutes to allow them to set.

Serve or store in a ziplock bag, or airtight container.
Notes
There are many options for mix-ins like cranberries, raisins, banana chips. You could also add a tablespoon of green food powder or protein powder with no soy.
Different nut butters and even different peanut butters have different consistencies. If you are having a hard time making the energy balls stick together, add more nut butter a tablespoon at a time until they come together easily.
I have had success with these lasting to up to a couple of weeks in the refrigerator. Enjoy!!
Buy raw cacao nibs here
Elke is a participant in the Amazon Services LLC Associates Program, an affiliate advertising program designed to provide a means for sites to earn advertising fees by advertising and linking to Amazon.com.
Clicking on an Amazon link from Elke does not increase the cost of any item you purchase. We will only ever link to Amazon products that we think our visitors may be interested in and appreciate learning more about.