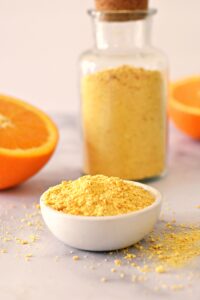 I think every year when winter is upon us, we hope and pray that no one gets sick. When there are toddlers in the house that first sneeze can be devastating. Making dinner you hear ahhh choo! You go running like a sprint racer through the house finding anything to wipe it and practically tackling the toddler so snot doesn't get in their mouth. We won't talk about when your driving and they are too far to reach….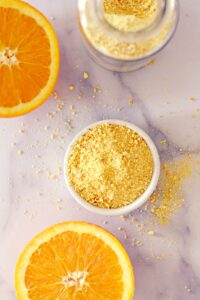 Our first response sometimes as moms are to pump them full of vitamin C. But do we know what's in the vitamin C?
I found myself at the store turning over bottle after bottle hoping to find just one that wasn't synthetic and full junk like dyes, artificial flavors, and artificial sweeteners. Sadly, I couldn't find one! The last thing our kids need when they are not feeling well is artificial EVERYTHING! I was floored, frustrated, and disappointed. I felt bad for the moms out there who were buying this junk and didn't know it was bad (I had been that mom in the past).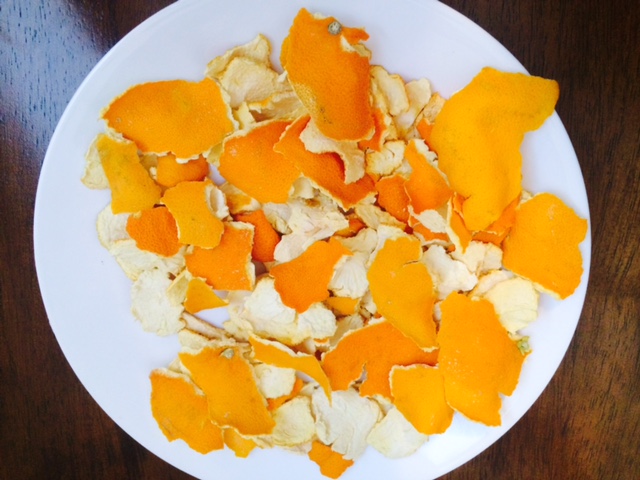 I needed something I felt good about giving them, not something that would cause more problems later on. I was scrolling through Pinterest and came across how to make homemade vitamin C. Really? I can make this?  Yes, and so simple!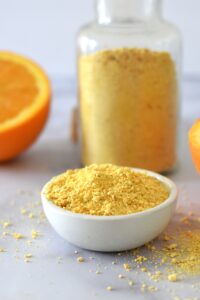 Making Homemade Vitamin C
It's so simple to make! Start by buying organic oranges (that way you eliminate the pesticides sprayed on conventional)
You can dry them in several ways!
Dry them on a cookie sheet on your countertop or on the lowest setting in your oven. You could also use a dehydrator! Make sure to use the lowest setting possible to avoid losing the live enzymes in your homemade vitamin C powder!
Grind up in a coffee grinder or Nutri-Bullet!
Store them in the refrigerator.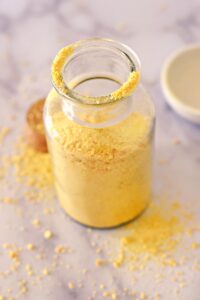 I went to the store got a bag of organic oranges and I was on my way. When I got home I peeled them laid them on a cookie sheet and let them dry for a couple of days. (if you're in a hurry, place them in an oven at the lowest setting until crisp) I put them in my coffee grinder, you could also use a bullet or food processor. Next, I blended them until they were fine powder, and stored them in a glass jar. And there you have it, homemade vitamin C powder with live enzymes that your body will recognize and absorb easily!  I read the best way to know you have a good supplement is to get as close as you can to the real form, well you can't get any closer than the peel of an orange!!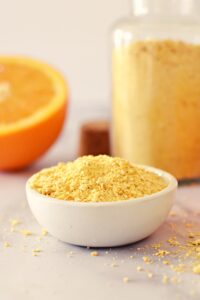 Check out some benefits of vitamin C
Vitamin C is the key ingredient to have a strong immune system! According to Dr. Axe Vitmain C is often used as a first line of defense during cold and flu season. It could also shorten the duration of respiratory tract infections.
It is necessary for energy production.
It holds powerful antioxidants.
Great for glowing skin and for dark spots and patches.
Potential for fighting cancer.
It helps treat the common cold.
It helps to aid eye health.
Aids in the growth and repair of body tissues.
Associated with a good mood.
Healthy cardiovascular system.
It helps to lower cholesterol.
Making your own vitamin C powder ensures you are getting a plant-based pure vitamin C.
For other homemade remedies check out Homemade Elderberry Syrup!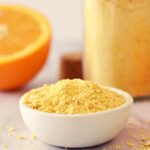 Print
Vitamin C Powder
Vitamins are best from whole foods. When you want to add supplements, I recommend those that you can easily make at home, like this vitamin C powder.
Materials
1

bag organic oranges

could also use lemons or limes

Cookie sheet or plate to lay peels on

Coffee grinder, Nutri bullet, or food processor
Instructions
Peel the oranges and lay the peels flat so that they are not overlapping. Let them dry for a couple of days or until they aren't bendy anymore and are crisp.

Blend in a Nutri- Bullet or coffee grinder until a fine powder is formed.

Store in a glass jar or sealed container in the fridge.

Take 1 teaspoon per day. Mix in water or juice, mix in yogurt, oatmeal, smoothies.
Notes
*for quick method, put in your oven on the lowest setting until crisp, blend and store.
You can also make these in a food dehydrator.
Elke is a participant in the Amazon Services LLC Associates Program, an affiliate advertising program designed to provide a means for sites to earn advertising fees by advertising and linking to Amazon.com.
Clicking on an Amazon link from Elke does not increase the cost of any item you purchase.
We will only ever link to Amazon products that we think our visitors may be interested in and appreciate learning more about.