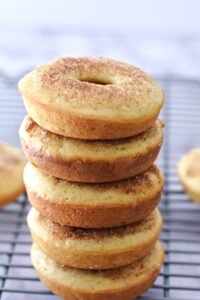 If you are a donut lover but you like all the fat and calories involved with fried donuts then here is your solution. Baked donuts are a healthier way to enjoy donuts without all the oil. Even better, I have made this recipe yeast and dairy-free. These cinnamon sugar baked donuts got 5 stars in my house and make a fun breakfast treat or dessert!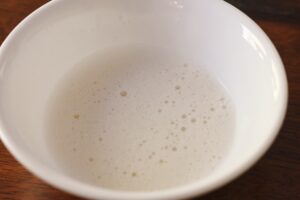 Making Cinnamon Sugar Baked Donuts
Making these donuts are quick and easy! They are yeast-free so in this recipe, we skip the step of letting the dough rise and get right to baking! I mixed these up quickly in one bowl with minimal ingredients! I measured in the dry ingredients including sugar and whisked it up well to make sure the baking powder and baking soda were mixed into the flour well. Next, I added the liquid ingredients.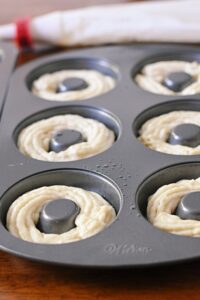 For this recipe, I used unsweetened coconut milk, refined coconut oil, and aquafaba (I'll explain this in a minute). I mixed everything up,  put it in a piping bag (you could also use a ziplock bag) and piped the batter into the baked donut molds and baked them up!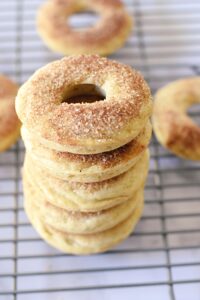 Now, what is aquafaba? It is the liquid in a can of chickpeas. It may sound weird, but it is a great egg replacer! For this recipe, I measured out 3 tablespoon of the liquid and whisked it for about 20-30 seconds. Aquafaba can also be used to make mousse, meringues and more!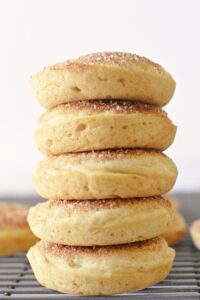 Can I make these Cinnamon Sugar Donuts with Dairy?
Yes! I tested this recipe using butter, milk, and eggs in place of the non-dairy ingredients. Both recipes turned out great! The dairy baked donuts turned out more cakey, and the non-dairy donuts had more of an "old fashioned" donut texture. I'm sure you could also mix and match. Just remember that using non-dairy milks from the store that are sweetened or vanilla-flavored may affect the taste of your baked donuts.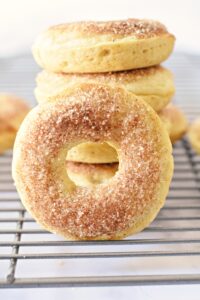 Do I need a donut pan to make these?
Yes, to make these donuts you will need the special donut pans. I got mine on Amazon. You can buy the ones I have here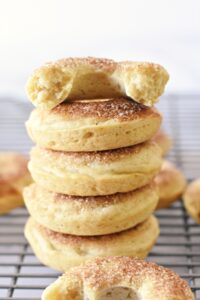 If you want to make yeast donuts you won't need anything special to make those. You will roll the dough out and you can use things like a drinking glass and a bottle cap to make the donut shape. If you want to make yeast donuts you can make my Vanilla Donuts with Raspberry Glaze.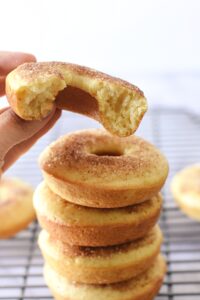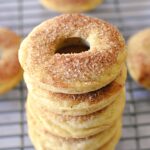 Print Recipe
Cinnamon Sugar Baked Donuts
If you love donuts these Cinnamon Sugar Baked Donuts are a great way to cut the calories and still enjoy the pleasures of a donut.
Ingredients
Donut Batter
1 ½

cups

unbleached flour

⅓

cup

sugar

1

teaspoon

baking powder

¼

teaspoon

baking soda

½

tsp

pink salt or sea salt

3

tablespoon

aquafaba (chickpea liquid)whipped

you can also use 1 egg or egg replacer of your choice

1

teaspoon

vanilla extract

1

cup

unsweetened coconut milk

or milk of your choice

¼

cup

melted refined coconut oil

⅛

teaspoon

nutmeg
Cinnamon Sugar Topping
¼

cup

sugar

1

teaspoon

cinnamon

couple pinches nutmeg
Instructions
Making Donuts
Oil the donut pans so they don't stick. I use melted coconut oil and bush it on.

Measure out 3 tablespoons of aquafaba and whisk with a fork or whisk for 20-30 seconds or until it looks like the picture in the post. Set aside.

In a large mixing bowl whisk together all the dry ingredients.

With a wooden spoon mix into the dry ingredients the milk, whipped aquafaba, vanilla extract, and melted coconut oil until you have a smooth batter.

With a ladle or big spoon batter into a piping bag or ziplock bag. If you are using a ziplock bag cut the corner off to allow the batter to come out.

Fill each donut mold ¾ of the way full. If you fill all 12 the donuts will be a bit smaller, filling 10 will make your donuts bigger. (I linked the donut pans I use in the post.)

Bake for 13-15 minutes or until done and slightly brown on the bottom.
Cinnamon Sugar Topping
Mix sugar and spices in a small bowl.

When donuts come out of the oven and cool slightly, brush the tops of the donuts with melted coconut oil and dip the tops in the cinnamon sugar mix. Set on a plate or cooling rack.
Notes
If you need donut pans, I linked the ones I have in the post!