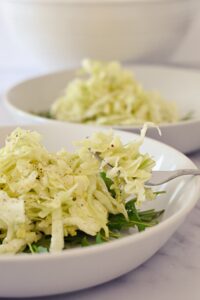 I've never been a fan of coleslaw. The idea of mayo and sugar on cabbage well let's just say didn't excite me, but this nourishing coleslaw made me a forever lover of coleslaw!
When I was going to school I waited tables in a little small-town diner. I found myself working in these diners quite a bit, but this one was different. This guy had been to Culinary school and man could he cook! He made a Coleslaw that I would dream about, it was soooo good!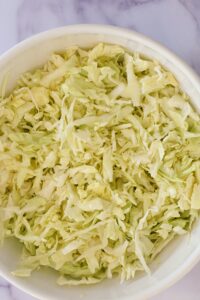 Through the years I've become more and more health-conscious, so this recipe was made to be like a side of medicine to my family's bodies and in my opinion, that's just what it is.
Nourishing Cole Slaw Benefits
Cabbage is full of vitamins, c, k, potassium, calcium, and manganese!
It's also anti-inflammatory which is great news since inflammation is at the root cause of most every disease.
Another benefit of cabbage is that it has dietary fiber which helps fight constipation.
Cabbage is full of antioxidants that can help fight off free radicals.
Great for women's health because it can help maintain estrogen balances.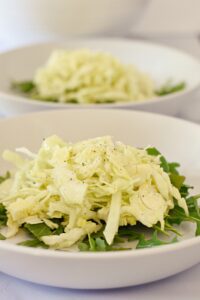 The dressing also has amazing benefits!
Lemon- Lemon can help with radiant skin, its anti-inflammatory, anti-bacterial, analgesic, oral health, and cancer preventive!
ACV- Apple Cider Vinegar can help with many things like improve digestion, heart health, aids in heartburn, reduces bloating and much more!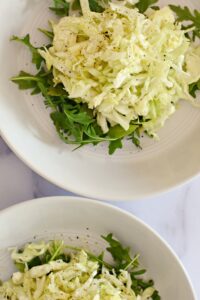 How can I make this recipe my own?
Here are some things you can add or replace to make this recipe suit you!
Replace the lemon with lime.
Add in a fresh clove of garlic or two. (I do this if there are any colds in the house.)
Shred in a fresh carrot.
If you like your coleslaw sweet you can add in a tablespoon or two of your choice of sweetener.
For other salad recipes check out this Roasted Beet Salad!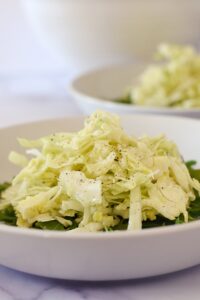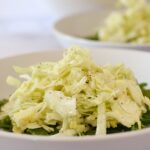 Print Recipe
Nourishing coleslaw
This healthy version of coleslaw is absolutely delicious! This coleslaw is seasoned with lemon, vinegar, and olive oil!
Ingredients
1

small head of purple or green cabbage shredded

2

tablespoon

olive oil

¼

cup

braggs apple cider vinegar

or more for flavor depending on the size of the cabbage

2

tablespoon

lemon juice

1

teaspoon

sea salt or pink salt

or more to taste.

1

teaspoon

black pepper

or more to taste.
Instructions
On a mandolin or a grater, grate one head of cabbage.

In a small bowl mix together dressing ingredients.

Pour over shredded cabbage.

Mix everything well. Let sit for about 15 min. Then serve.

If cabbage sits to long the water will release from the cabbage and you will need to add a bit more salt and a splash of vinegar or lemon juice.
Elke is a participant in the Amazon Services LLC Associates Program, an affiliate advertising program designed to provide a means for sites to earn advertising fees by advertising and linking to Amazon.com.
Clicking on an Amazon link from Elke does not increase the cost of any item you purchase.
We will only ever link to Amazon products that we think our visitors may be interested in and appreciate learning more about.