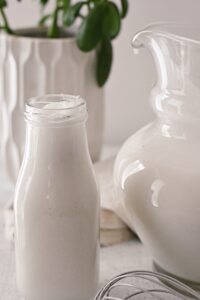 Coconut milk is by far my favorite dairy milk substitute. It's thick, creamy, and has a bit of natural sweetness.  The great thing is it doesn't just taste good, it has amazing benefits. If we're going to pour something over our morning cereal or if we need a base to a smoothie, why not use milk with amazing benefits? And well if you could whip it up in 5 minutes then why not? This 5-minute homemade coconut milk gives you no excuses!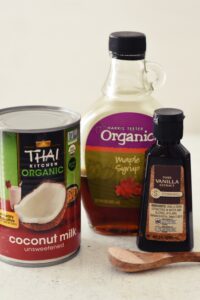 Why drink homemade coconut milk v/s dairy?
I'm going to guess that most of us grew up drinking out of the united dairy gallon of cow's milk. I was no different. We went through a gallon of milk in no time, but was it really that healthy? While I do think raw unpasteurized milk would be the best choice for dairy milk the ultra-pasteurized milk so many of us buy may not have in it what we think. According to Dr. Mercola pasteurization (the process of heating above boiling then cooling quickly) removes essential enzymes and nutrients. Studies show that this process can also deactivate the enzymes that are necessary for the human digestion of milk, kills off the good bacteria, and alters the calcium and vitamin C content. Conventional (non-organic) milk can have up to 21 chemicals!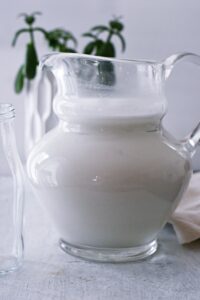 According to Dr. Axe milk also has an allergen called A1 Casein. This allergen sometimes is confused with seasonal allergy symptoms. It can cause symptoms like hives, runny noses cramping, and colic in babies. It is also inflammatory and can contribute to gastrointestinal issues, IBS, leaky gut, acne, eczema, and autoimmune diseases!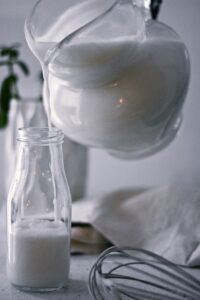 Benefits of coconut milk
Coconut has many benefits! When you make coconut milk yourself you can avoid the many unnecessary added ingredients that you find in store-bought plant-based milk like "natural flavors",  and "carrageenan".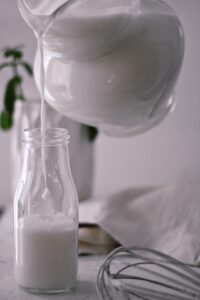 Lauric acid- lauric acid is found in coconut milk and is a medium-chain fatty acid that can be utilized by the body for energy! These fatty acids actually help lower cholesterol and help improve blood pressure.
Electrolytes- electrolytes help keep you hydrated to prevent dehydration, exhaustion, muscle aches, and more!
Fat burning- Because of the MCTs in coconut milk it can be very filling making you feel satisfied for longer.
MCT's- These MCTs found in coconut milk can also lower inflammation and inflammation is the root cause of most all disease!
Coconut milk is anti-bacterial, anti-viral, and anti-fungal!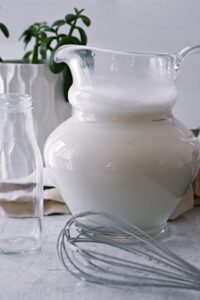 Maybe after reading this, you are convinced to cut down on the dairy and try some coconut milk. If you have drunk dairy milk your whole life this may take some adjusting. Try making this 5-minute homemade coconut milk and using it in the base of your next smoothie or in some healthy homemade hot chocolate!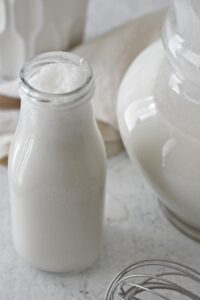 If you would like to make coconut milk from a coconut check out this delicious coconut milk recipe!
This is also great for coffee!~
To make coffee creamer, add ½ the amount of water.
For a super creamy cup of coffee, use a coffee frother for your milk! Buy the one I have here!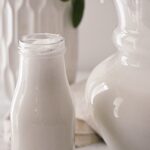 Print Recipe
5-Minute Homemade Coconut Milk
Homemade creamy coconut milk made quick in only 5 minutes!
Ingredients
1

13.6 oz can

unsweetened coconut milk

not light

3 ½

cans

water

¼

teaspoon

pink salt or sea salt

optional

½

teaspoon

maple syrup or local honey

optional

½

teaspoon

vanilla extract

optional
Instructions
In a pitcher (I have a 64 oz pitcher) pour in contents of a whole can of coconut milk.

Using the can measure in 3 ½ cans of filtered water.

Whisk this together really well or use a hand mixer and mix for one minute.

Add in salt, sweetener, and vanilla (these are optional). Whisk them in until incorporated well.

If the pouring spout of your pitcher doesn't have a cover you can cover with press-n-seal and refrigerate.
Notes
Store up to 7 days in the refrigerator.
You can buy the pitcher I have here!
 (this one even has a lid!)