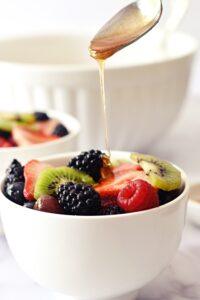 If you are looking for the perfect dish that will brighten up your next meal, this Easy Fruit Salad is refreshing and delicious!
This recipe will have a beautiful, colorful, and healthy dish in just 10 minutes. Not too bad! And with some major health benefits and antioxidants, I serve this dish up quite often! Take a look at some of the health benefits packed in this fruit salad!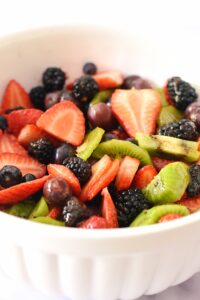 Health benefits of fruit salad
Grapes- Grapes are anti-aging, help prevent cancer, lowers high blood pressure, and high in antioxidants. They also support muscle repair, and they are great for skin, hair, and health!
Blackberries-High in vitamin C, antioxidants that fight free radicals. Blackberries are a great source of potassium and effective anti-inflammatory.
Raspberries-Helps with anti-aging, good for bone health, and great for weight loss! Raspberries are also rich in vitamins and dietary fiber, and can fight tumors!
Blueberries-Rich in vitamin C and B6, and a great source of fiber and potassium. They are rich in antioxidants, fights disease, and good for skin and mood!
Kiwi-Helps with cell regeneration, good for the digestive system, and reduces the risk of diabetes and cancer.
Strawberries-Packed with antioxidants lowers cholesterol, and they help prevent cold and flu! They reduce inflammation, and full of vitamins and minerals.
Local Honey-Anti-viral, anti-fungal, powerful antioxidants, and boosts the immune system! Honey also helps with allergies and has vitamins, nutrients, and enzymes.
Ceylon Cinnamon-Helps to control blood sugar, a potent antioxidant, anti-microbial, anti-fungal properties, anti-inflammatory.
So many health benefits packed into one salad!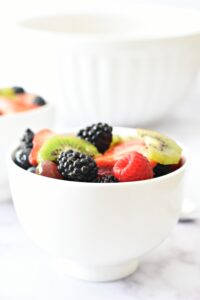 How to serve this easy fruit salad
Some ways I like to serve this salad is:
With breakfast meals like pancakes, waffles, or french toast. This salad gives an extra punch of vitamins, nutrients, and antioxidants to a not so healthy meal.
Just eat for breakfast. This makes a great breakfast for the kids. If I'm feeling really generous I'll even make them some whipped cream to top the fruit with.
Take this dish to the next BBQ you're invited to!
Replace your normal processed snack with a bowl of this easy fruit salad!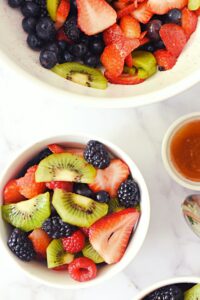 Replace any fruit you don't like
You can replace any fruit you don't like with your favorite fruit! You could use orange slices, watermelon or other melons, banana slices, pineapple, apple slices, and more!
For more salad recipes check out this Roasted Beet Salad!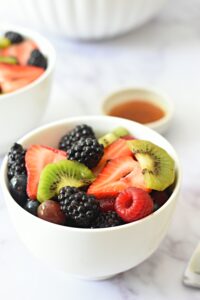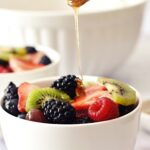 Print Recipe
Easy Fruit Salad (with honey lemon dressing)
This Easy refreshing Fruit Salad with honey lemon dressing can be on the table in just a few minutes and is full of health and flavor!
Ingredients
1

container

fresh strawberries

sliced

1

pint

blueberries

1

small

container raspberries

1

small

container blackberries

2

kiwi fruit

peeled and sliced

2

cups

grapes of choice

4

tablespoon

local honey

1

tablespoon

fresh lemon juice

½

teaspoon

cinnamon

like Ceylon cinnamon
Instructions
In a medium bowl dump in blueberries, raspberries, and blackberries. Look through and toss any that are bad.

Wash the grapes and pull off stems and place them into a bowl with the berries.

Slice strawberries. I like to slice them from top to bottom.

Peel and slice the kiwi then half it.

In a separate bowl whisk together the lemon juice, honey, and cinnamon.

Pour dressing over the fruit salad. Toss together and serve!