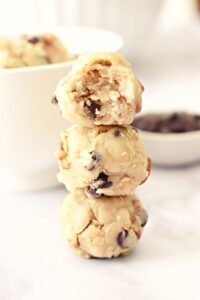 My husband and I don't fight a lot, but we have these "silent" arguments that are ongoing. For example, I like to open the blinds in the bathrooms (just a little) to let light in for my plants. EVERY time he goes in there he closes them, and I mean every….time…. soooo, I come peeking around the corner only to open them… for him to close them again. Keep in mind that on the other side of the window is TREES!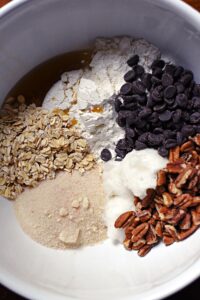 Another one is- although I'm always cold, (unless its the middle of summer), I don't like dry heat. So I turn the heat down, and he turns it up. I turn it down and he turns it up, and all through the winter, it goes on and on!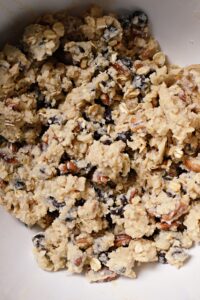 Another silent, not so silent fight is cookie dough. I make oatmeal chocolate chip cookies weekly for the kid's lunch. I almost always save him a big spoon full to eat because I know how much he loves cookie dough. He loves it more than the cookie itself!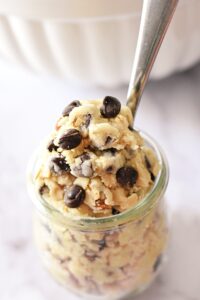 I'll admit, I feel like a good wife setting him that big heaping spoonful aside, but as soon as turn my back he's scooping out more….then….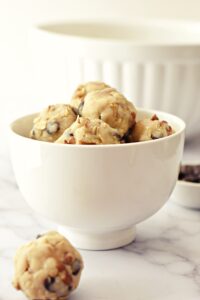 after I pop them into the oven, if I turn for only a minute, he opens the OVEN door and grabs the cookie dough off the cookie sheet and pops the cookie dough in his mouth, I mean, what the heck!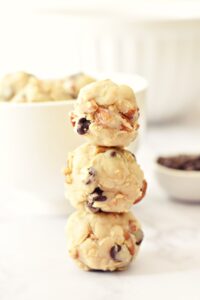 We have big laughs over it, but I end up making half the amount of cookies after all the dough he eats.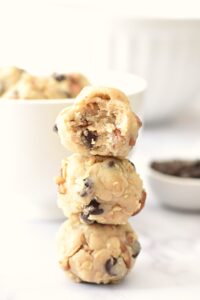 That's when I thought I need to make raw cookie dough bites, and I needed it to taste like the real thing. He even asked how I would do that without egg, well, I have my ways. Most of the time he's better off not knowing what's in what I make.  If I tried to make them gluten-free or with no sugar, it just wasn't going to be the same, and that would defeat the purpose.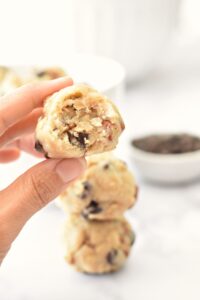 I did my best to make them as healthy as I could and it still is what he expected them to taste like, and we love them!
Other add-ins for raw cookie dough bites
You could add walnuts or almonds in place of pecans.
Add in raisins or other dried fruit.
Add a tablespoon of nut butter like peanut butter or almond butter.
Add spices like cinnamon a pinch of nutmeg or cardamom!
Don't like the thought of eating raw flour?
Spread the flour out on a cookie sheet and bake at 325 for 10-12 minutes.
For other no-bake recipes check out these Raw Coconut Macaroons!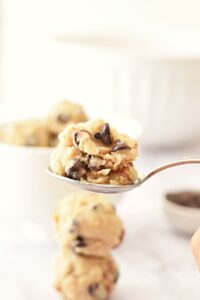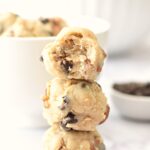 Print Recipe
Raw Cookie Dough Bites
Stealing a taste of cookie dough is one of the best parts of baking! I made up this gluten-free, "raw" dough that is full of pecans, chocolate chips, and oats!
Ingredients
5

tablespoon

refined coconut oil softened

¼

cup

sugar + 3 tablespoons of maple syrup

1

teaspoon

real vanilla extract

¾

cup

unbleached flour

½

cup

oats

¼

heaping tsp

pink salt

buy pink salt here

½

chocolate chips

buy vegan chocolate chips here

½

cup

pecan or walnut pieces

optional
Instructions
In a mixing bowl, with a whisk, mix together the first three ingredients. (make sure the coconut oil is soft like soft butter would be.)

With a wooden spoon mix in flour, oats, salt, chocolate chips and nuts.

Once everything is mixed well, use a melon baller to scoop out even amounts on a cookie sheet. You could also use a spoon.

Depending on the consistency you like, and the temperature of your kitchen, you can refrigerate or keep at room temperature. I store in fridge in baggies.
Notes
If you don't want to roll these into balls you can eat with a spoon!
Elke is a participant in the Amazon Services LLC Associates Program, an affiliate advertising program designed to provide a means for sites to earn advertising fees by advertising and linking to Amazon.com.
Clicking on an Amazon link from Elke does not increase the cost of any item you purchase.
We will only ever link to Amazon products that we think our visitors may be interested in and appreciate learning more about.