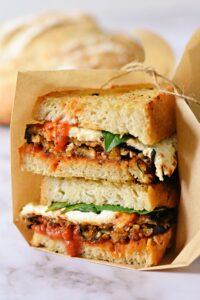 Have you wondered what to do with that eggplant setting in your fridge? Well, I made the most delicious sandwich with eggplant. It is none other than the eggplant parmesan sandwich. This sandwich is full of bold flavors and doesn't disappoint.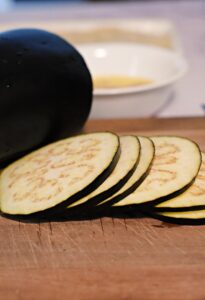 How to make an amazing eggplant parmesan sandwich
To make this sandwich epic you first need to start out with the right bread. If you have ever had that perfect Italian bread that's tough on the outside and nice and soft on the inside, that's the bread. Yes, you can find this type of bread in most grocery stores, but making it will take your sandwich to a whole new level. If you want that approving head nod from family and friends then making this most amazing bread is the way to go! If making bread isn't your thing, no worries, this crusty artisan bread is super easy! It requires no electric mixer or kneading just a bowl and a wooden spoon. If you decide to make it, you'll be so happy you did! I make around 4-6 loaves a week!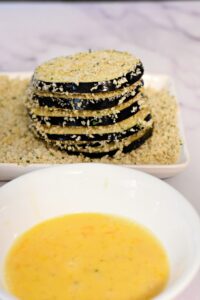 Next, you need a good marinara sauce. I prefer marinara over other sauces. Now if you have extra time to spend in the kitchen you can make this homemade marinara sauce!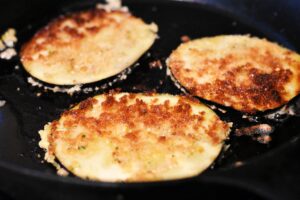 Now for the cheese, I like to go the extra mile and get fresh mozzarella. If that's a little too pricy then shredded will work just fine!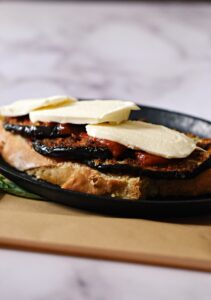 Can I make this vegan?
You can! If you use the bread linked above it is dairy-free. You can use an egg replacer like a flax egg or just egg in place of the egg. You can add vegan cheese or skip the cheese altogether!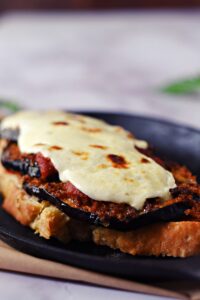 Health benefits of eggplant
Eggplants are super healthy! Check out a few of the benefits!
Eggplant is high in fiber.
It can help protect the heart and arteries.
Aids in digestion.
Reduces the risk of anemia.
Improves bone health.
Rich in the mineral manganese which is good for building bones.
It can help lower cholesterol.
Good source of energy-promoting B vitamin.
It helps to prevent skin cancer.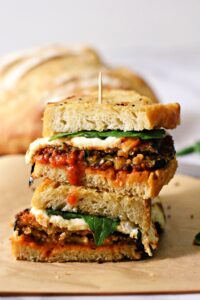 For other vegetarian sandwiches, meal ideas check out these Black Bean Burgers!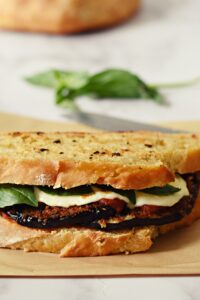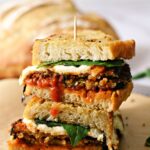 Print Recipe
Eggplant Parmesan Sandwich
Get ready for a meal in a sandwich! Perfectly fried eggplant stacked with fresh mozzarella, marinara, and fresh basil!
Ingredients
12

slices

eggplant

sliced about ¼ inch thick.

2

cups

Italian breadcrumbs

Panko style

Sliced fresh Mozzarella cheese

About 2-3 slices per sandwich depending on the size of your bread.

2

eggs

mixed with 2 tablespoons of water

4

tablespoon

olive oil or refined coconut oil

For frying

8

tablespoon

marinara sauce

divided

Fresh basil leaves

about 3-4 leaves per sandwich

8

slices

Italian Artisan Bread

Get the recipe for homemade in the post!
Instructions
Slice Artisan bread and set aside.

Wash eggplant and slice into fairly thin slices about ¼ inch thick. For 3 slices of eggplant per sandwich slice 12 pieces.

Measure 2 cups of Italian panko crumbs onto a large plate. If you have plain breadcrumbs add salt, pepper, and basil to the breadcrumbs to flavor them.

In a bowl (big enough to dip the eggplant into) beat 2 eggs and 2 tablespoons of water until mixed well.

Heat a skillet with oil of choice over medium heat. Let it get hot but not smoke.

Prepare a plate for the fried eggplant with a few paper towels.

While skillet is heating dip sliced eggplant in egg mix then into the breadcrumbs, then place 3-4 at a time in the skillet. Don't overcrowd them in the skillet.

Cook 3-4 minutes on each side or until brown and then transfer them to the plate with the paper towels. If you need to add more oil while your cooking the eggplant add more.

Turn the broiler on high in the oven.

After all the eggplant is cooked, add the sliced bread to the skillet and just brown the outside of the bread to make it crispy. Add more oil to the pan if needed to brown all the bread then transfer 4 slices of the bread to a cookie sheet.

Build sandwiches by adding a tablespoon of marinara to the bottom slice, 3 slices of fried eggplant on each sandwich followed by another tablespoon of marinara, and slices of mozzarella. Do not put tops on sandwiches yet.

Place sandwiches under broiler for 5-10 minutes or until cheese is melted and starts to brown.

Pull sandwiches out and add fresh basil leaves and top piece of bread.