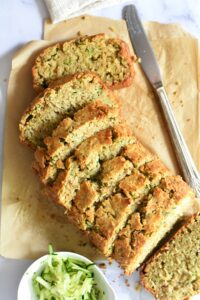 You can't miss the zucchini season if you live in the hills of West Virginia. If there's a gardener in your circle of friends, you are sure to get a zucchini the size of a small child. There is so much you can do with them, but a favorite of many is good old zucchini bread.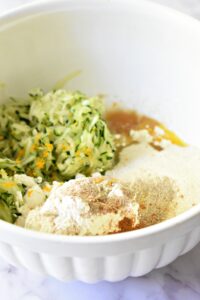 In my quest over the years to find a zucchini bread recipe that I love, I have found that most recipes have masked the zucchini with tons of white sugar and GMO oil. Over and over I would see a cup of sugar, and a cup of oil!  Does that seem like a lot to anyone else?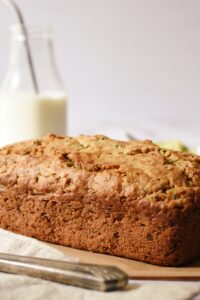 If this is the amount of sugar most of us are eating in our baked goods, we should have no problem reaching the 130 pounds of sugar per year they are estimating we consume!
Lately, I've been working on making one without all the junk, and after a few trials, the loaf I baked the other night was well……. pretty perfect. I added a touch of orange zest, cardamom, and cinnamon which gives it a little something special. It took all six of us to consume it in less than 5 minutes!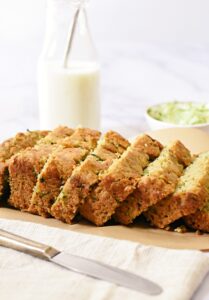 Zucchini Bread is Perfect for Picky Eaters
If you have picky kids or a picky husband for that matter, this is a good way to get zucchini into them! Zucchini is full of nutrition!
It's a good source of vitamin B, potassium, and is loaded with vitamin C.
It helps maintain eye health, and also helps cure asthma!
Contains manganese which is great for bone health.
Zucchini has lots of fiber.
Zucchini is anti-inflammatory.
Remember to start with the best quality ingredients that are possible for you!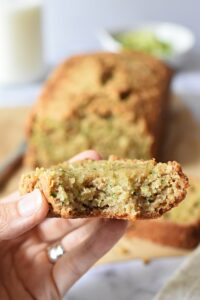 Making Zucchini Bread is simple!
First, you want to grate two cups of zucchini and squeeze all the liquid out this way your bread won't be to wet.
Measure that into a medium bowl with coconut milk, coconut oil, egg ( or egg substitute), sugar, orange zest, and vanilla
Mix the dry ingredients together and then mix them into the wet with a wooden spoon. Pour into prepared loaf pan. It's that easy, and ready to bake!
For more zucchini recipes check out this easy Pasta Primavera!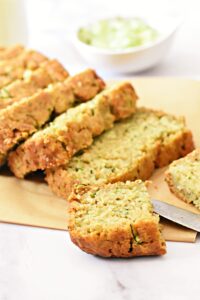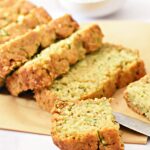 Print Recipe
Healthier Zucchini Bread
Nothing beats a great quick bread recipe. Take your garden's bounty and make this healthier zucchini bread and the kids will thank you!
Ingredients
2

cups

grated zucchini

squeeze all liquid out

¼

cup

refined coconut oil

melted

1

egg slightly beaten

Could also use chia egg- 1 tablespoon chia seeds to 3 tablespoon water.

1

teaspoon

orange zest

¾

cup

of sugar

½

cup

coconut milk

or your choice of milk

1

teaspoon

baking powder

½

teaspoon

baking soda

½

teaspoon

salt

2

cup

unbleached flour

1 ½

teaspoon

cinnamon

1

teaspoon

cardamom

¼

teaspoon

nutmeg
Instructions
With refined coconut oil or cooking spray grease a loaf pan and set aside.

In a medium bowl grate 2 cups of zucchini. With your hands squeeze out all the liquid of the zucchini after grating. Add in egg, coconut oil, coconut milk, sugar,  and orange zest. Whisk together well until everything is evenly incorporated.

In a separate small mixing bowl, mix together flour, baking powder, baking soda, salt, and spices.

With a wooden spoon pour dry ingredients into the wet. Mix until all the dry is fully mixed into the wet.

Pour into prepared loaf pan.

Bake at 375 for about 50-60 min or until lightly brown and when a knife is inserted comes out clean. Slice and serve with real butter!
Notes