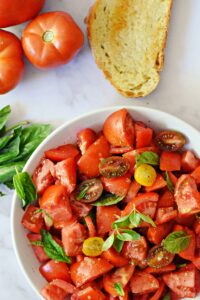 I think we all have things that remind us of the taste of summer,  and one thing that reminds me of summer is a fresh garden tomato. Now, there are store-bought, but a store-bought tomato cannot mimic the taste of one you have grown on your own. Chop a few garden tomatoes up with some fresh basil, garlic, salt, and pepper, and you have this amazing tomato basil salad!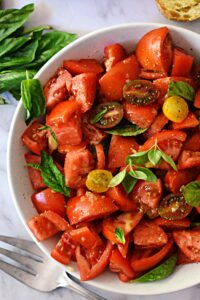 I can remember sitting at the kitchen table on my grandpa's lap eating big tomato sandwiches built with two pieces of white bread, thick slices of tomato, a layer of mayo, and plenty of salt and pepper. I think I enjoyed sitting on his lap eating with him as much as what we were eating. We did this often, and my time at the table with him broadened my palate.
Several years ago when my husband and I were first married we stopped to visit an older Italian lady. She sat us down to eat,  as most Italians do, and I ate something there I would add to my summer menu for years to come. It was simple, it was fresh, and it was flavorful – it was tomato basil salad. I had to re-create it! Summer was in full bloom and it was the season for big garden tomatoes. I started chopping….the fresh garden tomatoes, cloves of garlic, and fresh basil topped with cold-pressed olive oil,  pink salt, and pepper. It was wonderful! And we haven't gone and summer without it since.
I love to know what I'm eating is packed full of nutrition. Tomatoes reduce heart disease, boost your immune system, help reduce migraines, and help prevent cancer! Basil reduces phlegm,  helps eliminate infection, and combats cold and flu! It tastes good, and is good for you…. you can't beat that! Tomato Basil Salad with paired perfectly Crusty Artisan Bread!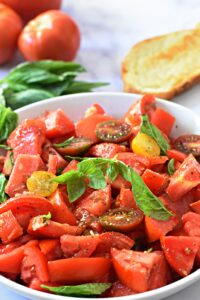 Benefits of Tomatoes
Reduce heart disease
Anti-inflammatory
Helps prevent cancer
Lowers cholesterol
Helps to support healthy weight
Boosts gut health
Vitamins C, A, K, and folate
Minerals magnesium, phosphorus, and copper
Basil Benefits
Helps to combat cold and flu
Helps to eliminate infections
Relieves mucus
Boosts the brain's production of dopamine and serotonin and can heighten the mood
Immune  booster
Fresh Garlic Benefits
Garlic has so many health benefits! I love to sneak it into our diet when we aren't feeling well.
Check out the benefits!
Helps fight against cancer.
It can aid in digestion.
Helps to treat cold and cough.
Helps in the treatment of earaches.
Provides relief from acne.
Helps improve cholesterol.
Boosts immune system.
For other salads check out this amazing Roasted Beet Salad!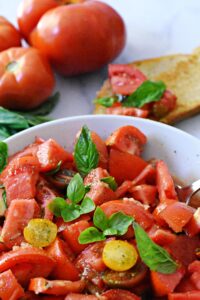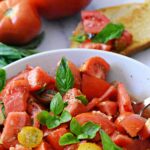 Print Recipe
Tomato Basil Salad
Fresh, marinated tomatoes are the perfect summer side dish.
Ingredients
4-5

ripe tomatoes

A handful of fresh basil

If they are big leaves, you can coarsely chop them.

2

large garlic cloves

grated

1 ½

tablespoon

olive oil

1

teaspoon

pink salt or sea salt

or more to taste

1

teaspoon

fresh ground pepper

or more to taste

Fresh Jalapeño slices

optional
Instructions
Cut tomatoes in half, then cut into chunks.

Coarsely chop the basil leaves very gently so they don't bruise, or use whole if they are small.

In a small separate bowl grate or press garlic cloves into a bowl.

Add salt, pepper, and olive oil.

Mix, pour over tomatoes and basil

Top with jalapeño slices (optional).

Stir and serve!