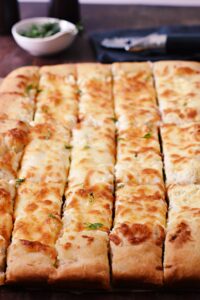 If you are one of those families who love things like cheese and good bite and pull homemade bread dough, then you will love this homemade cheesy bread! Wait! If you are scared by the idea of making homemade bread dough don't leave quite yet. This is super easy to make and believe me, your family will thank you. It's so delicious!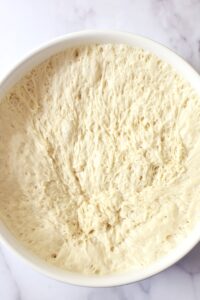 How To Make the Perfect Dough
One may think it would be easier to run to the store and get the pre-made frozen dough from the freezer section, and well, it would be. But I promise you it will be well worth it to take the extra time and make this homemade crust! I've made a lot of bread and homemade doughs and I think people give to many rules. I promise it's not hard, It's really easy!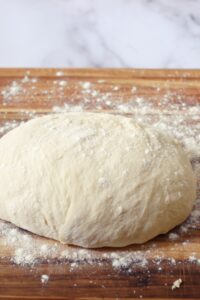 I like to start by putting about a ¼ cup of hot water into the bottom of a bowl. Make sure it's not overly hot, but comfortably hot when you touch it. Sprinkle a pack of yeast onto the water and swirl it in, then you can measure in the sugar and salt. Let that sit for a couple of minutes then you can add in the remaining water and olive oil. Again, when you're measuring in the water make sure it's hot but comfortably hot when you touch it.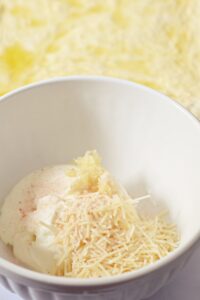 Add the flour one cup at a time stirring it in with a wooden spoon. The dough will be a little sticky after you add the flour but overall will be a nice dough ball. Cover the dough with a kitchen towel or some press and seal. Let the dough set in a warm part of your kitchen until it doubles in size. The dough will be sticky when you go to turn it out on the counter, so sprinkle some flour both on the counter and on the dough. Work the dough for a couple of minutes and the stickiness will go away. When its a nice smooth dough it will be easy to shape it!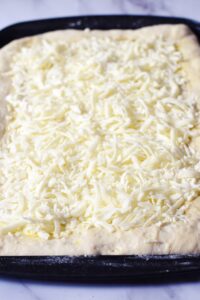 I also like to turn my dough onto a large cutting board which makes for easy clean-up!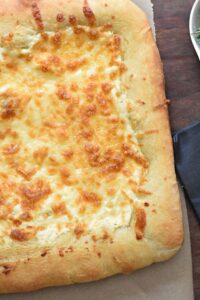 Choosing the Right Cheese for the Cheesy Bread
This cheesy bread is unique with the bottom layer of cheese being ricotta. I realize you may not relate a good cheese bread with ricotta, but it definitely takes it to the next level! Ricotta cheese gives it a creaminess and flavor that is really impressive. I like to flavor the ricotta simply with fresh grated garlic and salt, and then mix in some thickly grated parmesan! Top with a good full-fat mozzarella and bake to perfection!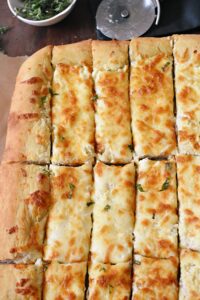 Other cheese choices could work to top this cheesy bread too. You can also top with fresh chopped basil or thyme or even dried basil or oregano. Whatever the combination this cheesy bread will not only be tastier than anything you can buy but also healthier!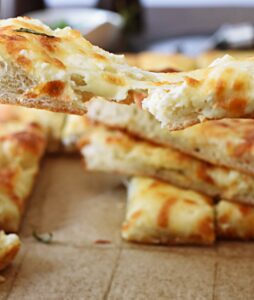 If you need the perfect meal to pair this cheesy bread with then check out this pasta primavera!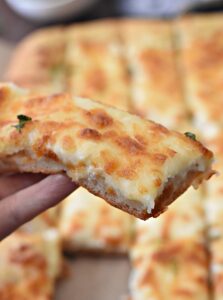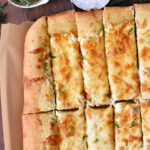 Print Recipe
Cheesy Bread
This cheesy bread is amazing! Homemade pizza dough topped with 3 kinds of cheese, olive oil and fresh garlic!
Ingredients
Cheesy Bread Crust
¼

cup

very warm water

1

pack

yeast

rapid rise is what I use

2

teaspoon

sea salt or pink salt

2

teaspoon

sugar

1 ½

cup

very warm water

2

tablespoon

olive oil

3 ½-4

cups

unbleached flour or bread flour
Cheesy Bread Topping
1

cup

ricotta cheese

½

cup

grated parmesan cheese

2

garlic cloves

grated

½

teaspoon

salt

5

tablespoon

olive oil

divided

2

cups

Shredded Mozzarella Cheese
Instructions
Cheesy Bread Crust
In a medium mixing bowl add a ¼ cup very warm water. Sprinkle in the yeast and let set a couple of minutes.

Measure in the salt and sugar and stir.

Measure in the 1 ½ cups of very warm water and 2 tablespoon of olive oil.

One cup at a time, measure in the flour, stirring after each cup. Add the flour until you get a nice semi-sticky dough. Cover with press-n-seal or a dish towel and let rise for about a half-hour in a warm part of the kitchen. Make sure it doubles in size.

While it is rising make the ricotta mix and set it aside and preheat the oven to 450 degrees. (Recipe below)

Once it has doubled in size, turn onto a floured surface and sprinkle another tablespoon of flour on top of the dough to make it easier to work with.

Knead the dough for a couple of minutes until you have a nice dough ball that's not sticky.

On a large cookie sheet evenly coat with 2 tablespoon of olive oil. Set aside

With a rolling pin roll the dough out to fit the whole length of the large cookie sheet. If you don't have a large cookie sheet you can divide this dough onto 2 regular size cookie sheets. Use your fingers to press the dough out onto all the edges of the cookie sheet.

Once the dough is covering the entire length of the cookie sheet, spread the remaining 3 tablespoon of olive oil over the dough.

Spread the ricotta mixture evenly over the dough.

Sprinkle 2 cups of mozzarella on top of the ricotta.

Bake at 450 for about 20 minutes or until crust is brown and cheese is getting bubbly.

Cut into strips or squares and serve plain or with marinara sauce.
Cheesy Bread Topping
Measure 1 cup of ricotta into a small bowl.

Add salt and grated garlic and stir with a spoon.

Stir in a ½ cup of parmesan cheese. (I use the parmesan cheese that looks grated rather than the powder).

Set aside to top cheese bread dough with.