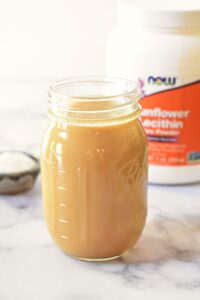 Vitamin C is one of the most widely known vitamins. When we feel a cold or flu coming on we run to the store and get some vitamin C tablets or Emergen-C. It's is one of the most widely known anti-oxidants which plays a vital role in keeping our immune system strong. As you're going to see in this post, DIY liposomal vitamin C far exceeds the benefits of regular vitamin C!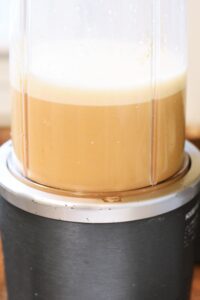 Health Benefits of Vitamin C
All of us want to stay healthy and feel good. The white blood cells in your body rely on vitamin C to survive the attack of pathogens and free radicals.
Vitamin C also: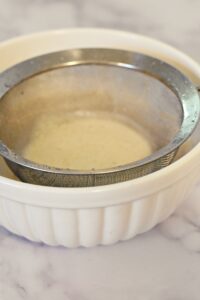 Helps to stimulate collagen which allows you to have healthy skin, bones, ligaments, and more.
Vitamin C will help support healthy aging and give you glowing skin.
It will cause you to have a healthy immune system so you can fight off things like cold and flu.
As mentioned above, its a powerful antioxidant. Antioxidants protect your cells from damage that cause disease and aging.
It can protect and support your memory.
Beneficial to cancer patients to keep their immune system strong.
Supports healthy blood pressure.
Supports healthy metabolism.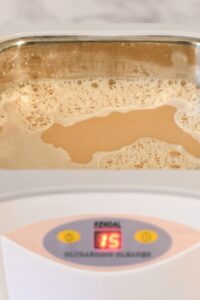 If you are deficient in vitamin C it could cause conditions like this:
Scurvy
Fatigue
Nosebleeds
Slow to heal wounds and easy bruising.
Weak immune system.
Bad oral health.
Dull dry skin.
Dry hair.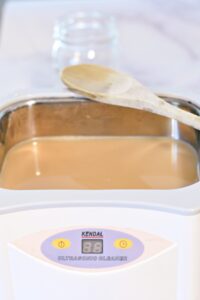 Why is Liposomal Vitamin C a better option?
Vitamin C is a water-soluble vitamin and the cell membrane is fat-soluble. The water-soluble vitamin C has a hard time penetrating the fat-soluble cell the same way that oil and water don't mix. Because oral vitamin C is water-soluble, the absorption rate is about 20% with the other 80% accumulating in the colon. This is where the liposomes are valuable. Liposomes are "nano-size" microscopic fat-soluble vehicles that carry the vitamin C past the digestive system and directly into the cells. This allows for about 80% absorption rate v/s the 20%! The amazing thing is this method of intaking vitamin C is superior to IV vitamin C! Not only is making this vitamin C easy but very cost-effective and will save you money.
As you can see DIY liposomal vitamin C is better absorbed by your body and well worth the money to make it on your own. It takes only a few minutes and purchasing a few items to get started!
Here is what you will need:
Ultrasonic cleaner (jewelry cleaner)
Ascorbic acid powder
Sunflower lecithin
everclear alcohol (optional)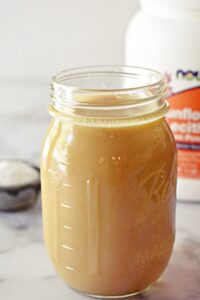 If you want to take liposomal C but don't want to make it, you can buy Liposomal Vitamin C here!
If you are looking for more ways to stay healthy or boost your immune system check out this Honey Elixer that we have used for years!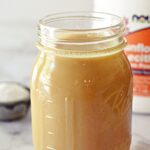 Print Recipe
DIY Liposomal Vitamin C
This DIY Liposomal Vitamin C is an amazing way to absorb high doses of vitamin C and provides incredible health benefits!
Ingredients
1 ½

cups

filtered or distilled warm water

no tap water

2 ½`

tablespoon

ascorbic acid

4

tablespoon

sunflower lecithin

2

oz

Everclear grain alcohol

This is optional. It will provide more encapsulation. I skip it because of the kids.
Instructions
In a Nutri-Bullet or blender pour 1 ½ cups of warm filtered water.

Measure in ascorbic acid and lecithin.

Blend for about 2-4 minutes.

With a small strainer strain liquid to get some of the air bubbles out. You can strain it into a bowl or directly into the ultrasonic cleaner.

Set the timer on the ultrasonic cleaner for 15 minutes. During this time the lipids will encapsulate the vitamin C. Stir with a wooden spoon about every 2 minutes.

When the 15 minutes is up, pour the liquid into a glass container or mason jar and store it in the fridge for up to 10 days.

Take 1-2 oz to get about 1500 mg of vitamin C.

See recipe notes for the supplies I used to make this!
Notes
If you would like to purchase liposomal C in capsule form you can buy it here!
If you have an ultrasonic cleaner and have used it in the past to clean jewelry. Pour the liquid into a mason jar and let jiggle for 15 minutes in the jar to ensure it is clean.
I skip the alcohol because I have 4 kids, but it will help with the encapsulation to use it.
Here is a good stainless steel ultrasonic cleaner to make liposomal C.

You can buy the ascorbic acid
 here.
Here is the sunflower lecithin
 I use.
Disclaimer
This is a personal blog. Any views or opinions represented in this blog are personal and belong solely to the blog owner and do not represent those of people, institutions or organizations that the owner may or may not be associated with in professional or personal capacity unless explicitly stated.
Any views or opinions are not intended to malign any religion, ethnic group, club, organization, company, or individual.
All content provided on this blog is for informational purposes only. The owner of this blog makes no representations as to the accuracy or completeness of any information on this site or found by following any link on this site.
be liable for any errors or omissions in this information nor for the availability of this information. The owner will not be liable for any losses, injuries, or damages from the display or use of this information.
Elke is a participant in the Amazon Services LLC Associates Program, an affiliate advertising program designed to provide a means for sites to earn advertising fees by advertising and linking to Amazon.com.
Clicking on an Amazon link from Elke does not increase the cost of any item you purchase.
We will only ever link to Amazon products that we think our visitors may be interested in and appreciate learning more about.