Are you looking for something different at dinner time?  Most of us would like to get more veggies in our diets, but we get stumped on what to make. It's so easy to get into a rut with grabbing the same veggies from the store week after week. This garlic roasted whole cauliflower may just spring you into something new! It's healthy, it's delicious, and it's easy!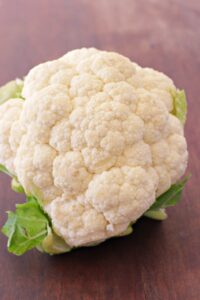 Roasting cauliflower is easy!
Roasting cauliflower is easy and a great way to use it up if it's setting in your fridge. The great thing about roasting a whole cauliflower is that when you flip it over there's holes and crevices.  These crevices make it easy for the marinade to flavor the entire cauliflower and not just the outside. This leaves you with a delicious end result bursting with flavor. Check out these easy steps in roasting your cauliflower.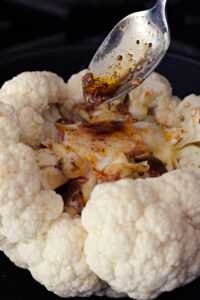 Wash and take any leaves off of the cauliflower.
Make marinade and spoon ½ of the marinade into the inside from the bottom.
Spread marinade over the top.
Roast in the oven spooning marinade over the top every few minutes.
Roast this garlic roasted whole cauliflower until it is tender and caramelized on top.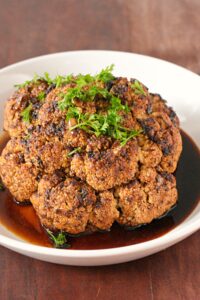 Health benefits of cauliflower.
There are so many health benefits to adding cruciferous vegetables into your diet! These vegetables also including cabbage, kale, broccoli and Brussels sprouts are amazing for the body! Here are a few of the benefits of adding cauliflower into your diet.
High levels of anti-inflammatory compounds.
Several tyes of antioxidants to help to fight off free radicals.
Helps to fight against cancer like breast cancer, stomach, and colon.
Decrease the risk of heart disease.
Supplies high levels of vitamin C and K.
Aids in weight loss.
Shown to help to balance hormones levels.
Great for eye health like cataracts, muscular degeneration, and more.
Helps to improve digestion by improving toxin and waste removal from the body.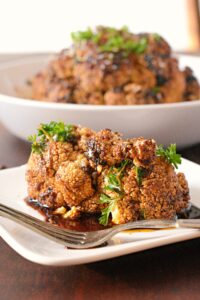 Can I use this recipe for cauliflower florets?
Yes, you can use this recipe to roast a whole cauliflower or for cauliflower florets. By roasting this cauliflower whole it can be used as a side dish or a main dish that would replace meat.
For other delicious veggie recipes check out:
Brussels sprouts with browned butter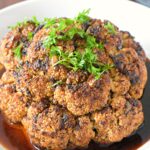 Print Recipe
Garlic Roasted Whole Cauliflower
This garlic roasted whole cauliflower is roasted to perfection with lots of garlic, balsamic vinegar, and maple syrup! It makes a great main dish or side dish!
Ingredients
1

head

cauliflower

3

tablespoon

olive oil

3

large

garlic cloves

grated or chopped

1

teaspoon

paprika

1

tablespoon

maple syrup

½

heaping tsp

of both salt and pepper

½

teaspoon

garlic powder

2-½

tablespoon

balsamic vinegar
Instructions
Clean and remove leaves from the head of cauliflower.

In a small bowl whisk together all the marinade ingredients (oil, spices, and balsamic). Grate in the garlic cloves and mix well.

Drizzle a little olive oil or refined coconut oil on the bottom of an iron skillet or cookie sheet.

Turn the whole cauliflower upside down and put a couple of teaspoons of the marinade into the cauliflower, like pictured above.

Turn over the cauliflower and spread the remaining marinade over top of the cauliflower.

Bake at 400 degrees for 45-55 minutes or until preferred tenderness is reached. Spoon marinade from the bottom of the pan every 15 or 20 minutes.
Notes
If you would like to top the cauliflower with parmesan cheese you can do so in the last 15 minutes of baking!