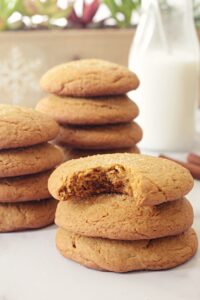 If I'm going to bake, and I am, I'm going to do my best to bake something not quite as sweet, bleached, and chemically as the average dessert. If you bake as much as I do it matters! Thats why these homemade soft gingerbread cookies count as one of my favorite cookies. I try to wait until winter to make them, but sometimes I whip out this recipe in the middle of summer.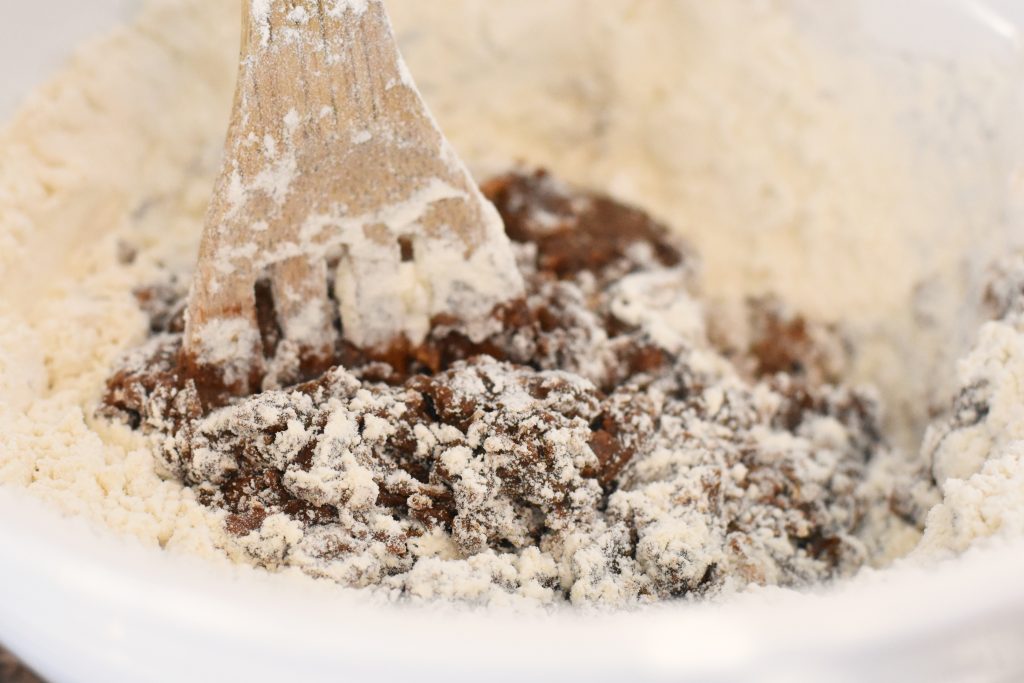 Growing up we had lots of those metal cookie bins around…..Do you know the ones?  My grandma would bake cookies, hardtack candy, all kinds of fudge, peanut butter balls, and would even soak toothpicks in cinnamon oil for my grandpa!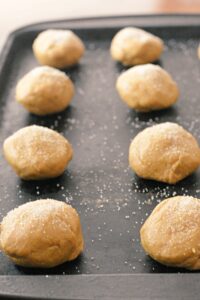 She would make gingerbread cookies, but it was the kind we would cut out with the cute little gingerbread men cutters. As fun as that is, we don't always have time to do that. I would consider that more of a craft I do a couple of times a year with the kids lol. These soft gingerbread cookies are more of a one-bowl simple cookie that can be mixed up in just a few minutes! My kind of cookie!!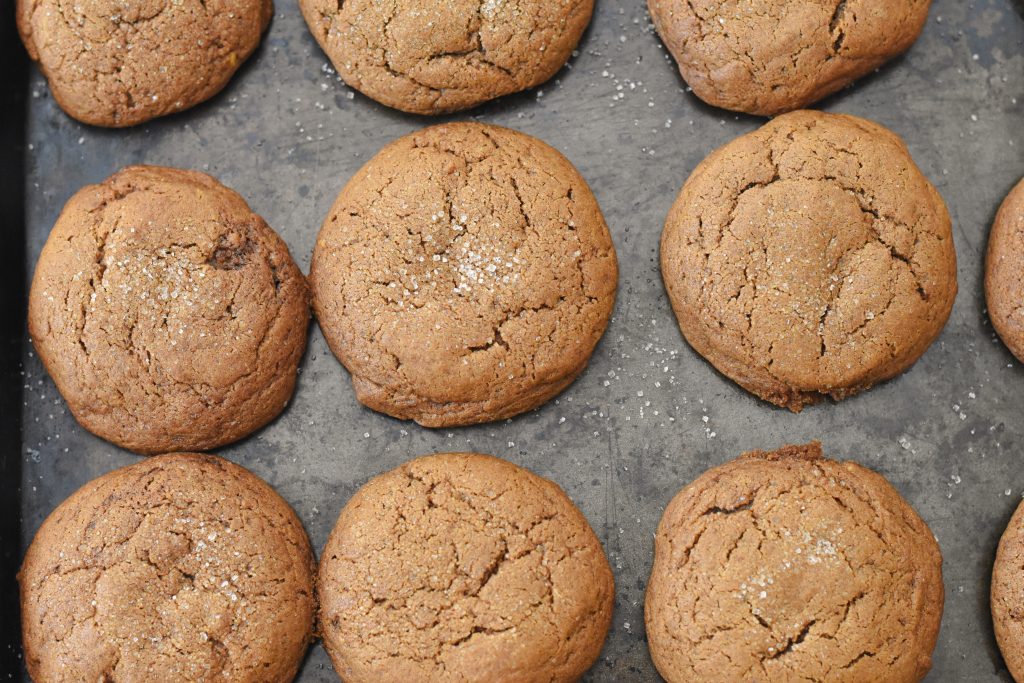 Tips on making these soft gingerbread cookies
When your mixing this dough up it may seem a little dry, but just keep mixing it will come together. After it comes together I like to use a tablespoon or melon baller and scoop it out. This keeps it pretty even. Take the scoop and roll it into a quick ball. It doesn't have to be perfect! Sprinkle a touch of sugar on the top of each one and bake!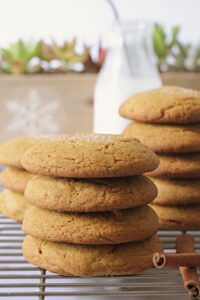 Don't skip the coconut oil! Coconut oil is oilier than butter and helps to be able to reduce the butter in this recipe!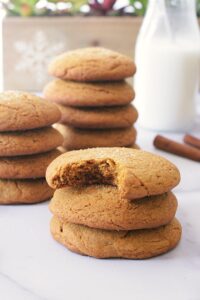 These are a bit old fashioned with unsulphured blackstrap molasses, which is the strongest form of molasses and isn't treated with sulfur dioxide.  I also add a bit of black pepper and cayenne pepper, just to make you question if they're spicy….hehe. Don't worry, this just gives a hint of spice, nothing that will set anyone on fire!
Health benefits of molasses
Molasses has health benefits as it contains iron, magnesium phosphorus, potassium, sodium, zinc, copper, and more!
I also read it can help with chronic fatigue, anemia, hot flashes, and digestive issues!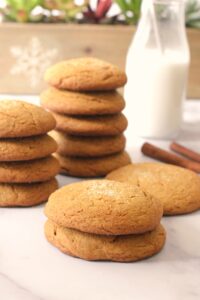 These are the perfect cookie to add to your Christmas cookie list. We love them, I hope you do too!
Love cookies? Check out
One Bowl Oatmeal Chocolate Chip Cookies!
Recipe inspired by Wholefully!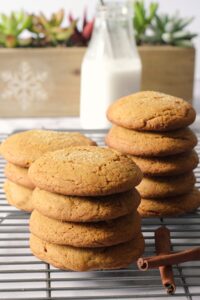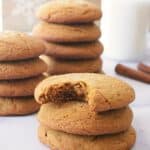 Print Recipe
Soft Gingerbread Cookies
These soft gingerbread cookies are more of a one-bowl simple cookie that can be mixed up in just a few minutes! My kind of cookie!!
Ingredients
1

stick

butter

room temperature

2

tablespoon

refined coconut oil

soft

1

egg

1

teaspoon

baking soda

½

cup

+ 2 tablespoon sugar

¼

cup

unsulphured blackstrap molasses

⅛

teaspoon

of each: salt, clove, nutmeg and black pepper

1 ½

teaspoon

ginger

1

teaspoon

cinnamon

A couple of dashes of cayenne pepper

optional

2

cups

unbleached flour
Instructions
Preheat oven to 350

In a medium mixing bowl, whisk butter, coconut oil, egg, sugar, and molasses together until well combined.

Whisk in salt and all the spices.

Whisk in the baking soda.

With a wooden spoon mix in flour one cup at a time. The dough will seem dry but it will come together.

Once the dough is mixed well, take a golf ball size of dough and roll into a quick ball and place on the cookie sheet until all the dough is gone. (Like pictured above)

Take a teaspoon or less of sugar in the palm of your hand and sprinkle a little sugar on each one.

Bake for 10-12 minutes.