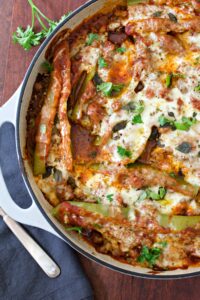 I don't know about you but I'm always looking for quick weeknight meals that only take a few minutes to throw together. We, like a lot of you, are raising kids with busy schedules. When I can find a meal idea that everyone likes I roll with it. I have been making these anaheim stuffed peppers once a week for probably a year! It's an easy meal, Italian style, that pleases everyone. If you aren't familiar with anaheim peppers, no worries we are going to talk about it.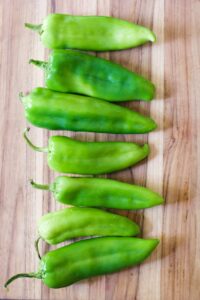 What are Anaheim peppers?
Anaheim peppers are a type of chile used in Mexican cooking. These tasty peppers are usually pretty mild to medium in hotness. My family can take some heat, but I half them and deseed them to avoid drama at the dinner table. They are a great size for stuffing (usually about 6-10 inches long). You can find them located near the other peppers like poblano peppers and jalapenos. I've found that buying them individually instead of in the bag is the most cost-effective way to buy these peppers.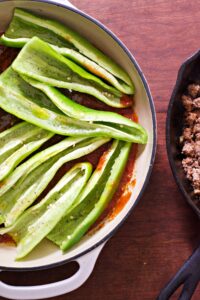 What to make with Anaheim peppers
Although these are typically used in Mexican-style dishes the first dish I made with these peppers was Italian. I needed something quick and easy. Firstly I split the peppers in half, deseeded them, and drizzle them with some olive oil, salt, and pepper. Next, I cook up about a pound of ground beef with some Italian seasoning and stuffed the peppers with the ground beef.  I have a daughter that is vegetarian so I layer her peppers on top and just fill them with sauce and cheese. After I fill the peppers I pour on some marinara and sprinkle on some mozzarella cheese. Lastly, I cover them and bake them for about a half-hour to 45 minutes.  Once I served these Italian-style I never turned back. The six people that set around my dinner table love them. How can you not love that they are quick and easy and full of flavor! You can definitely serve them in all types of ways. Here are some other ways they are served.
Fill them with ground beef seasoned with Mexican spices, cheese, and corn.
Stuff them vegetarian style with black beans, corn, and cheese.
Lime chicken and cheese.
Sausage and cheese.

What can I substitute for Anaheim peppers?
Can't find Anaheim peppers or hate the spice? Try substituting a few different peppers in this recipe. Here are some peppers you could use for this dish instead of Anaheim peppers.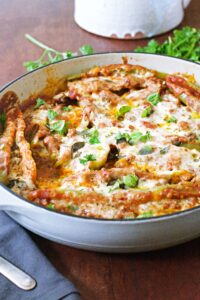 Red, yellow, orange, or green bell peppers. If you use bell peppers you will need to use a good bit more beef and cheese.
Poblano peppers.
Sweet Mini peppers

What to serve with Anaheim stuffed peppers
Since I make these peppers Italian style I serve them with some homemade crusty Italian bread or Focaccia bread and a side salad. You could also serve them with Italian roasted potatoes, garlic bread, or tomato basil salad.
Elke is a participant in the Amazon Services LLC Associates Program, an affiliate advertising program designed to provide a means for sites to earn advertising fees by advertising and linking to Amazon.com.
Clicking on an Amazon link from Elke does not increase the cost of any item you purchase.
We will only ever link to Amazon products that we think our visitors may be interested in and appreciate learning more about.
Anaheim Stuffed Peppers
These Anaheim stuffed peppers are stuffed with ground beef, marinara, and cheese for a recipe the whole family will love.
Ingredients
2-3

tablespoon

olive oil

7-8

Anaheim peppers

1

pound

ground beef

½

white or yellow

onion

diced

½

teaspoon

garlic powder

½

teaspoon

pepper

1

teaspoon

pink salt or sea salt

½

teaspoon

dried basil or Italian seasoning

1

24oz

jar marinara sauce

separated

2

cups

Shredded Mozzarella Cheese or Italian style cheese
Instructions
Cut off the stem and slice the peppers in half longways and deseed the peppers. Set aside

In a skillet fry up ground beef with seasonings and diced onion. Cook on medium heat until it's browned up. Add in 3 tablespoons of the marinara sauce and mix in well. Turn off heat.

In a big casserole baking dish (or baking dish of choice) pour a couple of tablespoons of red sauce to cover the bottom of the baking dish.

Arrange the peppers in the pan cut side up so you can fill them. Drizzle some olive oil over the peppers and coat lightly with salt and pepper.

Fill the peppers with the ground beef mixture.

Pour remaining red sauce over the peppers.

Top with cheese and bake covered for 30-40 minutes or until peppers are tender.
Notes
The baking dish I have is great for this. You can buy it here!