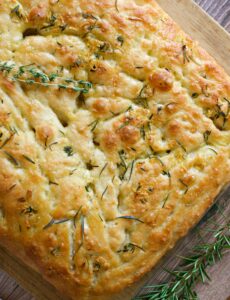 If you want to make a super easy but fancy no-knead bread this no-knead herbed focaccia is the bread for you! This easy-to-make Italian bread is crispy on the outside and soft and airy on the inside. Best of all it's not a lot of work! It can be used as a side dish to many meals or it can be used as sandwich bread!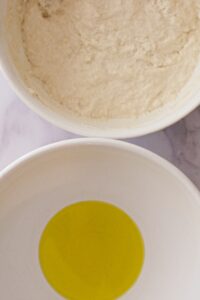 What kind of flour is best for this no-knead herbed focaccia?
You will see recipes for many different flours out there. I've seen people use all-purpose flour or a mix of wheat and all-purpose. Because this bread is similar to pizza dough, bread flour is the best choice. Bread flour is a high-protein flour that is made for the use of yeasted bread.  The high protein in this flour makes the dough result in a more chewy, airy bread. Perfect for focaccia! Although you can use all-purpose flour for this recipe, bread flour is going to be a better choice. The downfall? Bread flour is a bit more expensive. I opt to get the unbleached, organic bread flour so it's a bit more pricy but worth it.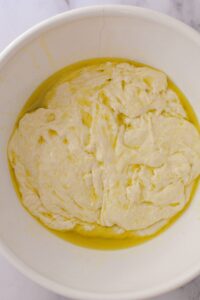 How to make no-knead focaccia
Normally focaccia takes a lot of kneading. So how can we make this bread no-knead? For this recipe instead of kneading the bread for several minutes, this wet dough will rise for a few hours in the fridge. This extended rising time will give the dough its texture and flavor. I like to rise the first time in the refrigerator for 2-3 hours at a minimum. Ideally, you would let this dough set in your fridge overnight. Before you pop this dough into the fridge you are going to transfer your dough into a bowl with olive oil. Once you pour your dough into the bowl with olive oil we are going to take a couple of minutes and create air pockets.  The way we do this is to run your hand around the edge of the bowl and push the dough up and fold it over. Do this several times. This folding will create nice little air pockets in your dough. When this step is done it's time to pop it into the fridge! If you are in a rush you can keep it in the fridge for 2-3 hours. If you are making this ahead of time you can let it rise in the fridge for up to 2 days.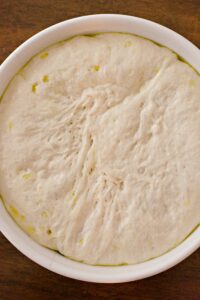 Is focaccia dough suppose to be sticky?
Yes, this is quite a wet dough compared to other bread doughs. You may be tempted to add more flour but as you fold the dough in the bowl with the olive oil you will notice that the dough comes together. Secondly, you won't have to touch this dough much since it is a no-knead recipe. When you pull this dough out of the fridge you can just dump it into your prepared pan. Easy, that's what I like!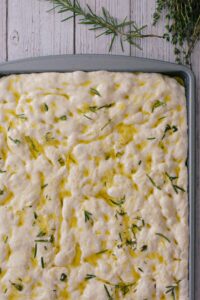 Do I have to use olive oil for focaccia?
Yes, this recipe has just a handful of ingredients, and olive oil is one of the main flavors for focaccia. Trying to sub another oil in place of the olive oil will result in bland bread. I like to use a good quality extra virgin olive oil. It may cost a couple of dollars more, but it will be worth it! I use olive oil like this!

What kinds of toppings are good on focaccia?
On my no-knead herbed focaccia bread, I use olive oil with fresh garlic, rosemary, and thyme. These flavors mesh beautifully together and make a combination that can accompany most meals perfectly. However, if this combination isn't for you, no worries! There are many combos that you can use. Here are just a few!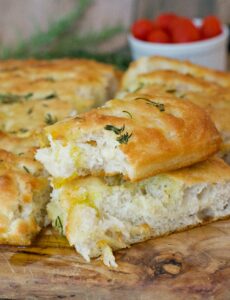 Crushed basil and garlic
Halved cherry tomatoes and kalamata olives
Roasted tomatoes and caramelized onion
Small precooked potatoes and gorgonzola
Tomato herbs and feta
Any combination of these ingredients that you like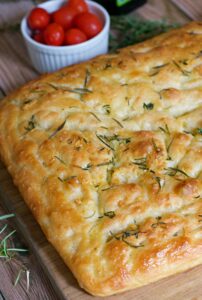 What can I serve focaccia bread with?
This bread can accompany so many dishes! Here are a few that it would pair wonderfully with.
Pasta primavera with whipped ricotta
No-bake spinach stuffed shells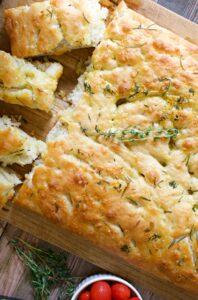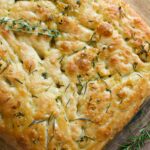 Print Recipe
No-Knead Herbed Focaccia
This no-knead bread is full of flavor and covered in fresh herbs. It is crispy on the outside and soft on the inside.
Ingredients
Bread Dough
½

cup

warm water

to proof yeast

1

pack

active dry yeast

1 ½

cups

warm water

add an extra ¼ cup if the dough isn't wet

1

tablespoon

sugar

1

tablespoon

salt

4

cups

bread flour

or other flour- see post

7

tablespoon

olive oil

separated
Herb Topping
3

tablespoon

olive oil

1

tablespoon

fresh rosemary

1

tablespoon

fresh thyme

3

large

garlic cloves

grated

¼

teaspoon

sea salt or pink salt
Instructions
Bread Dough
In a medium mixing bowl add warm water, yeast, and sugar. Let sit for a couple of minutes or until it looks foamy.

Pour in the remaining 1 ½ cups of warm water.

Stir in the flour one cup at a time. Make sure you have accurately measured cups of flour. Mix until the dough comes together. You want the dough to be on the wet side. If it seems to dry add a ¼ cup more water.

In a different large mixing bowl pour 4 tablespoon of olive oil. Transfer the dough into the bowl with the olive oil.

Put some olive oil on your fingers. In the bowl, you want to run your fingers along the edges of the bowl pull the dough up, and fold the dough into the center of the bowl. Continue to do this several times or about for a minute or two. This will help to create air pockets for the airy dough. The dough will be more of a wet dough.

When you have finished folding the dough, cover with some plastic wrap and allow to rise in the fridge for 2-3 hours at minimum or overnight.

Remove dough from the fridge when it's time. Preheat the oven to 425.

Prepare a pan by putting 2-3 tablespoon of olive oil on the bottom. This will help to create a crispy bottom. I used a 10x15 inch cookie sheet with high edges. Something similar would also work.

Prepare the herb topping.

Pour the dough into the prepared pan and stretch the dough and pull at the edges to cover the length of the pan.

With oiled fingers dimple the dough with your fingertips. Do this until all the dough is dimpled. (see the picture in a post for what its suppose to look like)

Spread the topping evenly over the top of the dough.

Let rise for 30 minutes to an hour depending on the temperature of your kitchen.

Bake at 425 for about 25-30 minutes or until it is golden brown.
Herb topping
In a small bowl add the olive oil.

Chop the rosemary and pull the thyme off of the stems. Mix these herbs into the olive oil.

Grate in the garlic and mix in the salt.