When fall and winter roll around I think, soup weather! Nothing screams soup weather like a warm bowl of chili and sweet cornbread, yes, I said sweet cornbread. If you are looking for a bowl of chili that's bold and spicy with hints of dark beer and smokey chipotle peppers you have come to the right place. Regular chili is good, but this chipotle beer chili is set apart. Oh, and it always won an award in a chili contest!

Ingredients
Now, yes, there are some typical chili ingredients in this amazing chili.  But we are going to add a few things that will take your chili making to the next level. What are some things that set this chili apart?
Of course beer. This is in fact a dark beer chili. This is going to not only give your chili a rich deep flavor but also make the chili really hearty and rich.
Chocolate. Don't click off this post just yet. Have you ever had chocolate with chilis? It's the same idea. Chocolate brings a rich deep flavor and brings out the flavor of the chipotle peppers!
Chipotle peppers. Don't be afraid to add these to your chili. Yes, they add some heat, but they also add a great smoky flavor that meshes perfectly with the beer and chocolate.
Tomato paste. This isn't typical for chili, but it gives richness to the tomato flavor of the soup.
Lots of garlic. Do I really need to explain this?
Smoked paprika. There is regular paprika and then there is smoked paprika. This chili has a rich smoky flavor, so smoked paprika is a must.
Brown sugar. Salty just needs a little sweet sometimes. Brown sugar will add to the depth of flavor in this chili. Don't skip it!
These ingredients set this chipotle beer chili apart from your everyday chili!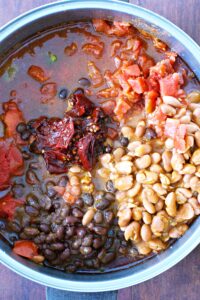 Cooking instructions
This chili can be cooked in a pot on the stove or in a crockpot. But first, there are just a couple of key things you will need to do. First, you always need to brown the hamburger meat up first. I like to use good-quality grass-fed beef. It tastes better and the texture is better. Browning the meat up first will help to bring out the flavor. Next, when the meat is about halfway through cooking you will want to add in the diced onion and jalapeno. Again, we do this to help develop deep rich flavors. Adding the garlic in for about 2 minutes will ensure you don't burn the garlic. Burning it could ruin the taste of the chili. So, make sure you add it in and stir continually for just about 2 minutes. At this point, you can pour in the beer. If you would like to pour this into a crockpot now is the time to do it before adding the rest of the ingredients. Now, you are ready to stir in the spices, beans, tomatoes, stock, chipotle peppers, chocolate, and sugar. Always taste and add more salt as needed.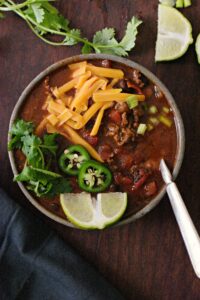 The best toppings for chili
I never like to serve chili by itself. Toppings make chili fun! I have found that this also helps my kids to try new taste combinations. Here are some of my favorite toppings for chili.
Sliced jalapenos
Cheddar cheese
Green onions
Sour cream
Red pepper flakes
Cilantro
Cubed avocado
Lime slices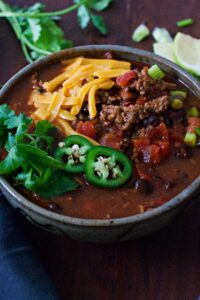 Some people even add pieces of tortilla chips for a crunch. Chili is a great food to entertain with. Having a chili topping bar and a good cornbread makes the chili eating experience complete.
Are you a winter soup fan like me? Here are some of my most popular soup recipes!
Roasted tomato soup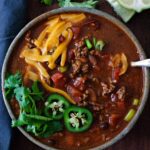 Print Recipe
Chipotle Beer Chili
This amazing chipotle beer chili is full of deep rich flavors and has the perfect amount of spice.
Ingredients
2

lbs

ground beef

I use grass-fed

1

medium

white or yellow onion

diced

1

jalapeno

diced and de-seeded for less heat if you perfer.

5

garlic cloves

pressed or grated

2

tablespoon

chili powder

1

teaspoon

of each - smoked paprika, garlic powder, and cumin

3

teaspoon

salt

or more to taste

1

teaspoon

cacao powder

3

teaspoon

dark brown sugar

3

chipotle peppers + 1 tablespoon of the sauce

You can find these in a can in the Mexican food section.

8

oz

dark beer

1

14.5 oz

can of fire-roasted tomatoes

2

heaping tbsp

tomato paste

1

10 oz

can of tomato with green chilies

1

15 oz

can of seasoned black beans

1

15 oz

can of chili beans

these are seasoned to taste like chili

2

cups

chicken stock

optional toppings like cilantro, shredded cheese, fresh jalapeno, green onions, sour cream.
Instructions
In a big soup pot brown the hamburger on medium heat. Add a little salt.

About halfway through cooking the hamburger add in the diced onion and jalapeno. Add a sprinkle more of salt. For more heat leave in the seeds. For less heat take them out.

When the burger is browned grate in 5 cloves of garlic and stir well for a minute or two.

Add in beer and stir well then all the spices. (Chili powder, garlic powder, smoked paprika, salt, cumin, chocolate powder, and brown sugar.

Pull out 3 chipotle peppers from the can and dice them up pretty small. Stir them in along with a tablespoon of the liquid part of the peppers.

Stir in the tomato paste, both cans of tomatoes, and both cans of beans.

Stir in the chicken stock.

Let simmer for about 30-40 minutes. Then taste to see if any more salt is needed.

Serve and top with toppings of choice.
Notes
If you can't find the seasoned black beans and chili flavored beans you will need to add more salt. I use the simple truth organic brand of these beans to avoid MSG.