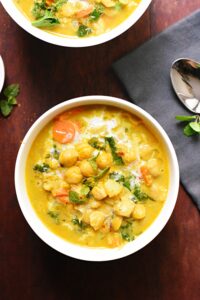 Soup season is here and I'm ready to make all the soups. This chickpea curry stew is a bit magical to me. I love the aroma of bold spices like curry, fresh ginger, and garlic. Fall is a great time to get into the kitchen and try something new! Getting your protein source from chickpeas might be a different idea, however, they are full of protein among other things.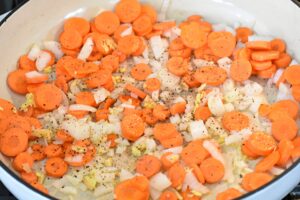 The other great thing about this chickpea curry stew is it's very inexpensive to make! Organic chickpeas only run about a dollar per can and all the other ingredients in this soup are pretty cheap and healthy! I thought about calling this anti-inflammatory stew. This stew is full of anti-inflammatory ingredients and other ingredients that are awesome for detoxing!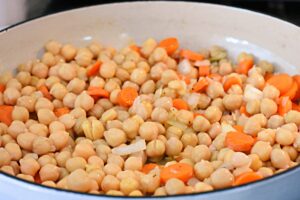 Check out how healthy this stew is!
Benefits of chickpea curry stew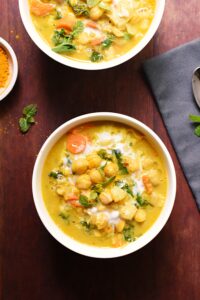 Chickpeas are super healthy! They are full of fiber. Rich in B vitamins, zinc, and folate. They are also great for weight loss! Chickpeas are a great source of protein for vegetarians or vegans and they are very inexpensive!
Curry powder– Curry powder promotes good digestion helping regulate bowel movements and has antibacterial properties.  The turmeric in curry makes it highly anti-inflammatory and helps to even prevent tumor growth! It's also great for energy, pain relief, and anti-aging!
Fresh ginger-Ginger also reduces inflammation, helps fight cancer, and strengthens the immune system. It also has other benefits like improves circulation, relieves gas, and fights infection.
Kale- This superfood is also anti-inflammatory! Kale can help boost the immune system, it's high in fiber and rich with antioxidants! It also helps to activate detoxifying enzymes in the liver, and is packed full of vitamins and minerals!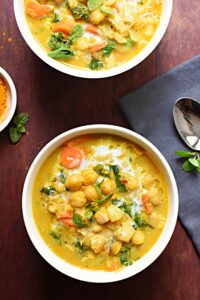 I could go on about coconut milk, onion, garlic…. this chickpea curry stew is super healthy! It could be used as an anti-inflammatory detox soup! Not only is it super healthy and full of benefits, but it is absolutely delicious!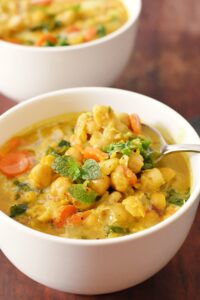 If you haven't tried curry before this stew is the perfect way to start. This gluten-free, dairy-free, sugar-free stew is amazing!
Something to think about…..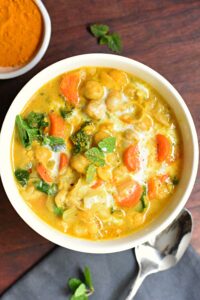 "A healthy outside starts from the inside."
~Robert Urich
Love soup? check out this amazing Potato soup!
For other curry recipes check out this Vegetarian Thia red curry!
Looking for anti-inflammatory recipes? Check out this delicious golden milk!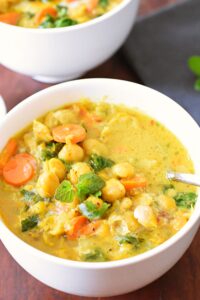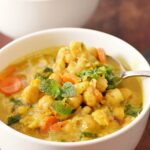 Print Recipe
Chickpea Curry Stew
This Chickpea curry stew is full of bold flavors and aromas. Curry powder, fresh ginger, garlic, and turmeric come together for a cozy and amazingly healthy stew!
Ingredients
1-2

tablespoon

olive oil

1

small

white onion

diced

1 ½

inch

chopped ginger root

4

medium

carrots

sliced

3

large

cloves of garlic

grated or minced

2

cans

chickpeas

drained

1

can

full-fat coconut milk

2

cups

vegetable broth

1 ½

cups

chopped kale

I remove leaves from the stem

1

tablespoon

yellow curry powder

1

teaspoon

salt (divided)

or more to taste

½

teaspoon

pepper

or more to taste

1

teaspoon

turmeric powder

optional ( I add for color and health benefits)

½

teaspoon

red pepper flakes

optional

Garnish with fresh mint, fresh cilantro, or swirls of coconut cream.
Instructions
In a soup pot add olive oil and on medium-low heat saute onions, ginger, and carrots for about 3-4 minutes. Sprinkle a ½ teaspoon of the salt and some pepper and stir well.

Add garlic and both cans of drained chickpeas and cook, stirring often, for about 5 minutes.

Sprinkle the curry powder and turmeric over everything in the pot and stir.

Mix in the can of coconut milk and both cups of vegetable broth. Stir well and bring to a simmer.

Add the cup and a half of chopped kale and mix well. Simmer for about 20-30 minutes smashing some of the chickpeas with the back of your mixing spoon to make it a little thicker. (As this simmers it will get thicker like a stew.)

Turn down to low and add pepper flakes if desired.

Garish with your favorite toppings like pepper flakes, mint, a little coconut cream, or Thai basil and serve.

I like to serve with jasmine rice!