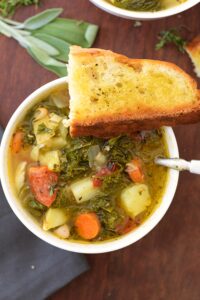 Vegetable soup, in my opinion, can be a bit boring.  A good soup to me has the depth to its flavor. This soup accomplishes just that with hints of fresh sage,  thyme, garlic, fresh tomato, and lots of fresh veggies. This skinny Tuscan kale soup is one of the most delicious vegetable soups I have made!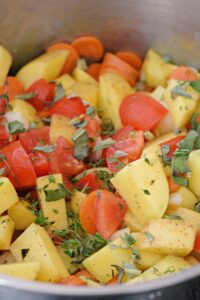 I love a creamy soup, but a creamy soup without the cream… now that's what I call "skinny soup!"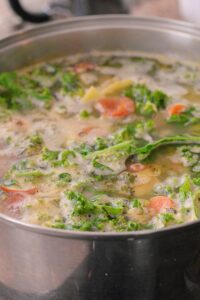 Why is soup good for weight loss?
There are other reasons why I call this soup skinny soup, and here's why. Besides the fact that this amazingly healthy soup is made creamy with crushed cannellini beans instead of milk or cream, there are reasons beyond that! Did you know that soup is more filling because of the water content? You could eat the same food in solid form with a glass of water on the side, and you would get hungry quicker. The water content allows it to take up more room in your stomach keeping you full for longer. What does that mean? Yep, you guessed it…you will be less likely to go for that snack. Good news right? For weight loss, not every soup would be a good choice. Cream-based soups would obviously be more fattening. Better soup choices would be soups like this one that don't use cream or pasta.
What makes Skinny Tuscan Kale Soup Healthy?
Check out some of the health benefits!
Kale-aids in weight loss permits healthy skin, high in vitamins and fiber, and boosts immunity.
Potatoes– cleanse the liver, they are high in fiber, and rich in vitamins like C, B6, and copper.
Carrots -rich in fiber, improves digestion, and skin.
 Fresh sage-boosts immune system, prevents constipation,  full of protein, and loosens stiff muscles.
Cannellini beans-help you lose weight,  regulate blood sugar,  high in potassium.
Fresh thyme-mood boosting effects, helps to treat coughs and bronchitis, helps to fight cancer cells.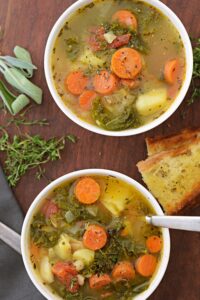 I'm going to stop there.  I could say something good about every ingredient in this soup! It's great to think this way! When I put an ingredient in a recipe, I think about how it will benefit me or my family's health. Let's start this year off right by making good healthy choices, trying things we haven't tried, and educating ourselves about what we are feeding our bodies.  I'm so glad you're on his journey with me to get healthier and feel better!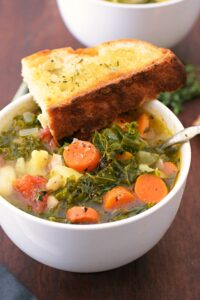 Can I add meat to this soup?
Traditionally, Tuscan soup has Italian sausage. If you are a sausage lover you can fry up a pound of Italian sausage and add it to your soup!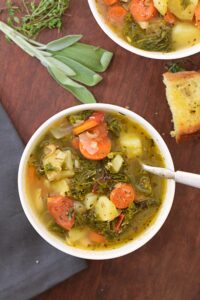 Looking for other delicious soups? Check out this Chickpea Curry Stew!!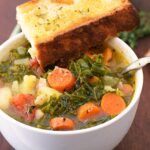 Print Recipe
Skinny Tuscan Kale Soup
I love a creamy soup, but a creamy soup without the cream… now that's what I call "skinny soup!" You won't miss any of the classic flavors in this Tuscan kale soup though, promise.
Ingredients
1

tablespoon

olive oil

1

teaspoon

refined coconut oil or butter

2

teaspoon

pink salt or sea salt

more if needed to taste

1

teaspoon

black pepper and garlic powder

or more to taste

½

teaspoon

Italian seasoning

4

large potatoes

diced

4

whole carrots

sliced

1

small yellow onion

chopped

4

cloves

of garlic

chopped or grated

1

teaspoon

sugar

optional

1

large

tomato

chopped

2-3

tablespoon

fresh sage

chopped into small peices

5

sprigs of thyme

leaves taken off the stems

32

oz

vegetable stock

or stock of choice

3

cups

filtered water

1

can cannellini beans

see directions

3

cups

fresh kale taken off tough skins

roughly chopped

Drizzle of olive oil

optional
Instructions
Chop potatoes and carrots.

Add butter and olive oil to a medium saucepan over medium heat.

Add potatoes, carrots, and onion, salt and pepper cook for 3-4 minutes, stirring occasionally.

Chop tomato and add to pot.

Chop sage, pull thyme off stems and add to pot.

Grate or press garlic cloves in and stir.

Add broth and water.

Open beans.

Pour half of the beans in a bowl and smash them with a fork until creamy.

Add crushed beans and the rest of the whole beans to soup.

Chop kale coarsely and add to soup.

Stir.

Reduce heat.

Simmer for 20-30 min or until vegetables are tender.

With the back of your spoon smash a few potaotes to make broth creamier if you would like.

Top with a drizzle of olive oil.