If you need a festive holiday dessert, you have come to the right place. This sweet almond-flavored cake pairs beautifully with tart fresh cranberries and hints of fresh orange zest. It bakes up perfectly in an iron skillet. This is a no-fail Christmas dessert that will be sure to please a crowd. This cranberry skillet cake is best served warm with some vanilla ice cream or whipped cream and of course a hot cup of coffee.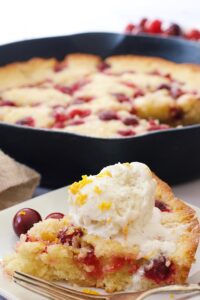 Ingredients for this cranberry cake
This cake doesn't have endless ingredients, but the ingredients it has pack a lot of flavors making it a great cake! Here are some of the main ingredients for this cake!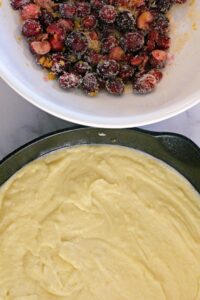 Cranberries. Yes, they are tart little berries. Their sourness is even a bit much for us and we love sour in our family. Eating them plain has to be done as a challenge! But, mixed with a little sugar and baked in a sweet cake they are delicious!
Almond extract. This stuff is strong so don't add any extra, but the right amount of this extract adds a lovely flavor. Almond extract brings all the holiday feels and is a great extract to have around for baking!
Orange zest. I toss the cranberries in orange zest and sugar. The orange zest really brings out the freshness of the cranberries and reminds our palates of homemade cranberry sauce.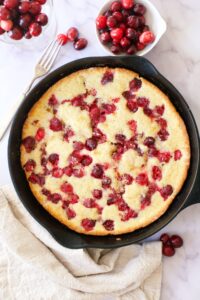 The rest of the ingredients are your typical cake ingredients. Flour, butter, egg, sugar, baking powder, and salt. I love that this cake is really easy to make. It will only take 10 minutes or less to mix up and pop in the oven. It's the perfect dessert for the business of the holidays!

Cranberry cake variations
While I have only made this cake in an iron skillet, other options would also work.
Small baking dish. Don't use a big old sheet cake pan, but something a bit smaller around the size of the iron skillet would also work. You could use a square or round baking pan.
Make muffins! Yes, you could definitely make this into muffins and it would make a great Christmas morning breakfast!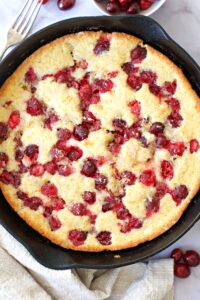 Benefits of cranberries
Cranberries are full of benefits and are great to eat while they are in season. Check out a few of the amazing benefits of cranberries.
Improve immune functions including lowering the frequency of cold and flu symptoms. They are super rich in vitamin C!
We all know cranberry is good for urinary tract infections. They can help to prevent bacteria from sticking to the surface of the urinary tract!
High in antioxidants. These will help the body fight inflammation and free radicals.
Cancer-fighting substances and are considered cancer-fighting food!
Along with vitamin C, they contain manganese, vitamin E, K, B6, potassium, and copper.
They also have high levels of phytonutrients that help to protect against certain diseases and destroy free radicals.
The best way to serve this cake
This cake is delicious on its own. You can serve this cake warm out of the oven with vanilla ice cream or serve it with homemade whipped cream.  Anyway, you chose to serve this cake, I think it will be a cake your family will love.
I love filling the air with holiday cooking! Some of my other favorites to serve this time of year are:
Apple pie with a crumb topping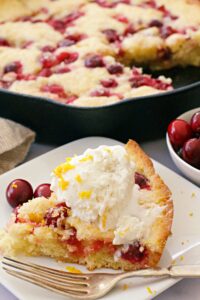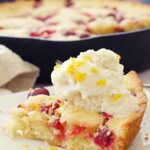 Print Recipe
Cranberry Skillet Cake
Delicious sweet almond-flavored cake with tart cranberries and hints of orange zest cooks up perfectly in an iron skillet!
Ingredients
1

cup

fresh cranberries

1

cup

sugar

separated. ½ cup for cranberries and ½ cup for the cake batter.

1

large

orange zest

reserve a little to garnish with if you want

1

cup

flour

1

stick

melted butter

separated. 7 for cake, 1 tablespoon for the bottom of iron skillet

1

teaspoon

baking powder

1

egg

½

cup

milk

1

teaspoon

almond extract

½

teaspoon

salt
Instructions
In a small mixing bowl wash and add in cranberries, ½ cup of sugar, and orange zest. With a pastry blender (or a fork could work), smash some of the cranberries so some are crushed and some are whole. Set aside.

In a large mixing bowl measure in flour, sugar, baking powder, and salt. Mix well.

With a wooden spoon mix in milk, 7 tablespoon melted butter, egg, and almond extract.

Melt your reserved 1 tablespoon of butter into the bottom of the skillet over low heat. Or you can pre-melt the butter and brush it in the bottom of the pan.

Pour in the cake mixture.

Add the sugar and orange-coated cranberries evenly on top of the cake.

Bake at 350 for about 30-35 minutes or until the cake springs back when you touch it and starts to pull away from the edges. Enjoy this cake with vanilla ice cream or whipped cream and top with a little extra orange zest!