I've got you covered if you are looking for a new soup recipe. This coconut curry lentil soup is high in protein and has amazing flavors. This soup comes together in just a few minutes and makes a great quick meal. This soup is also amazing for detoxing with healthy ingredients like turmeric, curry powder, garlic, onions, and coconut milk. Get your chef hat on and let's make lentil soup!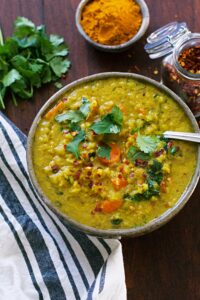 Do you have to soak lentils for making soup?
The answer is no. Lentils cook very quickly. I like to pour the lentils in at the end when I have my liquid to simmer them in. Red lentils work the best for this recipe. They cook quickly, but break down a little and cause the soup to be creamy and delicious! If your only choice is green lentils they will also work and are very similar to red lentils.
Is coconut curry lentil soup good for you?
If you are looking for a healthy meal and are wondering if lentil soup is healthy, the answer is yes. Lentils are packed with protein, calcium, iron, and magnesium! They also have a good amount of potassium, vitamins A and C, and fiber. Lentils are a great addition to your diet. They will also benefit you by giving you a burst of energy and can help you along with your weight loss.
Lentils are also low in fat and easy to digest. They are cost-effective also! I buy organic lentils and they are still pretty cheap!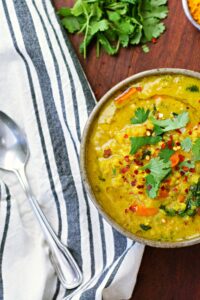 How do I make lentil soup thicker?
This coconut curry lentil soup is going to thicken up mostly on its own. I like to take a potato masher and mash just a little to break up some of the bigger carrots and some of the lentils. Red lentils are going to soften up pretty quickly and break down on their own though. If you have an emersion blender and want your soup a little smoother, you and quickly blend a few times. You don't want to overdo it. This soup is good with a little bit of texture!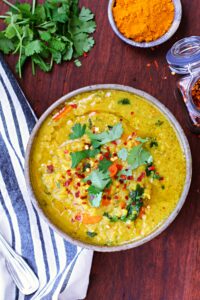 What side dishes go with lentil soup?
I like to serve this soup with jasmine rice on the side and Artisan bread. Naan bread would also be a great choice. Of course, soup and salad make a delicious meal too. A winter salad with nuts and cranberries would complement this soup well!
Are you a soup lover? Check out these awesome soups and stews!
Chickpea curry stew – This is one of my favorites! It's high in protein and is packed with great flavors!
Tuscan vegetable soup – This soup is full of vegetables and fresh herbs and is made creamy with white beans!
Roasted tomato soup– I have never been a fan of tomato soup until I made it homemade! What a game-changer!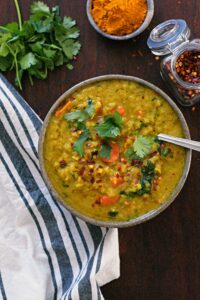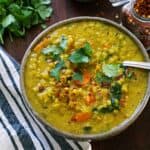 Print Recipe
Coconut Curry Lentil Soup
This coconut curry lentil soup is healthy, easy to make, and full of rich flavors. It's the perfect soup for a quick dinner night!
Ingredients
2

tablespoon

olive oil or coconut oil

3

whole

carrots

sliced

1-2

inches

fresh ginger

diced up small

1

medium

onion

chopped

3

cloves

garlic

grated or chopped

1

tablespoon

yellow curry powder

1

teaspoon

turmeric

½

red pepper flakes

2 ½

teaspoon

pink salt or sea salt

1 ½

cup

dry red lentils

1

32 oz

container of chicken or vegetable broth

1

13.5 oz

can of whole-fat coconut milk

½

cup

chopped cilantro

reserve a little for garnish
Instructions
Chop carrot and onion. If your carrots are really large at the base, cut each slice in half again. You don't want large pieces of carrot.

Chop up the ginger and the garlic.

Over medium heat in a soup pot add oil then add the onion, ginger, and carrots. Cook for 3-4 minutes to bring out the flavors.

Add in the garlic and cook for another minute stirring continually so the garlic doesn't burn.

Stir in curry powder, turmeric, salt, and pepper flakes. If you don't want this to have spice you can replace the pepper flakes with black pepper.

Stir in the stock and coconut milk.

Bring to a simmer for about 15-20 minutes or until lentils and carrots are tender. While the soup is simmering add in the chopped cilantro saving a little for garnish if you desire.

Take a potato masher and just mash up some of the soup to thicken it.

Serve and garnish with fresh cilantro and pepper flakes if desired. I also like to serve this with some jasmine rice.