If you are a tomato soup lover or even if you're not, I have an easy delicious roasted tomato basil soup for you that I think you will love! I like this soup because it has a wonderful texture with bits of tomatoes and vegetables with notes of fresh herbs and garlic. It is perfect served with crusty artisan bread or your favorite grilled cheese. To top off this easy amazing soup it has a bit of spice which I personally love! If you're not into spice, don't worry, you can leave it out. Both ways this soup is as easy as roasting veggies and blending. You can't beat that for a crisp cool, busy day!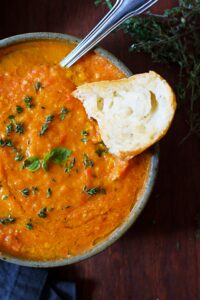 Is this roasted tomato basil soup healthy?
Yes, tomato basil soup is a healthy meal! Tomato themselves are super healthy among all the other ingredients in this soup! Let's check out some of the health benefits of this delicious soup!
Tomatoes have lots of benefits. Let's look at a few of them.
They are high in vitamin C which is a powerful antioxidant.
Tomatoes have the phytochemicals quercetin and lycopene which can protect against cancer.
Copper is a mineral found in tomatoes.
Manganese is another mineral found in tomatoes to help support your liver and bones.
Make sure to buy organic tomatoes because they are on the dirty dozen list!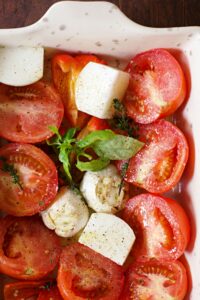 This soup also has lots of garlic which is anti-viral, anti-fungal, and anti-bacterial! Onions are another wonderful ingredient in this soup that provides a heap of benefits for the immune system.
If you haven't been one to use thyme, now would be a great time to incorporate this amazing herb in your cooking! Thyme is great for respiratory conditions, has anti-tumor properties, helps with high blood pressure, and is a high anti-microbial!
Basil is another herb found in this soup. Basil is great for energy, anti-aging, antimicrobial, and anti-inflammatory!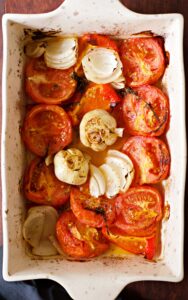 How do I make a smooth tomato soup?
I like my tomato soup with a bit more texture. Maybe you grew up eating Campbells tomato soup and you want a more creamy texture. After roasting everything let it all cool a bit so you can touch it. You should be able to pinch and pull off the skins of the tomatoes, bell pepper, and hot pepper. Taking these skins off will allow for your soup to blend up to a smoother soup.
Another thing you can do is cover everything with some aluminum foil as you bake it. This will allow the veggies to get softer as they cook to ensure they blend smoother.
Can I skip the jalapeno?
I like some heat and my family has gotten used to spice. If your family isn't a fan of spice, no problem! You can just leave out the pepper! You can add some extra red bell pepper in its place if you want.
Can soup help me lose weight?
Did you know that soup is more filling because of the water content? You could eat the same food in solid form with a glass of water on the side, and you would get hungry quicker. The water content allows it to take up more room in your stomach keeping you full longer. What does that mean? Yep, you guessed it…you will be less likely to go for that snack. Good news right? For weight loss, not every soup would be a good choice. Cream-based soups would obviously be more fattening. Better soup choices would be soups like this one that don't use cream or pasta.
Looking for other soup recipes? There's nothing like homemade soup. Here are some other great recipes!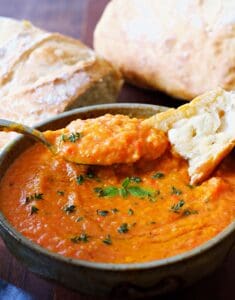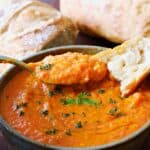 Print Recipe
Roasted Tomato Basil Soup
This roasted tomato basil soup is perfect for a quick meal! It's full of fresh vegetables and herbs for an amazingly easy and healthy recipe!
Ingredients
4-6

medium to large tomatoes

cut in half

1

large

white or yellow onion

cut in fourths

2

heads

of garlic

1

small

red bell pepper

1

red jalapeno pepper (de-seeded)

optional

5-6

sprigs

fresh thyme

¼

cup

fresh basil

3-4

tablespoon

olive oil

1

teaspoon

salt

or more to taste

1

teaspoon

turmeric powder

1

teaspoon

pepper

or more to taste
Instructions
Wash and half your tomatoes and chop your onion in fourths and place in a large roasting pan.

Cut the ends off of the heads of garlic and place cut side up in the roasting pan.

Wash, de-seed, and cut the bell pepper in chunks and place in roasting pan.

Cut jalapeno in half and de-seed and place in the pan.

Place the sprigs of thyme and basil in the pan.

Evenly coat everything with olive oil and salt and pepper.

Roast at 400 for about 45 minutes or until veggies are tender. You can cover for quicker cooking. I like some texture to my veggies so I leave them uncovered.

When everything is done remove from the oven and allow to slightly cool enough to handle the garlic.

Spoon everything but fresh thyme and garlic into a large blender. (including any juices from the pan)

Squeeze garlic out of the cloves into the blender and discard the halls.

Add a teaspoon of powdered turmeric powder to the blender.

Blend everything until you reach the consistency you like adding extra salt and pepper if needed.

Spoon into a bowl and drizzle with a little olive oil and some fresh herbs if desired.