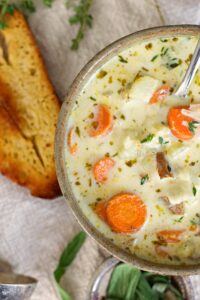 We spent our cold West Virginia winters eating soup….lots of soup, and to be specific….lots of vegetable soup and Creamy Potato Soup! I developed it over the years to make it my own, or, Elke's potato soup!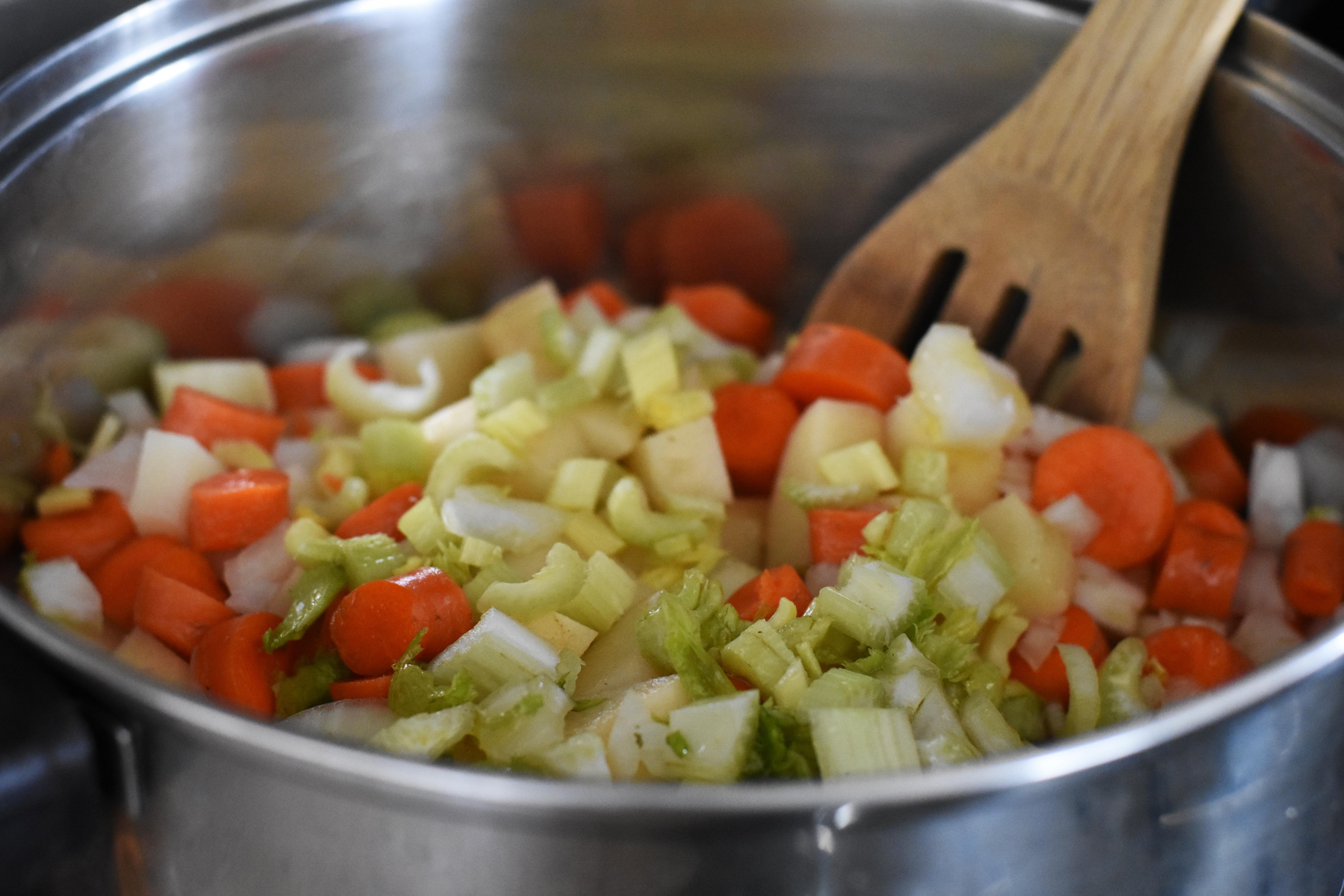 My Grandma would make huge pots of soup and it would feed us for several days. Grocery stores weren't just a hop, skip, and a jump away, as my grandma would say, and leftovers were always on our weekly meal list. Leftovers or not, we always gathered around the dinner table every evening to dine as a family. It's one of my favorite memories.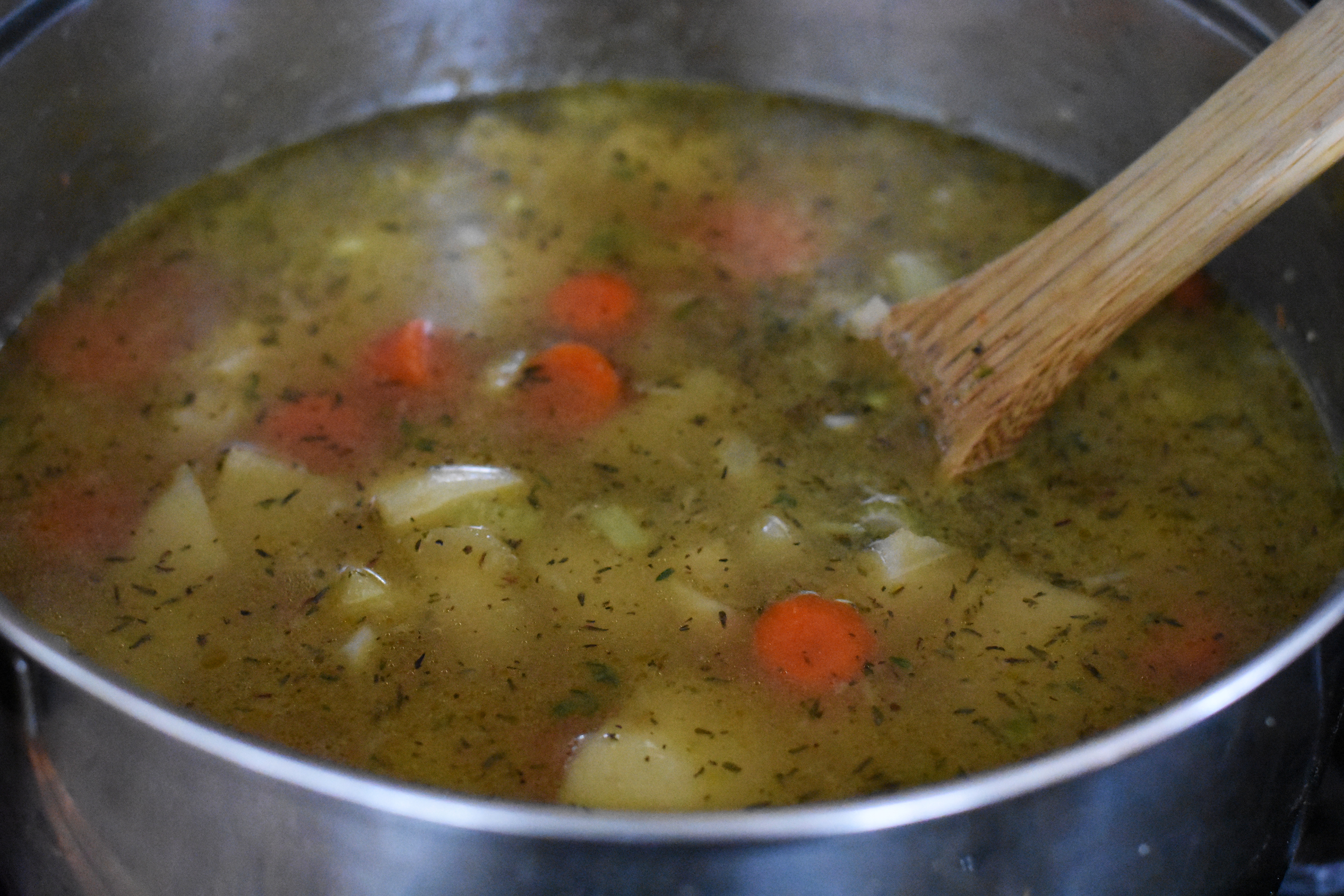 Sometimes the pot of soup was so big that it wouldn't fit in the refrigerator and she would put it right out in the snow! I'm sure there were times my brother and I wished a bear would come and eat it so we wouldn't have to AGAIN, but it was always there the next day.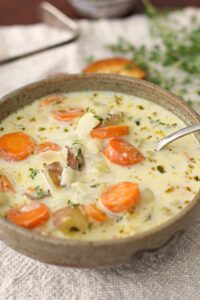 Potato soup was always on her list of soups to make. It was simple, rich, and creamy, and always one of my favorites.
How to make potato soup
Over the years I developed it into what I think is the perfect creamy potato soup! I added ingredients like carrots, fresh garlic, and thyme. All the flavors come together wonderfully. I have made this soup for hundreds of people over the years, and everyone loves and enjoys it!
First I always use russet potatoes. I think these types of potatoes work the best. It may seem odd to add carrots to potato soup but I promise they add a lot to the soup! Next, I make sure to use white or yellow onion, fresh celery, and fresh garlic.
Make sure to saute the onion, carrots, and celery for a few minutes to bring out the flavor. Skipping this step will lead to a bland soup. After you saute those veggies for a few minutes add in the fresh garlic and thyme. Now it's time to add the diced potatoes. I leave the skin on, but if you want to can remove it.
Lastly, add in your broth and milk. I used to use water to boil the potatoes, but broth is richer and more flavorful. Potatoes need flavor!
A good tip is to always season each layer. This will also add depth of flavor to your soup.
Make sure not to bring it to a rolling boil after you add in the milk. Just reheat to a very light simmer. Add on your favorite toppings at the end like cheddar cheese, crispy bacon, or scallions. Yum!
Take time for family
In the business of our lives with 4 kids and what feels like we are constantly on the go, we still find time to gather around the dinner table. It's a place where we stop to tell stories, ask questions, laugh, set distractions aside, and draw closer together as a family.
I hope you'll make this soup and eat it around the table with your family. If you're anything like my husband and you wouldn't think about eating a good bowl of soup without freshly baked bread. Check out this Crusty Artisan Bread Recipe!
Love homemade soups? Check out Skinny Tuscan Kale Soup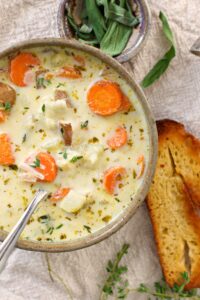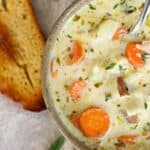 Print Recipe
Elke's Potato Soup
This potato soup is a comfort food you and your family will love made with fresh vegetables and herbs and topped with cheese!
Ingredients
Couple tablespoon olive oil

4

cups

chicken broth

or to cover veggies

2

cups

milk

4-5

medium to large potatoes diced

4-5

Medium size carrots sliced

1

medium-size white onion diced

2

celery stalks diced

3

large garlic cloves

grated in

2 teaspoon of good quality salt and 1 teaspoon of pepper

adjust to your taste. Some broths are more salty so you may need to add more or less salt.

½

teaspoon

garlic powder

5

large sprigs

fresh thyme (pull the leaves from the stem)

can sub 1 teaspoon dried

½

teaspoon

dried oregano

Cheddar cheese

optional to mix in or to top
Instructions
In a large pot heat olive oil over medium heat.

Add in diced potatoes, carrots, onion and celery season with salt, pepper, and thyme and sauté for 3-4 minutes continually stirring. (this brings out the flavors of the veggies for a quick soup)

Add in grated or finely chopped garlic and sauté for another minute.

Cover veggies with broth, cover with a lid, and simmer until veggies are tender- about 20-25 minutes. *you may need to add a little more liquid to cover veggies depending on how big your potatoes are.

After the veggies are tender, with a pastry cutter or something similar, smash some of the potatoes leaving some big chunks.

Add in milk. Only bring the soup to a light simmer after the milk, not a boil.

Add in about a cup of grated cheddar cheese (optional)

Season with salt, pepper, garlic powder, and add more thyme if needed.

Optional toppings are shredded cheddar cheese, diced green onions, fresh thyme, or crispy bacon pieces.