Nourishing Chicken Noodle Soup is a favorite in our house. There's something so cozy about the smell of a hot pot of soup overtaking the house on a cool day. The smell of celery, onions, fresh herbs, and garlic sautéing is so appetizing!  I'll admit if we get a grey sky in the summer I run for my soup pot. I may get some weird looks from the family, but that's ok. I know they will enjoy eating the end result.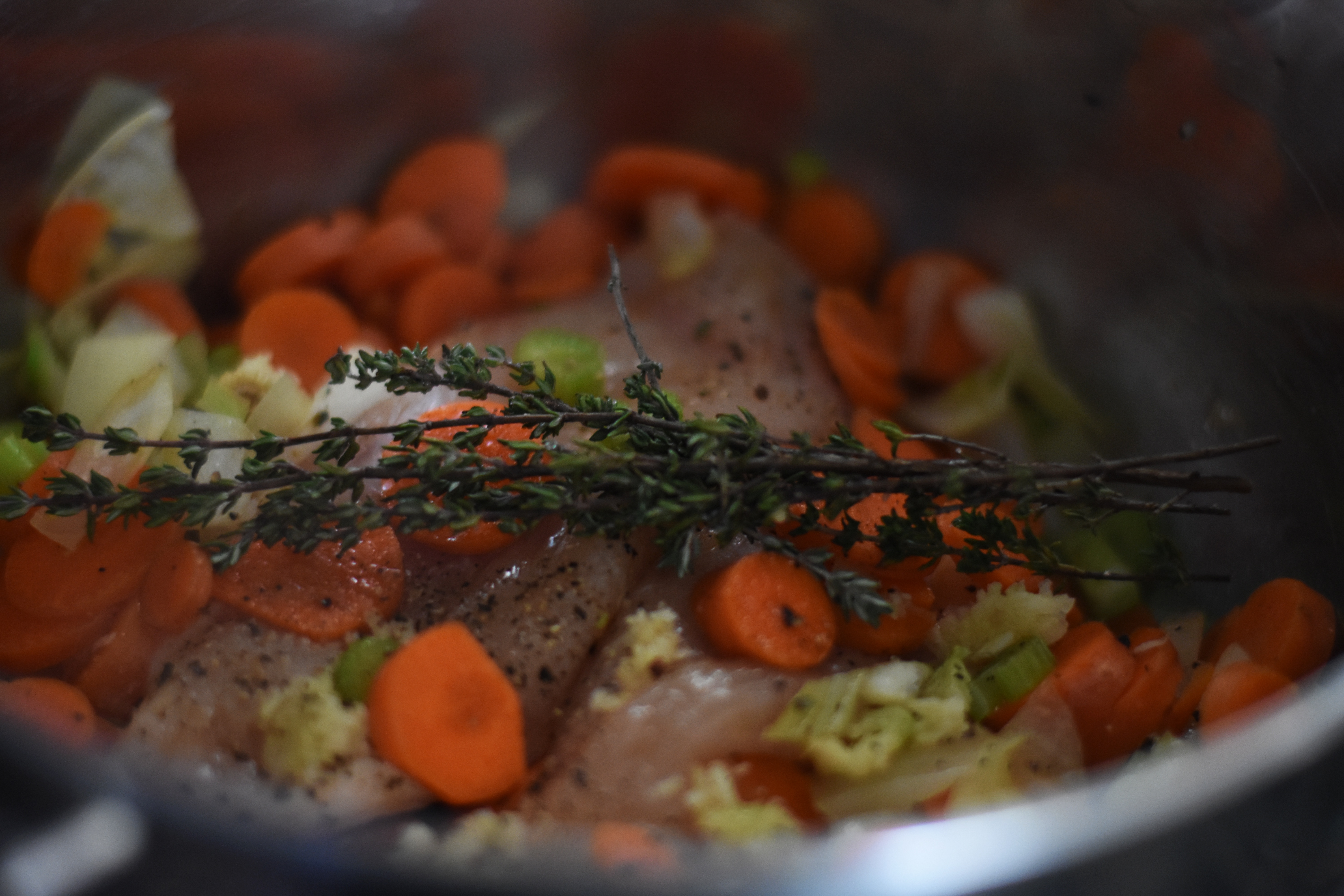 Back in the day, I wouldn't have thought twice about grabbing a can of soup from the grocery store, and if they were on sale I would stock up. When  I started making my own it couldn't compare to anything out of a can, and I couldn't go back.
I love being in control of the ingredients I'm putting in. Most likely if you have a can of soup in your cabinet it's full of GMO's and msg hidden in names like "natural flavors," "modified food starch," or "soy protein isolate"! These ingredients come with a long list of side effects, and makes it worth your time to make homemade!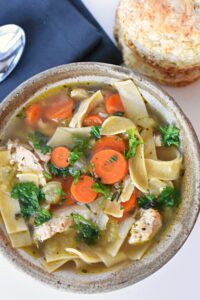 I truly believe chicken noodle soup is medicinal.  It's packed with veggies, fresh garlic, herbs, organic broth, and good-quality chicken. I even add in some bone broth if I have it on hand! When I'm really loving my time in the kitchen, I make fresh homemade noodles.  I'm still working on perfecting them, but I think they are pretty darn good!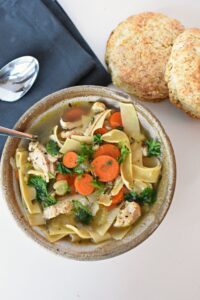 This soup is full of flavor, and by sautéing the veggies first, you will get a depth of flavor that usually takes hours to accomplish in about 45 minutes! I like it quick, don't you? To make this dinner over the top, serve this soup with Buttermilk Biscuits, or crusty artisan bread.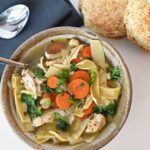 Print Recipe
Nourishing Chicken Noodle Soup
Giving your vegetables a quick saute really brings out the flavors in this nourishing chicken noodle soup.
Ingredients
1

tablespoon

olive oil

1

teaspoon

butter

1

lb

good quality chicken

3

cups

egg noodles

2

stalks

celery chopped

1

small onion diced

4

carrots sliced

3

cloves

garlic

2-3

teaspoon

pink or sea salt

½

teaspoon

pepper

1

teaspoon

dry Italian seasoning

5-7

sprigs fresh thyme or 2 teaspoon dry thyme

64

oz

organic chicken broth

¼

cup

fresh chopped parsley

Garnish with fresh thyme or parsley
Instructions
Chop onions, carrots, and celery, and set aside.

In a large soup pot over medium-low heat, heat olive oil, and butter.

Add chopped veggies, salt,  pepper, Italian seasoning, and thyme ( if using dry)

Sauté for 3-5 minutes to bring out the flavor.

Add chicken and cook another 2-3 minutes turning chicken once.

Grate or press garlic over the chicken and cook another 1-2 min making sure the garlic doesn't brown.

If using fresh thyme get about 5 thyme sprigs from the package, use one sprig to tie around others to hold them together. Toss this on top of the chicken.

Add broth and water and bring to a boil.

Reduce to a simmer and cook 20 minutes or until chicken is no longer pink inside.

Pull chicken out onto a plate and shred it with a fork and knife. Add back to the pot.

Add egg noodles and cook for another 15-20 min.

Season with more salt and pepper as needed.