No matter where you are on this journey, I think we all want on some level to be healthier. People's health is suffering more and more, and we need to stop and consider what we are putting in our bodies. Some of us walk around with headaches, stomach aches, inflamed joints, or even worse, and our first response is to turn to a pill when food or deficiencies could be the root of the problem.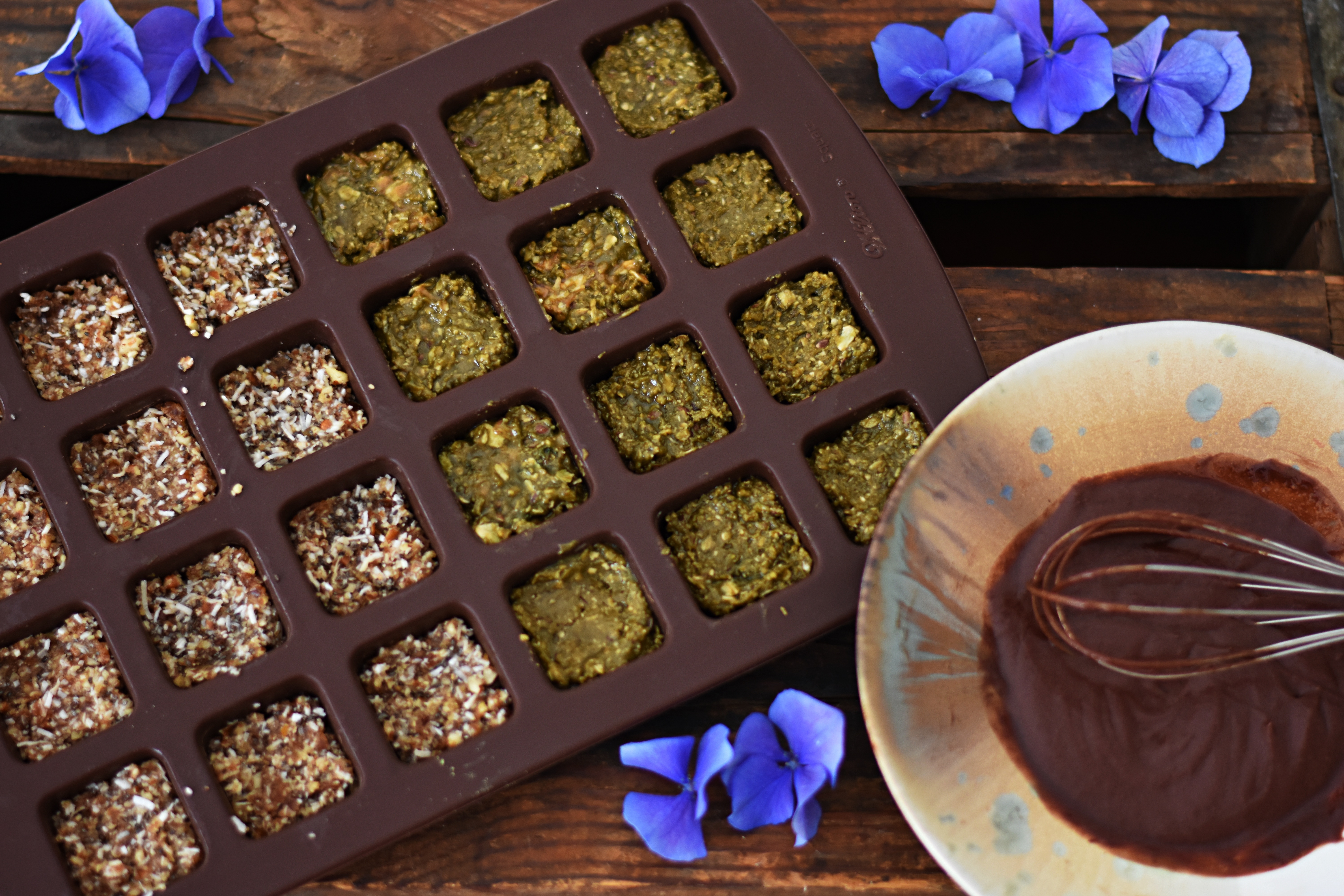 Check out this quote I saw the other day, "95% of chronic disease is caused by food choice, toxic food ingredients, nutritional deficiencies, and lack of physical exercise." Mike Adams, The Health Ranger. That's crazy, isn't it? 95% is no joke…..yet some of us will feel the urge to start change, and others won't. Food has a hold on us we don't like to admit.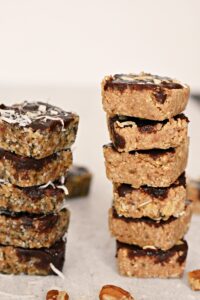 How can we eat healthier?
Changing the routine of what we are having for breakfast or our afternoon snack can have a big impact on our bodies.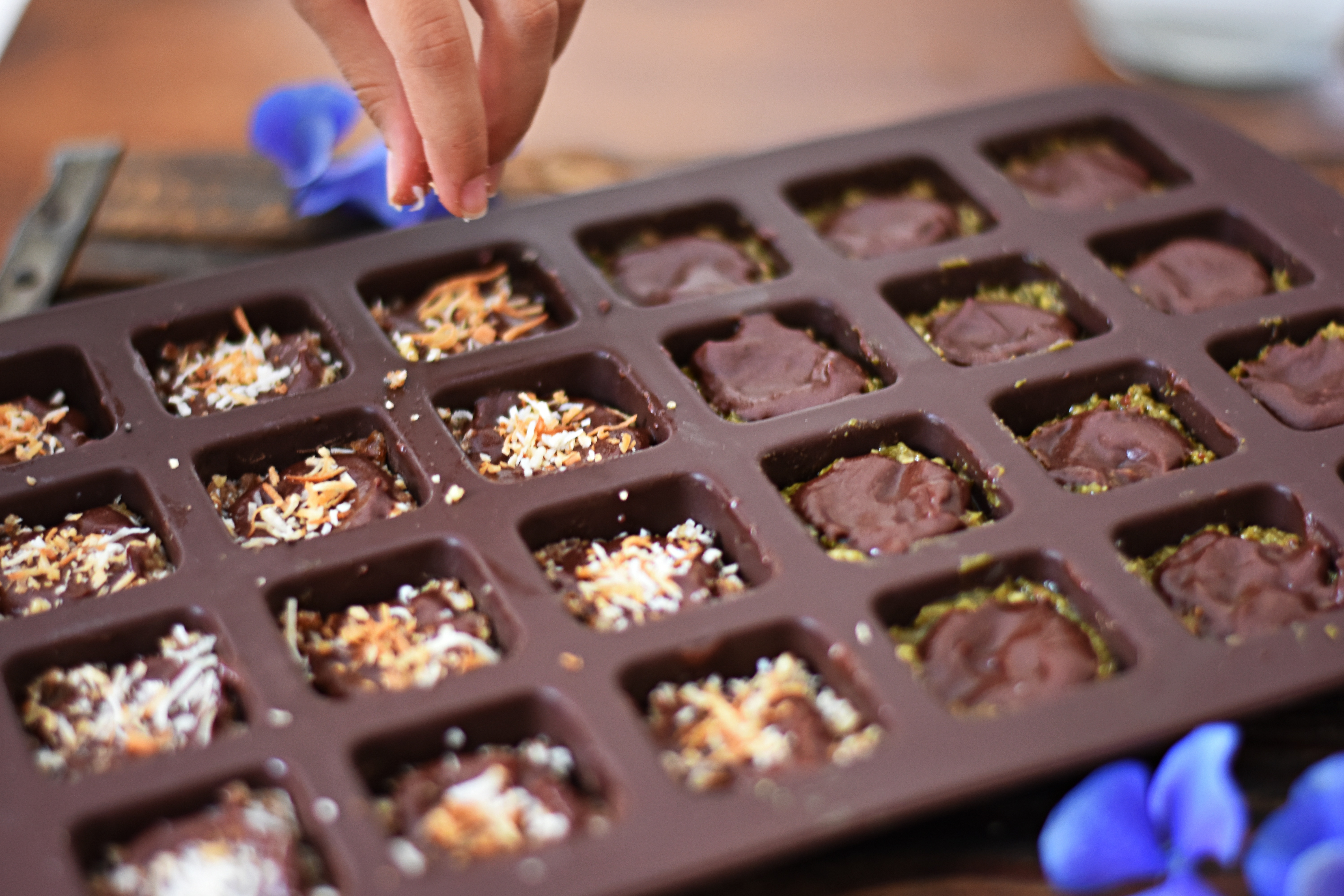 Swapping out a sugary bowl of cereal, or even a seemingly healthy flavored oatmeal with these superfood bites can be the difference of starting your day with processed, artificial ingredients, and refined sugar compared to foods that benefit your body. You may want to exchange them for the 100 calorie pack that you grab from your purse in the afternoon that's full of the same junk,  or your evening Debbie Cake or bowl of ice cream.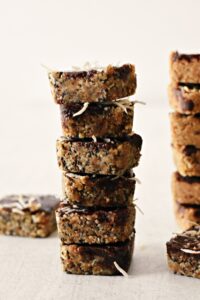 Eating superfood bites provides you with benefits!
These are quick and easy to make! They are full of protein, fiber, vital minerals, omega 3's, and vitamins. They are also full of ingredients that help with digestion, boost the immune system, help aid in weight loss, and provide energy! The mix of good fats, fiber, and protein make these superfood bites help you overcome those sugar cravings and lose weight!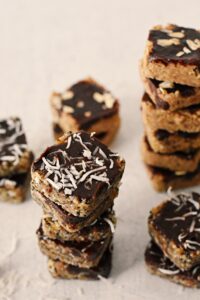 Picky? No problem, I've prepared these 2 ways!
For other healthy desserts check out these No-Bake Raw Coconut Macaroons!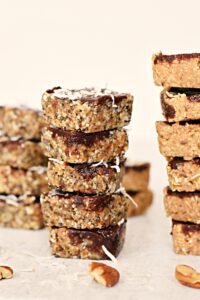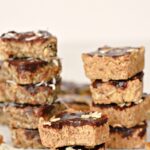 Print Recipe
Superfood Bites Two Ways
These superfood bites are the perfect snack. Use them instead of grabbing a "100 calorie pack" or to replace your sugary cereal.
Ingredients
Pecan Coconut Bites
⅓

cup

pecans or walnuts

½

cup

unsweetened coconut

1

tablespoon

coconut oil

refined

5-6

large

Medjool dates

pits removed

2

tablespoon

chia seeds

couple pinches of pink salt
Peanut Butter Oat Bites
¾

cup

oats

2 ½

tablespoon

unsweetened peanut butter or almond butter

1

tablespoon

coconut oil

refined

2

tablespoon

Maple syrup

½

teaspoon

Ceylon cinnamon

¼

cup

unsweetened coconut

1

teaspoon

whole flax seed

2

teaspoon

wheatgrass powder, optional

Buy the wheatgrass we use here
Chocolate Topping
1 ½

tablespoon

coconut oil, refined

very soft or melted

1 ½

tablespoon

raw cacao powder (not cocoa powder)

Buy raw

2

tablespoon

maple syrup

pinch

of pink salt or sea salt
Instructions
In your Nutri-Bullet or food processor place all ingredients from whichever you choose to make. (It blends better to place dry ingredients first, then wet when using a Nutri-Bullet)

Blend until the mix comes together.

With a spoon press into your molds. (you can shape into balls if you don't have molds)

Mix up all ingredients of the topping and spoon on top.

Top with extra coconut, peanuts, or other chopped nuts if you would like.

Refrigerate for at least a half hour before serving.
Notes
The molds are great, but if you don't want to purchase you can press in the bottom of a pan and cut into squares after it hardens or roll into balls.
I like to use refined coconut oil, but you can absolutely use unrefined, they will just taste more like coconut.
Sometimes I like to add wheatgrass to the peanut butter oat. Wheatgrass has amazing benefits and we ALL should incorporate a cereal grass in our diet.
I have these measured out to make 9 squares of each kind in the molds in the picture. To make a full tray of one kind, just double the recipe.
Buy the molds I use here
Elke is a participant in the Amazon Services LLC Associates Program, an affiliate advertising program designed to provide a means for sites to earn advertising fees by advertising and linking to Amazon.com.
Clicking on an Amazon link from Elke does not increase the cost of any item you purchase.
We will only ever link to Amazon products that we think our visitors may be interested in and appreciate learning more about.