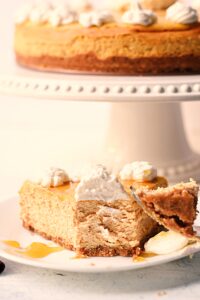 Thanksgiving is right around the corner, and I don't know about you but I ready to cook a big traditional Thanksgiving dinner! I might just veer off the path of tradition a little to please the hubby and make him this Easy Pumpkin Cheesecake. I also love that this cheesecake serves 10-12 people!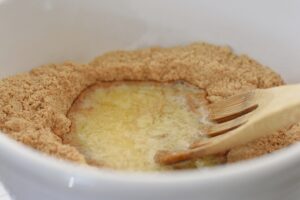 It wasn't until a few months ago that I made my first cheesecake. I have to admit I do like a dessert that's a bit lighter, and simple to make, but with the convincing of a few family members, I decided to give it a go.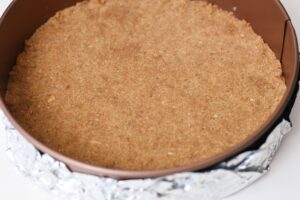 It was easier and more delicious than I had remembered. Of course, anything homemade just tastes better and it wasn't as task heavy as I thought it was going to be!  I wasn't sure how adding the cup of pumpkin would play out in the texture, but it turned out silky, smooth, and just perfect!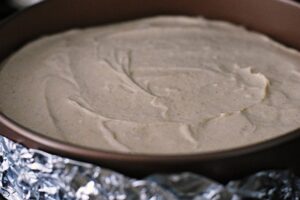 Is making pumpkin cheesecake a lot of work?
If you want to go to all the extra work of water baths, setting your oven to different temperatures throughout the process, slightly opening your oven for part of the long process all to avoid a crack or two, yes, it can be a lot of work. When I do things I like to do it as quick as possible. If it does get a crack or two, it's going to get covered anyway with a wonderful topping!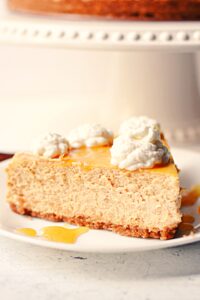 Well, the crust is super simple! Most of us have made a graham cracker crust. It's actually my favorite part! A perfect mix of blended up graham crackers, butter, and sugar. Mix, press in the bottom of a pan, and throw it in the oven for a few minutes. Ahhhh, can I just eat that?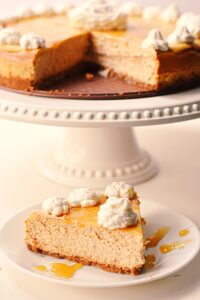 Now for the filling!
The biggest step you can do to ensure a successful cheesecake is letting your ingredients set until they are room temperature, if you don't take time for this step, the cream cheese will be clumpy when you start to mix it up.  Other than that, I mix this all up in the same bowl and bake at the same temperature the whole time! Sound pretty simple right?  It is! It turns out to be the perfect dessert for pumpkin and pumpkin spice lovers!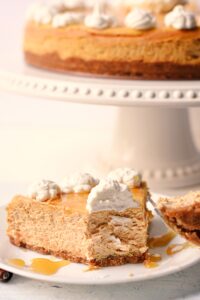 I'm always trying to push the limits on reducing sugar! I make this Easy Pumpkin Cheesecake with less than 1 cup of sugar!
For other pumpkin, recipes check out my Spiced Pumpkin Coffee Cake!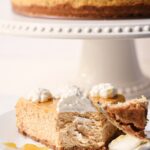 Print Recipe
Easy Pumpkin Cheesecake
This easy to make cheesecake is the perfect pumpkin dessert for your Holiday Celebrations!
Ingredients
Graham Craker Crust
2

cups

graham crackers

blended until smooth (about a pack and a half)

¼

cup

sugar

¼

teaspoon

pink salt or sea salt

7

tablespoon

real butter

melted

1

teaspoon

cinnamon

⅛

teaspoon

nutmeg
Pumpkin Cheesecake filling
4

blocks

cream cheese

softened to room temperature

½

cup

sour cream

at room temperature

¾

cup

sugar

3

eggs

at room temperature

2

tablespoon

unbleached flour

1

cup

plain pumpkin puree

at room temperature

1 ½

teaspoon

cinnamon

½

teaspoon

nutmeg

1

tsp

vanilla extract
Maple drizzle
¼

cup

maple syrup

⅛

teaspoon

pink salt or sea salt
Instructions
Graham Cracker Crust
Prepare spingform pan by wrapping the bottom and edges with some aluminum foil to prevent leaking.

With a food processor blend grahm crackers until smooth.

Pour into a bowl and add stir in cinnamon and sugar.

Pour in melted butter and mix until its the consistancy of wet sand.

Pour into the springform pan and press in the bottom with the bottom of a measuring cup or your fingers. Dont worry about coming up high on the edges.

Bake at 325 for 10 minutes, them pull out and set aside while making filling.
Pumpkin Cheesecake filling
In a medium size bowl put in your softened cream cheese and blend until creamy and smooth.

Add sugar and eggs and mix until blended

Add sour cream, and pumpkin and blend until smooth.

Mix in flour, vanilla, and spices unil mixture is creamy and smooth

Pour over crust and smooth out with a spatula.

Bake at 325 between and 1 hour 15 and 1 hour 20 minutes.

To ensure its done. edges will pull away from the sides of the baking dish, but when you shake the pan the middle will seem a little underdone.

Remove from the oven and let cool about 2 hours then transition to fridge. Let stand in fridge for several hours or overnight.
Maple Drizzle
Before you serve the cheesecake make the drizzle.

Add Maple syrup and salt to a small sauce pan.

Bring to a boil then reduce to a simmer and simmer, and simmer for 4-5 minutes.

Let cool slightly to thicken a little, and drizzle on top of the cake or each individual piece.
Notes
Notes
Make sure you give enough time to let ingredients for filling set to room temperature.
After the cheesecake is cooked and cooled its best to allow it cool in the fridge for several hours or overnight.
Make the drizzle right before serving the cheesecake.
If you would like to make homemade whipped cream you can get the simple recipe here.
Buy a springform pan here
I use a Nutri-Bullet to blend the graham crackers. Buy a Nutri-Bullet here