Have you ever been preparing a special dinner and you're so focused on the main dish you wonder what you could make for dessert? Well, I have found myself there many times. Thankfully, I have certain dishes I turn to in a crunch, and this delicious, easy, chocolaty dessert is at the top of my list. When you don't know where to turn, turn to chocolate, right? That's where this Chocolate mousse with homemade whipped cream comes in!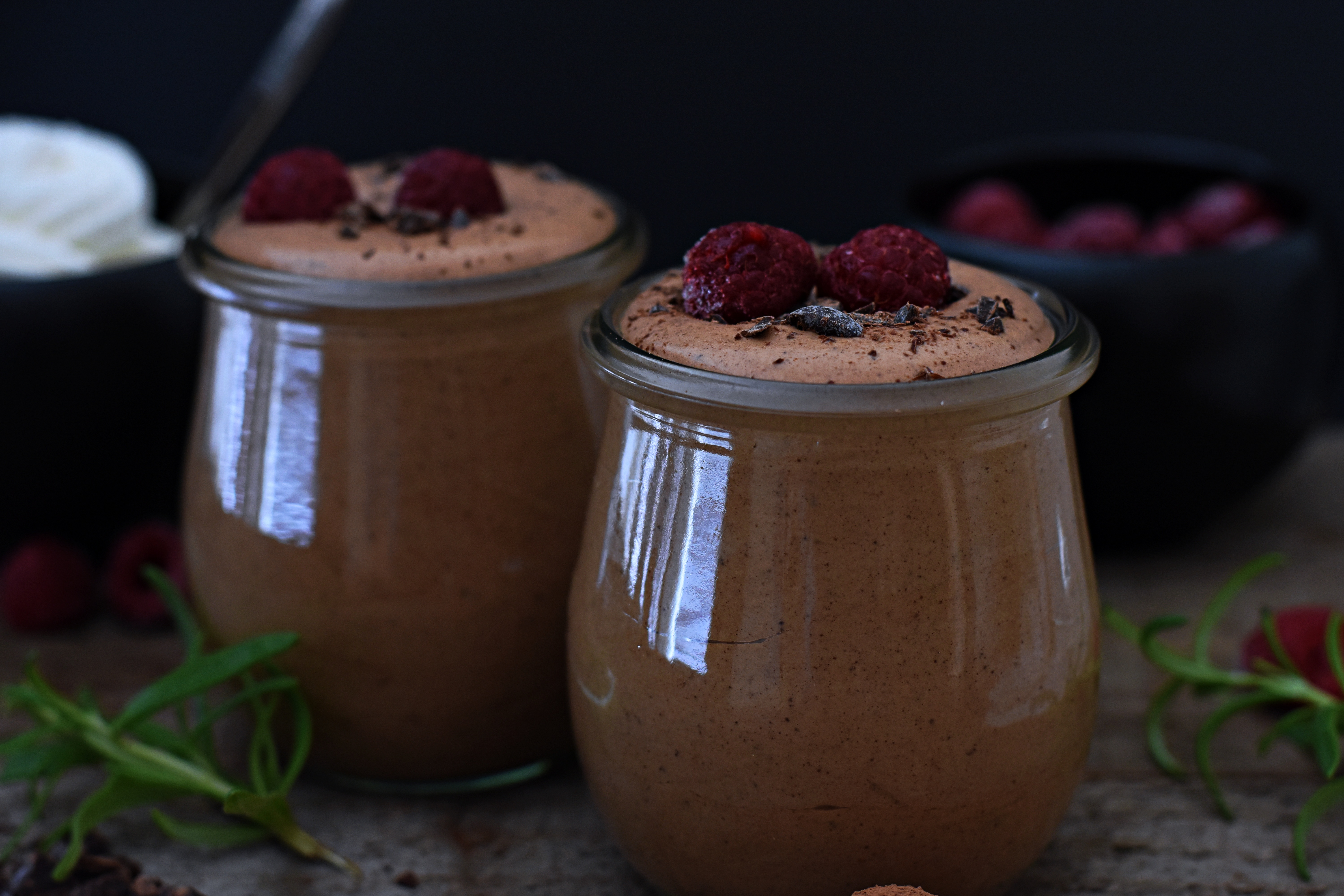 I have to warn you to make this dish alone, solo, unassisted in the kitchen, or you may hear an abundance of "can I's". They may sound like this….." can I lick the beaters?" "Can I taste the chocolate?" "here's a spoon, can I have a scoop?" By the way, most of these questions come from my husband!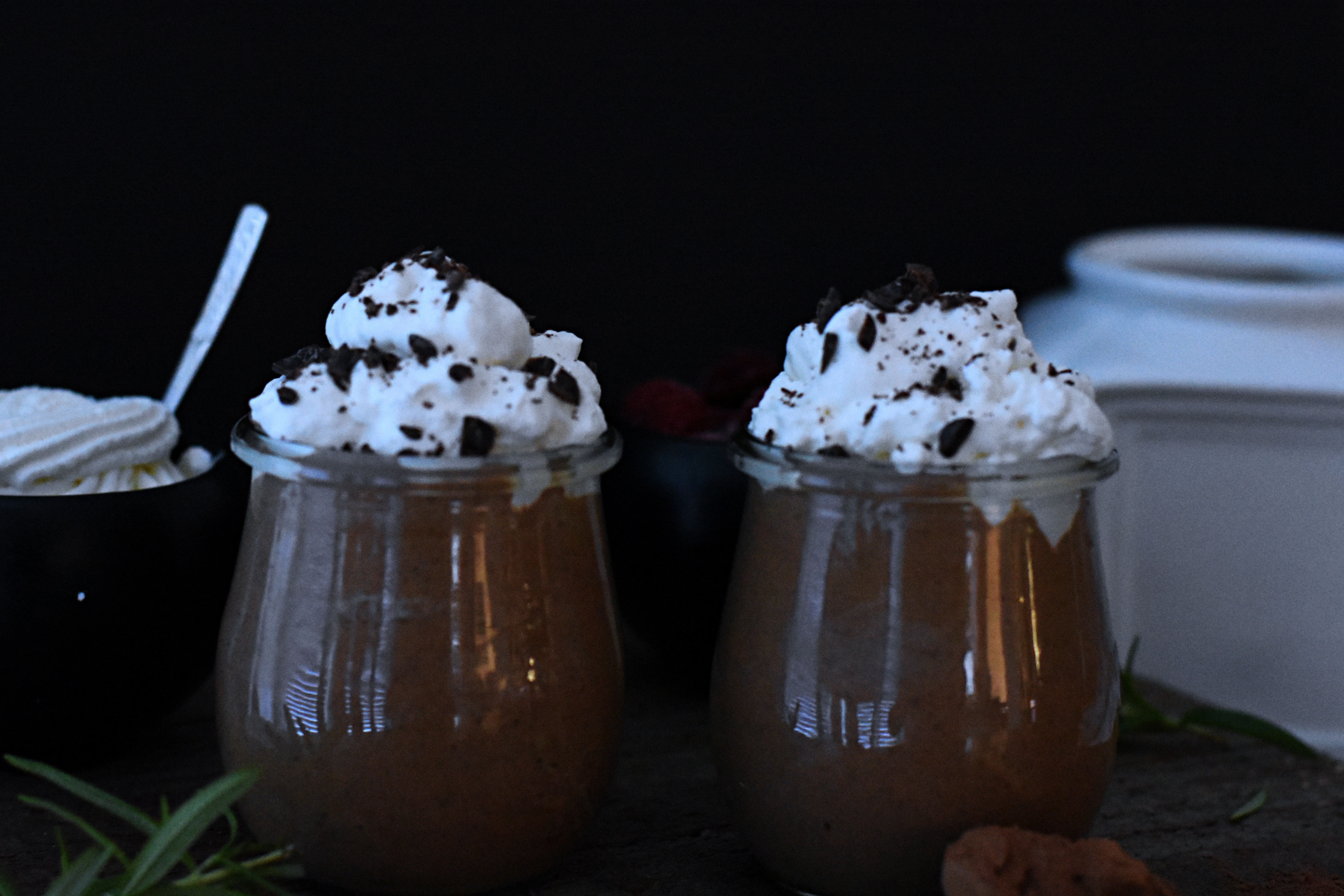 This dessert has some benefits!
Because this dessert is only sightly warmed, I recommend using a raw cacao powder instead of cocoa powder, which is processed and stripped of nutrients! Cacao powder is very healthy and can aid in weight loss, help with headaches, promote healthy skin, improve mood, and is a great source of magnesium.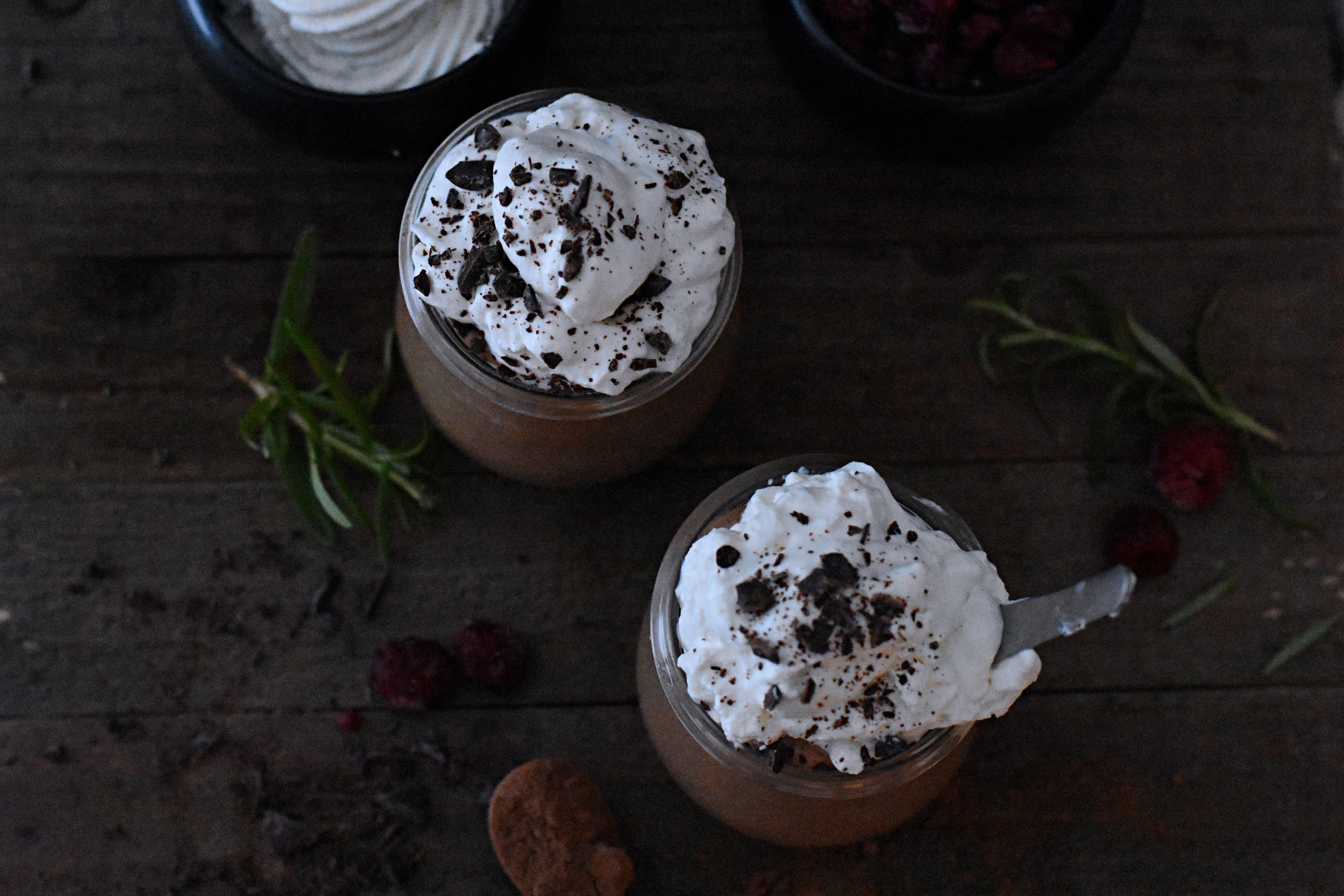 Egg yolks used to be labeled as unhealthy food, and avoided by many. They are now considered very healthy. Egg yolks have essential fatty acids, vitamins, minerals, and omega 3!
Chocolate mousse is easy to make and great for entertaining!
There's hardly any cooking involved here. It's simply slightly heating up the egg yolks, sugar, and cacao powder. After that mix cools to room temperature gently fold in whipped cream. Add the whipped cream or raspberries on top and serve.
I like to make these ahead of time for entertaining. People absolutely love them!
For a dairy-free mousse check out this chocolate raspberry mousse!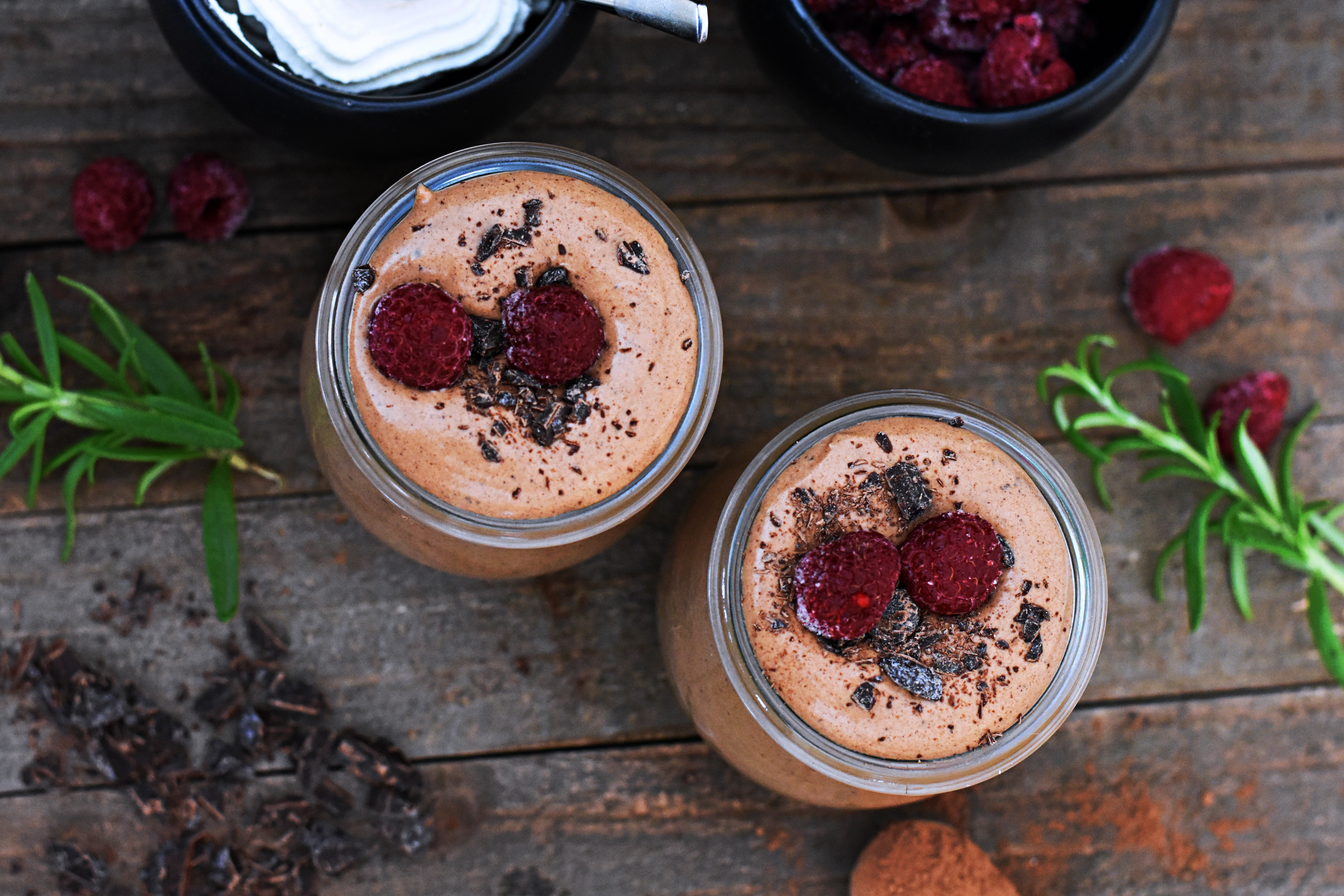 I hope you will love this chocolate mousse with homemade whipped cream!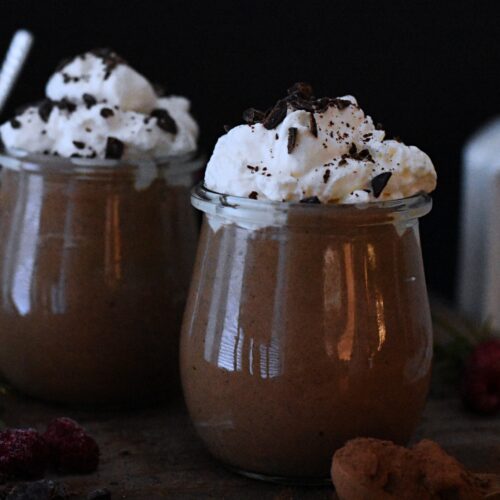 Print Recipe
Chocolate Mousse with Homemade Whipped Cream
This chocolate mousse is the perfect recipe for your fancy dinner parties.
Ingredients
6

large egg yolks

¼

cup

sugar

⅛

teaspoon

pink salt or sea salt

3

tablespoon

cacao powder

Buy organic cacao powder here

1

cup

heavy cream whipped

this gets whipped and folded in
Instructions
Mousse
In a double boiler over low heat (I don't have one, but use a stockpot with a little water, and place a mixing bowl on top) add egg yolks, sugar, and salt.

Whisk until warm to touch and sugar is dissolved.

Remove from heat and whisk in cacao powder until smooth.

Set aside to cool to room temperature.

In a medium mixing bowl pour 1 cup heavy cream.

With a hand mixer beat on med-high until soft peaks form (about 5 min)

When the mousse is completely cooled, gently fold the whipped cream into chocolate mix with a rubber spatula until combined.

Refrigerate
Homemade Whipped Cream
In a medium mixing bowl pour heavy cream

Add vanilla and powdered sugar

With a hand mixer, mix on medium-high until soft peaks form: do not over mix.
Assemble
In single dessert dishes, divide evenly the chocolate mousse.

Top with homemade whipped cream (or you can top with fruit and shaved chocolate like pictured above).

Dust with cacao powder, or finely cut dark chocolate.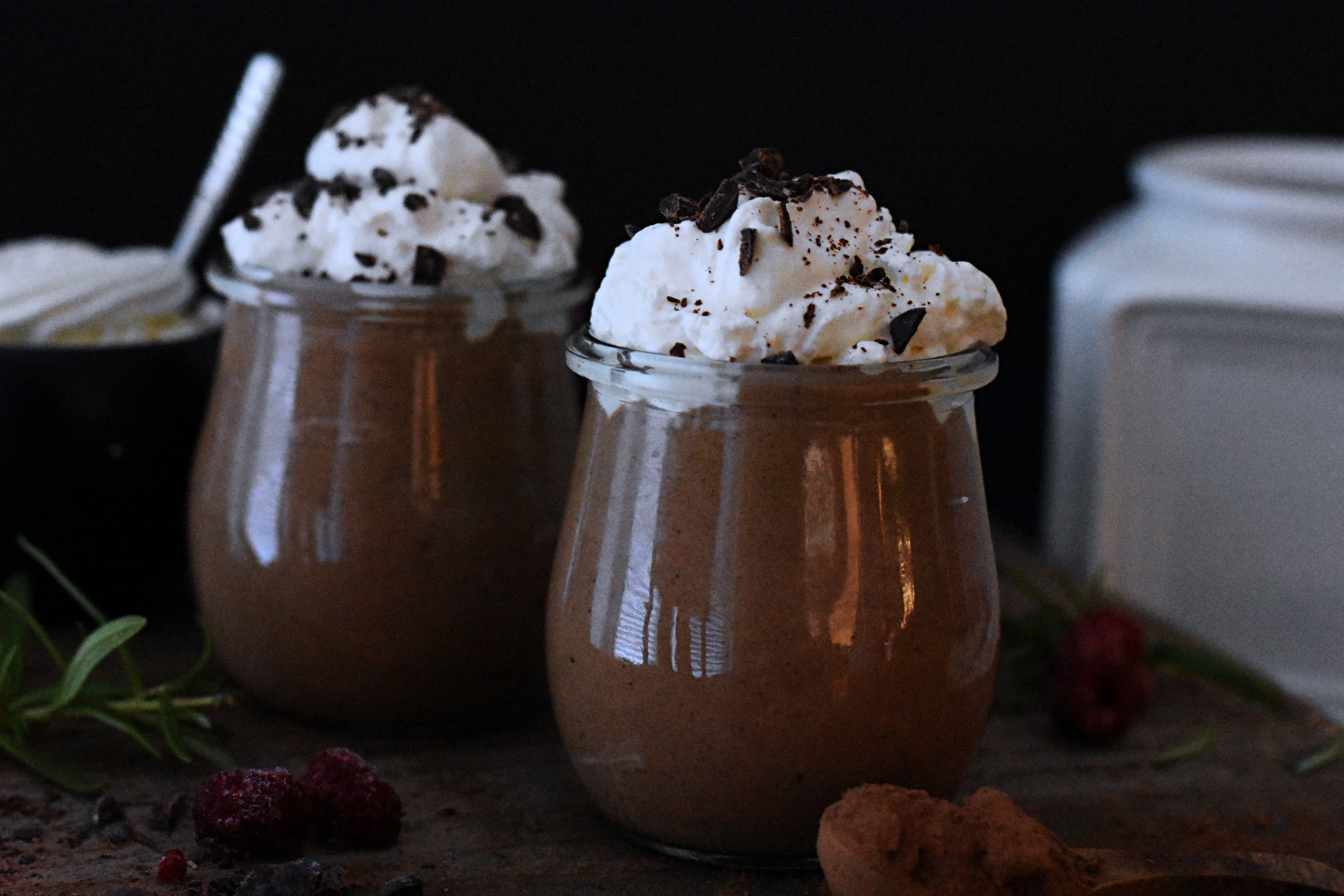 Elke is a participant in the Amazon Services LLC Associates Program, an affiliate advertising program designed to provide a means for sites to earn advertising fees by advertising and linking to Amazon.com.
Clicking on an Amazon link from http://www.quadcoptercloud.com/ does not increase the cost of any item you purchase.
We will only ever link to Amazon products that we think our visitors may be interested in and appreciate learning more about.