There's not much that can beat cozying up on a cool fall day with a Homemade Pumpkin Spice Latte, and making it yourself just may be life-changing.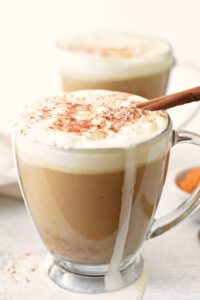 Its kinda like the first time I made Homemade Macaroni & cheese or Pumpkin Pie, it's so good you just can't go back!
If there's anyone who is a fan of Starbucks it's my husband. He and so many others are faithful to stop by several times a week, pay them a visit and spend a little money, (or a lot of money). If we pass a Starbucks, my kids yell out "Daddy you passed Starbucks!" funny- not funny.  Coffee lovers are devoted.  I'm all about my coffee, but if I'm going to drink a Pumpkin Spice Latte, its gotta be homemade. I feel good about drinking it when I make it myself. I take an unhealthy latte and make it healthy.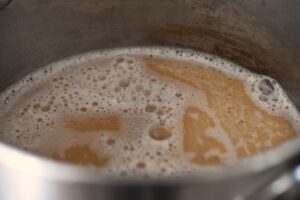 Check out what the Food Babe exposes to be in a Starbucks Pumpkin Spice Latte:
What's in a Starbucks Pumpkin Spice Latte
Caramel color Level IV- made with ammonia and considered a carcinogen.
Absolutely NO real pumpkin.
Made with Monsanto milk from cows fed with GMO corn, soy, and cottonseed or soy milk that contains Carrageenan linked to intestinal inflammation and cancer.
A toxic dose of sugar. (Grande has over 50 grams!)
Natural flavors can be made from anything found on earth.
Artificial flavors made from substances like petroleum.
Preservatives and Sulfites can cause allergic reactions
Possible pesticide residue from using non-organic coffee beans.
Contains condensed conventional milk, not vegan even with soy milk options.
This list is for all the people who thought their Pumpkin Spice Latte was made simply with pumpkin, spices, coffee, and milk. Nope! It's horrible, isn't it? However, you can make your own in just a few minutes!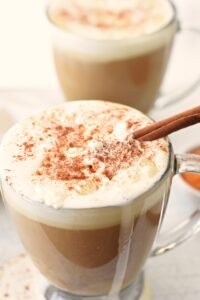 Making your own Latte
I make it simple to make your own Homemade Pumpkin Spice Latte
I make it without a milk steamer or espresso machine!
I whisk mine up in a saucepan on the stove. You could also mix all the ingredients up in a blender to make it nice and frothy!
You can use any type of milk you like, but I like using coconut milk, it's creamy and delicious!
For the whipped topping you can simply make homemade whipped cream or coconut cream. Both are easy and yummy!
Check out the recipe below!
For another delicious fall/ winter drink, check out this Healthy Hot Chocolate!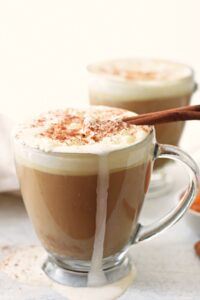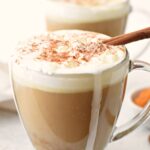 Print Recipe
Homemade Pumpkin Spice Latte
This Homemade Healthy Pumpkin Spice latte is the perfect treat for a crisp fall day!
Ingredients
Pumpkin Spice Latte
1

cup

strong coffee

1

cup

coconut milk

or milk of your choice

4

tablespoon

pumpkin puree

plain

3

tablespoon

maple syrup

or sweetner of choice

1

teaspoon

vanilla extract

½

teaspoon

cinnamon

⅛

teaspoon

of each ginger, nutmeg, cardamom, and clove
Homemade Whipped Cream Topping
1

cup

whipping cream or coconut cream

if using coconut cream chill can in fridge.

1

teaspoon

vanilla extract

2

tablespoon

powdered sugar or maple syrup
Instructions
Pumpkin Spice Latte
In a small saucepan over medium low heat, heat strong coffee and milk to a simmer.

Whisk in spices, pumpkin, and maple syrup.

Lower heat to low while making the whipped cream
Homemade Whipped Cream
In a small mixing bowl measure in a cup of whipping cream or coconut cream.

With a hand mix, mix on medium low speed.

While mixing add in powdered sugar (or maple syrup), and vanilla.

Contiune to mix until soft peak forms.

Taste whipped cream and add more sugar if needed for your taste!
Build the Latte
Optional * If you would like to blend latte in a blender you can to make it frothy.

Pour hot latte into your favorite mug.

Top with whipped topping and a sprinkle of cinnamon.
For other cozy fall, drinks check out Healthy Hot Cholocate with Coconut Whipped Cream!