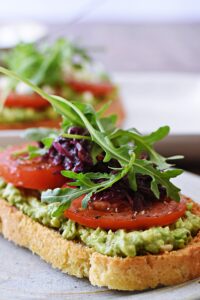 Have you ever heard "an avocado a day can keep the doctor away?" Oh wait, that's an apple, but I believe with all the health benefits of avocado it wouldn't hurt to eat them every day! One of the most delicious ways to eat an avocado is this simple avocado toast!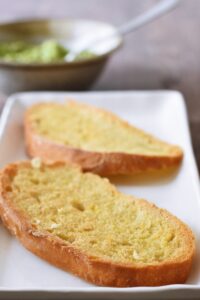 Benefits of eating avocado
Most fruits are high in fructose. Although they are good for us and have benefits such as vitamins and antioxidants, we should limit the amount of fruit we are consuming. Yes, avocados are fruit but they are low in fructose and high in monounsaturated fat, which is a healthy fat!  Do we want to eat good fat? Yes, we do! A healthy diet that helps us lose weight or maintain a healthy weight is a diet rich in healthy fat, fiber, and protein, an avocado provides us with all three! Let's look at some more of the amazing benefits of eating avocados!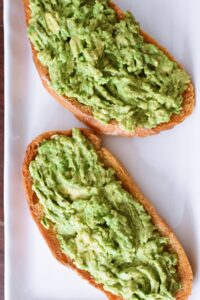 Avocados are full of nutrients that are essential to keeping our bodies healthy!
They are rich in vitamin C, K, and more potassium than a banana. They also contain folate, B6, vitamin E, niacin, magnesium and more!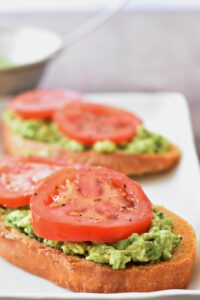 This amazing little green fruit can improve heart health and eye skin and hair health! Like I mentioned above they are packed with fiber to help maintain a healthy weight or aid in weight loss. The B vitamins in avocado help improve digestion. They also contain fatty acids that help to balance hormones naturally to help boost mood.
Making avocado toast
Making an avocado toast is quick and simple and is worth the time for all the benefits! Avocado toast is versatile and can be made just the way you like it!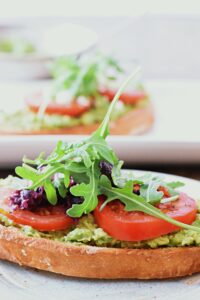 Make sure when you are buying avocados that they are slightly soft when you press on them. Too soft (and more black in color) may result in a brown, overripe avocado. If you happen to buy them under-ripe, just place them near some bananas in a paper bag to help them ripen more quickly. Avocados are not something that needs to be bought organic because of their thick skin!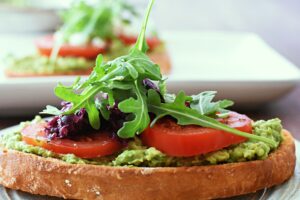 You can eat your avocado toast plain or top it any way you would like! Here are some alternatives to top your avocado toast with.
Pickled red onion
Fresh herbs such as basil, dill, or cilantro.
Sprouts or lettuce of your choice.
Egg
A drizzle of balsamic vinegar.
Green onions
Olives
Fresh or pickled jalapenos.
Cucumber slices.
Nuts, seeds, and different cheeses.
Avocado toast makes the perfect breakfast or lunch!
For the most delicious end result make this simple Crusty Artisan Bread!
For other avocado, recipes check out these Fudgy Avocado Cookies!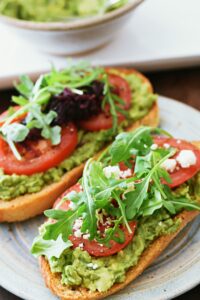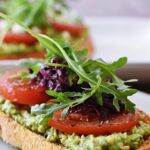 Print Recipe
Simple Avocado Toast
A quick and easy nutritious meal layered with lemony avocado and your favorite toppings!
Ingredients
2

small

avocados or 1 large Hass avocado

2

large

pieces of artisan bread

link to homemade in notes

1

large

garlic clove

2

tablespoon

olive oil

1 tablespoon on each slice

½

lemon

juice of a half of a lemon or lime

½

teaspoon

pink salt or sea salt

¼

teaspoon

fresh ground black pepper

4

tomato slices

seasoned with a little salt and pepper

½

cup

arugula or spinach leaves

2

tablespoon

feta cheese

optional

2

tablespoon

fermented sauerkraut

optional (recipe linked below)
Instructions
On a cookie sheet place the sliced bread and drizzle with olive oil.

Turn broiler on low on your oven and place in the oven for about 10 minutes or until your bread is toasted. Remove and set aside.

While bread is toasting cut avocados in half and remove seeds.

Scoop insides out with a spoon into a bowl and smash with a fork.

Squeeze the juice from a half of a lemon or lime into the smashed avocado and mix.

Peel the garlic clove and rub all over the toast. Discard any left-over.

Spread avocado mixture evenly on both pieces of toast.

Top with toppings of choice.