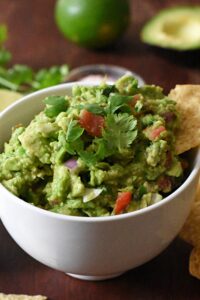 How do you like your guacamole? There are a lot of versions of guacamole out there, but I think mine is the best guacamole. I should think mine is the best right? Just a handful of ingredients and a few minutes of your time and you may not ever want to buy guacamole again. Store-bought is ok, but homemade always takes whatever you're making to the next level!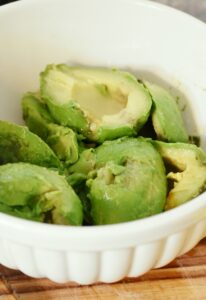 How healthy is guacamole?
Avocados are a nutrition-packed fruit! They have even been said to be one of the healthiest foods on the planet! Say what?? Yes, we could even say they are a superfood.  There are lots of ways we can add this amazing fruit into our diet, but this best guacamole recipe is definitely one of my favorites! Let's look at some of the benefits this nutrient-packed food has!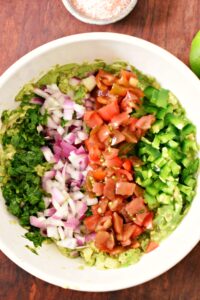 They can improve heart health by blocking plaque buildup in the arteries.
They are great for your skin and hair. Avocados contain antioxidants phytochemicals that can help improve the skin and hair. Not only eating avocado can help your skin, but you can also but the inside of the peeling on your skin for a moisturizer!
Avocados help fight against cancer. One way is with monounsaturated fatty acids and their ability to help lower inflammation. Remember, inflammation is the root of just about every disease and condition in the body.
Most people think eating fat will cause you to gain weight. However, good fats can help you to lose weight. Because avocados are made up of good fats they provide you with lots of nutrition while the good fat helps you to feel satisfied for longer. This will help with overeating and snacking on foods which in turn could cause you to gain weight.
Avocados are full of vitamins like vitamin K, C, B6, E, A, and zinc. They also have minerals like magnesium, manganese, phosphorus, copper, and more. Hey, it's like taking a vitamin!
They are full of fiber which helps with digestive health and helps balance the bacteria in the gut.
Diets filled with good fats can lower depression and other mental disorders.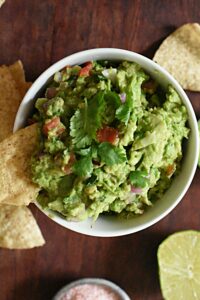 If you are wondering how you can get all these amazing benefits because you just don't love avocado. No worries, you can make these Fudgy Avocado Cookies!
Did you know some people hate the taste of cilantro and it tastes like soap to them? If you are one of those people you can omit the cilantro in this recipe. It will still taste great!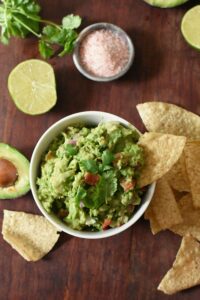 Ways to eat guacamole
You can eat your guac with your favorite tortilla chips, on avocado toast, or on the side of your favorite Mexican dinner! It's also great on black bean burgers or your favorite burger or sandwich!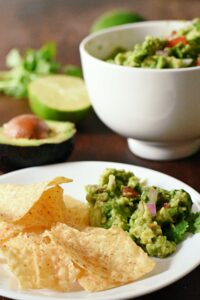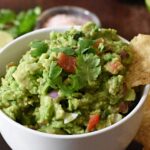 Print Recipe
Best Guacamole
This guacamole only takes minutes to make and a handful of ingredients. It's full of wonderful flavor and nutrition!
Ingredients
4

medium

avocados

1

large

lime

juice of 1 large lime

1

small

jalapeno

chopped very small

1

small -medium

tomato

chopped very small

¼

cup

red onion

chopped small

¼

cup

fresh cilantro

chopped small

½

teaspoon

of both salt and pepper
Instructions
Cut avocados in half, remove seeds, and scoop out insides into a bowl.

With a fork or whisk smash the avocados. I like to keep a few chunks in my guacamole, but make them the consistency you like.

Squeeze the juice of the lime onto the avocado and stir it in.

Chop onion, tomato, and cilantro very small and add to the smashed avocado.

Cut the jalapeno down the center and remove seeds for less heat or leave them if you want more heat. Chop the pepper in small chunks then stir into the smashed avocados.

Stir in the salt and pepper and taste. Add more salt and pepper if needed and serve with your favorite tortillas or Mexican meal!