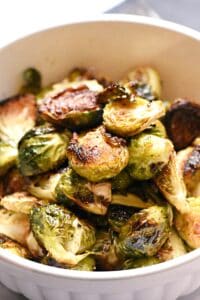 Have you ever said "wow" when you ate brussels sprouts? That's what came out of my mouth when I ate the best brussels sprouts I ever had. Brussels sprouts with garlic brown butter!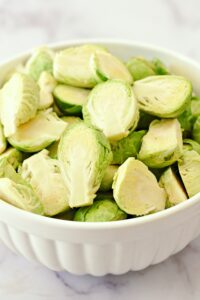 We were invited to dinner at a former chef and his family's home. He and his wife were both amazing cooks. If I remember the menu correctly we had swordfish, homemade macaroni and cheese, Caprese salad, and, yes, these brussels sprouts. The swordfish and Brussel sprouts were both drizzled with brown butter. Tim and I looked at each other with a- this is an amazing look and devoured our food. Who would have thought to pair the two together? Not me, but I can assure you this, they were meant to be together like bread and butter, or pumpkin pie and whipped cream, yes, they were the perfect match.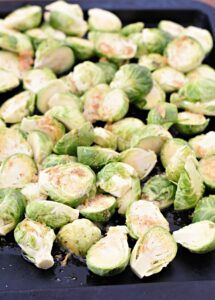 I realize that Brussels sprouts aren't the most popular vegetable, but it wouldn't hurt to add something as healthy as a brussels sprout to the menu. You may get a little push back, but brown butter with garlic makes these Brussels sprouts stand out!
Check out some of the health benefits of Brussels Sprouts: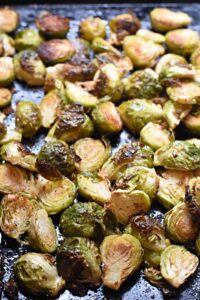 Help fight and even prevent many types of cancer.
High in vitamin K, C, A, and folate.
Cruciferous veggies like brussels sprouts can fight inflammation and heart disease.
High in fiber to maintain good digestive health.
Helps to detoxify the body.
Supports a healthy immune system.
Provides DNA protection.
They support healthy eyes!
That's just a few of the benefits! These little cabbages ( as I always call them) are a perfect way to add healthy veggies to your dinner table!
For other delicious sides try Anti-Inflammatory Sweet & Spicy Cauliflower.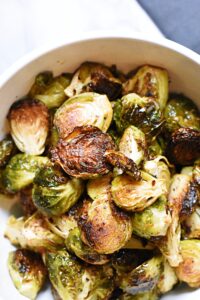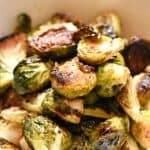 Print Recipe
Brussels Sprouts with Garlic Brown Butter
Brussels Sprouts roasted to perfection and drizzled with garlic browned butter!
Ingredients
2

lbs

Brussels sprouts cut in halves

1

stick

Browned butter

see recipe below

½

teaspoon

pink salt or sea salt

½

black pepper
Garlic Brown Butter
1

stick

real butter

4

garlic cloves grated
Instructions
Brussels Sprouts
Cut brussels sprouts in half and place them on a cookie sheet.

Make brown butter ( recipe below).

Drizzle HALF of the brown butter on the brussels sprouts evenly and toss with the salt and pepper.

Roast in the oven for about 20-25 min. (halfway through using a spatula and flipping them to assure they brown on both sides)

Remove from the oven and transfer to a serving platter.

Drizzle with remaining browned butter on a serving platter or each individual can add brown butter.
Brown Butter
In a small skillet place 1 stick butter over medium heat. Allow butter to melt.

Stir the butter frequently. It will start to look foamy and you should see brown bits forming and it will smell nutty. Stay right with it, and be careful it doesn't burn.

Turn the heat OFF and grate garlic in. (see photos below) If you add the garlic while the heat is on it will burn the garlic.