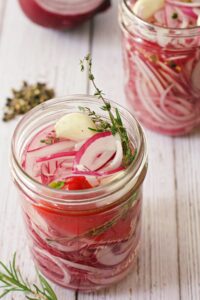 Don't you just love those sweet and sour pickled red onions you get served on top of dishes at restaurants? They are slightly sweet, vinegary, and add a punch of flavor to so many dishes! They are quick and easy and great to have in the fridge! Quick pickled red onions. Must I say more?
How long do pickled red onions last.
These quick pickled red onions last at least 3 weeks in the refrigerator. They are in vinegar, so will technically last longer but they will start to get less vibrant color and not as crunchy. Don't worry, these won't be hard to use up considering they are so good on so many things. Here are some ideas for some amazing ways to use up your pickled red onions that will take your food to the next level! My top two favorite ways to eat these onions are on a great salad. We eat salad 3-4 times a week and these marinated onions give a salad a great punch! My other top way to eat these onions…. on tacos! I wouldn't have thought to eat these on a taco until a restaurant served them that way to me. It was so good. So good that I made a post about them ( spicy chickpea tacos). You can even marinate these Mexican food style by adding cumin seeds! Other ways to eat these are on sandwiches, nourish bowls or charcuterie boards! You shouldn't have to worry about how long your pickled red onions will last. The answer is, probably not very long!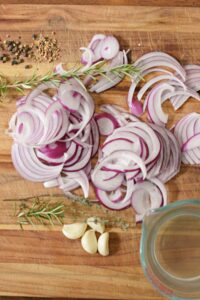 What type of vinegar should I use to make quick pickled red onions?
There are so many types of vinegar out there, but there are 3 types of vinegar that are best for making these marinated onions. First, distilled white vinegar. Although this would be the first vinegar we think of when pickling something, we need to keep in mind that white vinegar is made from corn. Yes, it's made from corn that is distilled into corn alcohol, then fermented into vinegar. If you use white vinegar (which I used this time for mine) make sure to get organic white vinegar like this to ensure the vinegar is not made from GMO corn. Another vinegar you can use is apple cider vinegar. I have used this vinegar and it works well! The great thing about apple cider vinegar like this Braggs apple cider vinegar with the mother is it has all kinds of other benefits! I have also seen people use red wine vinegar. This turns out great too because of the vibrant color it makes!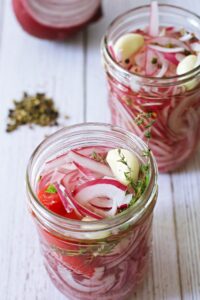 Health benefits of red onions
Check out these amazing benefits of onions. These would be great to have around in the winter during cold and flu season.
They are antimicrobial.
They have antibiotic properties.
Onions can help to build strong immunity.
This superfood helps to relieve coughs, relieve asthma symptoms, and reduce free radicals in the body.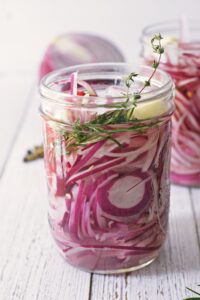 For great ways to use these as a topper check out these recipes
Mediterranean orzo salad (these would be great on top)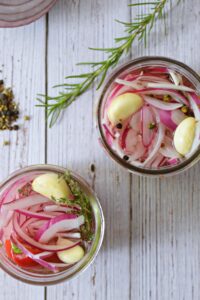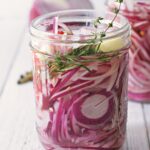 Print Recipe
Quick Pickled Red Onions
These easy quick pickled red onions can be made in just minutes are a great topping for salads, sandwiches, tacos, and more!
Ingredients
1-2

large

red onions

enough slices to fill 2 16oz mason jars

1

cup

vinegar

distilled white, red, or apple cider vinegar. I used organic white.

1

cup

filtered water

1

teaspoon

pink salt or sea salt

1

tablespoon

white sugar

flavors for onions can include fresh garlic, fresh herbs, pickling spice, fresh hot peppers, peppercorns, cumin seeds.

check out the instructions for which ones I used.
Instructions
In a saucepan measure in vinegar, water, salt, and sugar. Bring to a boil then turn the heat off and stir the mixture until salt and sugar are dissolved.

With a mandoline or knife slice the onions thin.

Stuff the sliced onions down into 16oz mason jars or other glass jars.

Pour vinegar mixture over top of onions until it covers them all.

Add in extras for flavor. I did one jar with half of a red jalapeno, two fresh garlic cloves, and a couple of sprigs of fresh rosemary and thyme. I did the other jar with ½ teaspoon pickling spice, teaspoon black peppercorns, and 2 garlic cloves. I made sure to give the garlic a whack and open it a little for flavor and benefits!