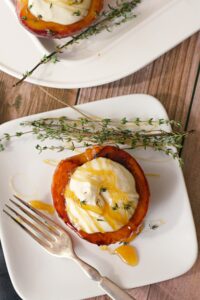 If you ever desired to make a dessert that looks sophisticated, but isn't all the work,  I have the perfect one for you.
I thought it would be a challenge creating this pan fried peach with mascarpone dessert, but it fell perfectly into place on the first try.

What is the difference between ricotta and mascarpone?
Mascarpone is a lot more smooth and higher in milk fat. Mascarpone is softer, thicker, and more creamy than ricotta. Even more comparable to cream cheese. It has just a slight sweetness to it like milk.
Ricotta has a more grainy flavor and is lower in fat. Ricotta is made from the whey leftover from making cheese.

Can I Make this dessert with ricotta?
Yes. There are a few reasons why you might want to use ricotta instead of mascarpone. Price being one considering it is a bit or expensive. Also, maybe you can't seem to fin mascarpone cheese where you live. You will usually find it in the specialty cheese section of your grocery store. But if you can't find it, just grab some good old ricotta.  It will be a bit different, but you can make this fried peach with ricotta cheese. Because ricotta cheese has more liquid, just make sure to mix it high speed in a nutribullet, blender, or food processor. This will ensure that it whips up and is really creamy and delicious.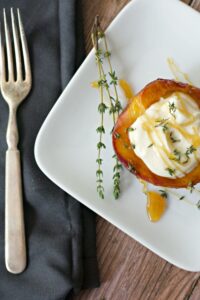 Making maple syrup caramel
I make this quite a bit because as delicious as regular caramel is it's a ton of sugar. Make sure when you are making it you bring it to a bubbly simmer just for about 2-5 minutes or just until it looks like it is starting to thicken. If you overcook it, it will cool into something similar to hardtack candy! Turn the heat off as soon as you start to see it thicken. As it begins to cool it will get thicker. This makes an amazing syrup! This pan fried peach with mascarpone is a must-try dessert!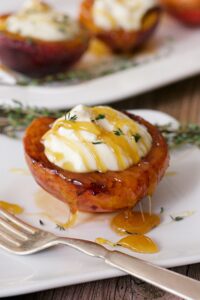 For other fruity desserts check out: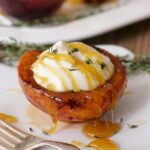 Print Recipe
Pan Fried Peaches with Mascarpone
Fried peaches are a super decadent dessert made from whole food ingredients and just a touch of sugar. They are the perfect summer dessert.
Ingredients
4

peaches cut in half and seeded

1-2

tablespoon

butter

½

teaspoon

fresh thyme

and a little for garnish

1-2

teaspoon

sugar for peaches

before frying

1

container mascarpone cheese

2

teaspoon

sugar

1

tablespoon

honey

or more to taste

1

teaspoon

vanilla

Pinch

salt
Glaze
¼

maple syrup

1

tablespoon

bourbon

Pinch

salt
Instructions
In a small mixing bowl, mix mascarpone, sugar, honey, vanilla, and a pinch of salt.

Whip with an electric mixer, blender, or food processor until everything is incorporated.

Sprinkle 1-2 teaspoon sugar on the cut side of the peaches.

In a medium skillet put 1 tablespoon butter and ½ teaspoon thyme on med-low heat. When the butter is melted add peaches cut side down and fry for about 5 min or until lightly brown.

Place one peach per plate.

While the peaches slightly cool make drizzle.

In a small skillet or saucepan pour maple syrup, bourbon, and salt.

Over med/low heat, heat until it gets bubbly and starts to thicken. (Don't cook too long or it will get too thick.)

Top peaches with mascarpone mix until evenly distributed among all the peaches.

Then with a teaspoon drizzle maple bourbon mix on top, add a few thyme leaves and garnish with thyme sprig.