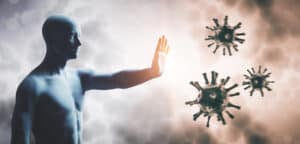 One of the most important things you can do is learn how to do things that will strengthen your immune system. Growing up I got sick a lot. At least 2-3 times a year I had sicknesses like strep throat, different kinds of flu, and colds. I was always missing school and other things because I would be down for sometimes a week or more at a time. So, in short, I grew up taking mounds of antibiotics.
As I got more knowledgeable about the immune system, I slowly started learning about ways to keep my immune system strong. When you have a strong healthy body it can fight against viruses and bacterias. We want our bodies to be strong and fight with the immune system God gave us. In this post, we will see how to boost your immune system naturally.
Here are some immune booster foods
Fermented foods–  80% of your immune system is in your gut!  How healthy is your gut? It depends on the food you are eating. Eating a diet full of processed foods and sugar does not make a good atmosphere in your gut for good bacteria. You don't want to let the bad bacteria overtake the good. What can you do? You can take a probiotic like this.  In addition, you can eat fermented veggies like sauerkraut, fermented pickles, kimchi, and more. Incorporating fermented foods into your diet is delicious and easy. Here are some recipes for not only making fermented foods but adding them into meals. Easily fermented sauerkraut, quick homemade ramen with miso, avocado toast topped with fermented kraut, fermented garlic and honey.
Parsley-It is an amazing herb and easy to add to your meals. We even love to juice parsley into a fresh juice! Parsley can help fight against oxidative stress and free radical damage and poor immunity! You can add it into sauces, soups, and even fresh on sandwiches. You can also add other great herbs into your diet like fresh basil, cilantro, oregano, and thyme.
Reshi mushrooms- These powerful mushrooms are great for fighting against inflammation and bronchial and respiratory infections. They also help to activate your T-killer cells (natural killer cells). You can take this in supplement form like this Other great mushrooms for immune boost are changa, shiitake, and turkey tail.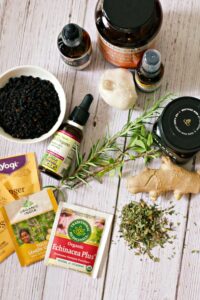 Top herbs to boost the immune system.
Echinacea-It is great for boosting the immune system. According to Dr Axe, it can reduce the chances of catching a cold by 58%. It can also fight viral respiratory infections, including the flu. Echinacea can Kill bad bacteria, and strengthen your lungs. This is most often found in a tea like this
Thyme– Although I mentioned thyme above this is a great herb that helps to support the immune system. Other great qualities of thyme are that it naturally fights cough and breaks down mucous.
Warming herbs – warming herbs like ginger, oil of oregano, cayenne pepper, garlic, Ceylon cinnamon, etc. These herbs are great for boosting the immune system and are full of antioxidants, anti-inflammatory, and antibacterial abilities. The honey elixir I have used for many years has many of these warming herbs in it.
Licorice root – Great for the immune system and is anti-inflammatory. This amazing root that you will see a lot in teas targeted for colds and flu is great for coughs and colds! This herb is also found in teas.
Elderberry-This remedy has been around a long time and it works! This berry has amazing immune-boosting effects. It is known to reduce the longevity of cold and flu symptoms and give relief. Elderberry has also been known to help clear up sinus infections. You can make elderberry syrup and it will save you money, or you can buy it here
Astragalus-One of the top immune-boosting plants that act as an anti-inflammatory.  This herb also helps to treat cold and flu!
Best Vitamins for the immune system
Vitamin C – Getting enough vitamin C is so important. Having a deficiency in vitamin C can cause the immune system to be weak. When most of us get sick, we first think of supplementing vitamin C. Vitamin C is a water-soluble vitamin found in fruits and vegetables. Because vitamin C is water-soluble is not so easily absorbed in the body. If large amounts are taken it can cause diarrhea. The answer? In my opinion, liposomal vitamin C which is vitamin C encapsulated by a fatty lipid is the best way to take this vitamin. In addition, this type of vitamin C has a fatty layer around it, it allows for the vitamin to be absorbed into the bloodstream. You can make liposomal C yourself or you can buy it here
Vitamin D3- Vitamin D also known as the sunshine vitamin is great for your immune system. I recently heard a doctor say we don't have cold and flu season, we have a vitamin D deficiency. Therefore, in the winter months when we can't absorb adequate amounts of D it may be good to supplement. You can get a vitamin D supplement here!
Zinc- This vitamin helps to support the immune system and is a powerful antioxidant. Zinc can help your body fight sickness or if you are already sick help speed up recovery. You can get zinc naturally from foods like pumpkin seeds, cashews, chickpeas, and more or you can take a supplement
Quercetin- This is a type of flavonoid found in foods like greens, berries, green tea, beans, and broccoli and so much more. The anti-inflammatory effects of quercetin help fight against infections and lower inflammation. Get some here!
Selenium- This amazing mineral is found in many foods like brazil nuts, mushrooms, sunflower seeds, grass-fed beef, and more. Having a deficiency in selenium can result in lowered immune systems and inflammation.
Beef Liver supplement- This is a great supplement that is great for immunity because it has vitamin A, zinc, COQ10, and more! Buy the one I have here!
Other ways to boost your immune system naturally.
Get good rest. Don't let your system get run down. Not getting an adequate amount of sleep can increase your chances of getting sick.
Eat a healthy diet-eating a diet that has plenty of fruits and vegetables is a must for a healthy immune system. Eliminate processed foods, fast food, and sugary foods.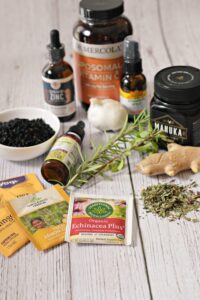 How can I boost my immune system fast?
Here are a couple of homemade elixirs I have found to work wonderfully over the years for me and my family.
Some meals I like to add to our diets to boost the immune system:
Disclaimer
This is a personal blog. Any views or opinions represented in this blog are personal and belong solely to the blog owner and do not represent those of people, institutions or organizations that the owner may or may not be associated within a professional or personal capacity unless explicitly stated.
Any views or opinions are not intended to malign any religion, ethnic group, club, organization, company, or individual.
All content provided on this blog is for informational purposes only. The owner of this blog makes no representations as to the accuracy or completeness of any information on this site or found by following any link on this site.
be liable for any errors or omissions in this information nor for the availability of this information. The owner will not be liable for any losses, injuries, or damages from the display or use of this information. Ask your doctor before incorporating any of these things into your diet or supplement regimen.
Elke is a participant in the Amazon Services LLC Associates Program, an affiliate advertising program designed to provide a means for sites to earn advertising fees by advertising and linking to Amazon.com.
Clicking on an Amazon link from Elke does not increase the cost of any item you purchase.
We will only ever link to Amazon products that we think our visitors may be interested in and appreciate learning more about.