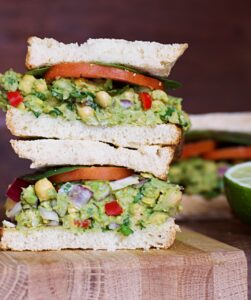 If you're looking to step up your healthy game, I've got the perfect sandwich for you! This chickpea salad sandwich with avocado, lime, red onion, jalapeno, and cilantro will take your sandwich game to the next level!
Most of us grew up eating cold cuts with processed meats or good old peanut butter and jelly sandwiches. While I've eaten my fair share of these types of sandwiches, there are way better options out there. Processed meats do have protein, but that protein comes with a cost. Processed meats have preservatives, high sodium, and nitrites. All these things sadly equal an increased risk of cancer.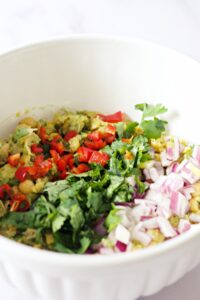 On our journey of living healthier and making better choices, great sandwiches like this chickpea salad sandwich are born. Not only are we skipping out on the nitrates, and processed foods, we are giving ourselves a good dose of healthy nutrients! Let's check out some of the benefits that chickpeas have.
What benefits will I get from this chickpea salad sandwich?
Chickpeas have high levels of B9, B6, and B1.
They also have minerals like manganese, copper, iron, and zinc.
Garbanzo beans are a great plant-based protein with about 24 grams of protein per can!
They are a good carb because the starch is digested slowly giving us sustained fuel.
Help you to stay full longer due to being high in fiber and protein.
They are alkalizing which can help to balance your pH.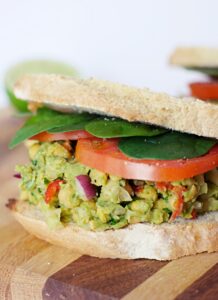 They are not only healthy but chickpeas are also really cost-effective! If you are looking to make lunch or dinner on a budget chickpeas are the way to go!
Chickpeas aren't the only healthy ingredient in this salad. You can feel confident knowing that the ingredients used to make this all have amazing health benefits!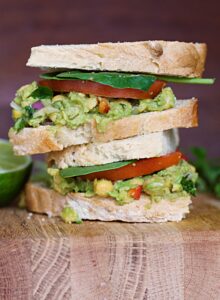 Making this recipe to your liking
We are big cilantro fans in our house, but I know some people hate it! If you don't like cilantro you can leave it out of this recipe. Also if you aren't a fan of spice just be sure to de-seed the pepper or you can replace it with red bell pepper.
I like to make this sandwich or any sandwich I make with this Crusty artisan bread
Need some side suggestions for this sandwich? Check out these recipes.
Nourishing cole slaw. This is one of my family's favorite sides. It's simple, refreshing, and super healthy!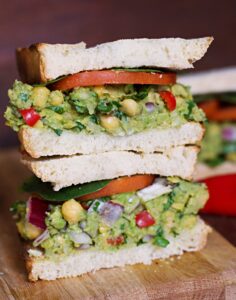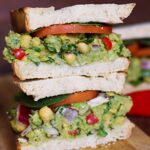 Print Recipe
Chickpea Salad Sandwich
This nutritious chickpea salad sandwich is high in protein, fiber, and good fat. Made with avocado instead of mayo for a healthy twist!
Ingredients
1

can

chickpeas

drained

1

small

avocado

¼

cup

red onion

diced

½

of a red jalapeno

de-seeded for less heat and chopped

¼

cup

fresh cilantro

chopped small

½

large lime

juiced

1

teaspoon

pink salt or sea salt

½

teaspoon

black pepper

toppings of choice like greens, tomatoes, etc...
Instructions
Open a can of chickpeas and drain. I like to pop off the clear "shell" that's over them and toss them. You don't have to do this, but it makes for a better texture.

Take a potato masher (or a fork would work) and smash about 80% of the chickpeas leaving just a few whole.

Cut the avocado and scoop both sides of it out into the bowl with the chickpeas and mix it in well until evenly incorporated.

Chop up the red onion, jalapeno, and cilantro and mix in well.

Squeeze the juice of half of a large lime and mix well.

Add the salt and pepper and mix well. Add more salt and pepper to taste if needed.

Serve on your favorite bread with your favorite toppings! You could also serve with crackers, or on top of a salad!