Are you looking for natural ways to treat or prevent infections from ripping through your house? In our house, we have always taken the more natural route. Sure, there are times we have gone to the doctor, but overall we use natural remedies. I feel that the medical establishments have moved away from what they should be. For example, did you know doctor means teacher? Sadly, I feel that doctors do more prescribing than teaching. I had a pediatrician that wanted to prescribe my son an antibiotic for a virus.  I politely declined and told him I would let it run its course. He went on to say it wouldn't hurt. I disagree. Antibiotics have their place but they also kill the good bacteria in your gut. Considering 80% of our immune system is in our gut we lean naturally when it comes to our health. This betadine mouthwash is a great place to start.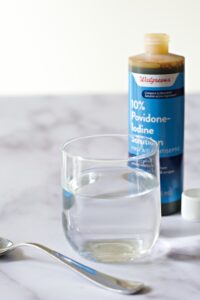 What is Betadine?
Betadine, also commonly called povidone-iodine, is an antiseptic used to help treat infections and also a disinfectant. Iodine is used as a disinfectant and used to kill harmful microorganisms.  Betadine is a compound that consists of hydrogen iodide with iodine and has been used since the 1950's. The betadine releases the iodine slowly.
You may remember as a child your mom or grandma treating wounds or minor cuts topically with povidone-iodine. My grandma always had it in our first aid kit. In hospitals, they use it as disinfection before surgery and to treat some wounds. Although betadine is widely known as an antiseptic for cuts and scrapes, in recent days it has been used to help prevent and control the spread of covid.
Common uses are:
Scrapes and scratches and skin infections.
Dental hygiene and oral fungus.
antiseptic before surgery.
Clean hospital equipment.
Skin and mucosal infections
Oral fungus
Is betadine the same as the supplement?
No. An iodine supplement is a natural supplement that you can find in sea water and in the earth. Povidone iodine is manmade and just contains iodine. Around 97% of people are deficient in iodine. Here is the iodine supplement that I take. Keep in mind that you should talk to your doctor and make sure you aren't allergic to iodine before taking the supplement or putting it on your skin.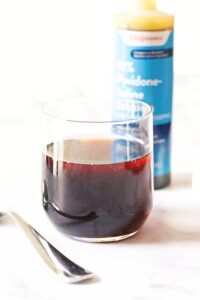 Could I be allergic to betadine?
Yes. If you are allergic to iodine.
How to dilute betadine iodine
You can go to your local pharmacy or buy the betadine or you can find it on Amazon (I found it much cheaper on Amazon). According to Dr. McCollugh take 2 teaspoons of the 10 percent betadine and mix it with 6 oz of water. Check out below for how to use the betadine solution once you get it mixed up.Buy betadine here!
How to use Betadine mouthwash
If you were out and about during the day or in a closed space where people were coughing and sneezing, you will want to come home and do this protocol. If you were in close contact with people like small office rooms or restrooms this would be good to do as a preventative. Maybe you have an itchy or sore throat. This is a protocol you would want to right away as an oral nasal decontaminate.  This is known as at-home early treatment. The viral load for covid sets in the nose and throat. Doing this will knock down the viral load.  Also, according to McCullough, this protocol doesn't just work for covid but other viral and bacterial infections too!
After you get the betadine and water mixed up, it's time to use it. This is actually really simple to do! If you have a bulb syringe start by sucking some of the mixture into the syringe spraying it into your nose one side at a time. After you spray it into your nose, snort it to the back of your throat then spit it out. I know this sounds gross, but this will decontaminate the nose. If you don't have a bulb syringe, you can do it the less effective way and swab some of the mixture up in your nose with a Q-tip. After you do this you will want to gargle with the rest of it in your throat and spit it out. You will want to continue this according to Dr. McCollugh every 4 hours. This betadine mouthwash will not stain teeth so no worries there.
Other immune boosters
Staying well or fighting off things quickly takes an overall approach to wellness. We don't just do one or two things but multiple things to stay well. Make sure to not leave out other immune system boosters. We want to be able to rely on our natural God-given immune system to knock out viruses. Our immune system is dependent on nutrition. If we can't get the proper nutrition we need through our food supply it's a good idea to supplement. When we aren't feeling well its tempting to want to grab quick processed foods instead of whole foods. Another good thing to eat is broths and soups. Of course, chicken noodle soup is a great go to! Here are some supplements that I take and are good to take to keep your immune system strong.
Vitamin D3
Quceritan
Vitamin C
Vitamin A
Zinc
This is the basic list of supplements to take, and the ones Dr. McCollugh speaks of. For a more in-depth list of what I like to take you can check out my post on how to boost your immune system naturally!
Nebulizing iodine for fighting viruses
Maybe you have heard about nebulizing iodine or peroxide to fight off viruses. After hearing Dr. Mercola and Dr. Brownstein talk about this treatment for covid or other viruses I gathered all the things to do it. I know this protocol may not be a popular one, but I have followed Dr. Mercola and others for 10-15 years and trusted their suggestions. Dr. Brownstein has successfully treated his patients with this remedy with wonderful success. I personally have had great success with natural remedies. There is a place for hospitals and Dr.s, but our first choice is natural.
For this, instead of using the povidone-iodine, I purchased some Lugol's iodine By Lugols iodine here.. I also bought some food-grade hydrogen peroxide (buy food grade peroxide) to avoid the stabilizers in the type you can buy from the store. I already had a nebulizer on hand. The way I did it was I nebulized 3 ml of saline with 1 drop of Lugols and 1 drop of hydrogen peroxide.
My daughter had gotten a cold that worked its way down into her chest. It sounded horrible, but I am not one to take them to the doctor unless absolutely necessary. I mixed up this solution and after I nebulized a little (I wanted to test it on myself) I gave it to her. By the next day, the deep raspy cough had improved by probably 70%. After I had her do it a second time I could tell she was on the other side of it!Buy a nebulizer here
I also had her gargle with the iodine. Thank goodness she could do it. I personally don't like the taste of iodine, so to me it was just gross. At the time I only had the Lugols, so that's what we used.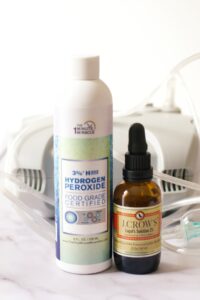 Possible side effects of betadine
Some possible side effects and reasons not to use betadine may be:
Skin irritation
Allergic reaction (history of allergies to iodine)
Under 2 years of age
Pregnant of lactating mothers should consult with a doctor.
People with Hashimoto disease shouldn't use iodine.
Cation should be used and you should always consult with your doctor.
Disclaimer
This is a personal blog. Any views or opinions represented in this blog are personal and belong solely to the blog owner and do not represent those of people, institutions or organizations that the owner may or may not be associated with in professional or personal capacity unless explicitly stated.
Any views or opinions are not intended to malign any religion, ethnic group, club, organization, company, or individual.
All content provided on this blog is for informational purposes only. The owner of this blog makes no representations as to the accuracy or completeness of any information on this site or found by following any link on this site.
be liable for any errors or omissions in this information nor for the availability of this information. The owner will not be liable for any losses, injuries, or damages from the display or use of this information.
Elke is a participant in the Amazon Services LLC Associates Program, an affiliate advertising program designed to provide a means for sites to earn advertising fees by advertising and linking to Amazon.com.
Clicking on an Amazon link from Elke does not increase the cost of any item you purchase.
We will only ever link to Amazon products that we think our visitors may be interested in and appreciate learning more about.
Betadine Mouthwash
This method know as the McCullough protocol is a great way to protect yourself from viruses.
Ingredients
2

teaspoon

betadine

10%

6

oz

filtered

water
Instructions
Mix the betadine and water well.

Gargel with this mixture and also use a nasal spray or syringe bulb to spray the mixture up your nose. Make sure to spit well!

Do this every 4-6 hours for a day or so after feeling first sign of sickness or exposure.
Notes