If you have been looking for a great way to preserve your eggs these jalapeno pickled eggs are amazing! The only problem? You may find yourself running to the fridge over and over to dig one out of the jar. They are just that good! You can find that you can adjust this recipe in so many ways to fit your taste and what your family likes. You'll have to be careful. Pickling can lead to more pickling, can lead to fermenting, and before you know it your counter is filled. It's a fun addiction. So, if you have some extra eggs laying around from your backyard chickens or you want to grab an extra dozen from the store, get ready. Let's pickle some eggs!

What is pickling?
Pickling is a great way of preserving brine made of vinegar and salt. It can also be called brining. When we hear the work of pickled we most often think of pickles, but the process of pickling can be done to most vegetables and even things like eggs and meat. This is different from fermentation which is done with salt and water brine. The fermentation process makes the end result taste vinegary. I love both, but in this post, we will focus on pickling and specifically pickling eggs.
How to make jalapeno pickled eggs
Making these eggs is really simple! The hardest part is truly boiling and peeling the eggs. Maybe some of you like peeling eggs, but not me. Making pickled eggs just takes a few simple steps.
First, boil and peel the eggs.
Second, make a simple brine of vinegar, water, sugar, salt, and spices.
Pouring the brine over the eggs.
Lastly, seal the jar and let the eggs set in the fridge.
Seems pretty easy right? It is, and it's well worth your time.

How to make boiled eggs.
We would all hope boiling eggs is just, well, boiling eggs. There are different ways to do it and here are just a few.
The first way we will talk about is my new favorite way to boil eggs. I have never done it like this until recently. For this method place your eggs in a saucepan and cover with water. Bring it to a boil then turn off the heat, cover, and let sit 12 minutes. Rinse with cold water for a couple of minutes, then peel. I found this to work perfectly.
The second way is to place eggs and then fill them with water just above the eggs. Bring to a boil, and then reduce to a simmer and simmer for 8 minutes. Cool eggs by running them under cool water.
For easier peeling, some suggest removing eggs from hot water and putting them immediately into an ice water bath.
For best results make sure eggs can fit in a single layer at the bottom of the pan.
Set a timer. I am really bad at this, but for consistent results, it's best to use a timer.
Older eggs are easier to peel. I have seen suggested if you have fresh eggs to leave them on the counter for a few days before hard-boiling.
Making the brine for pickling eggs
I've worked with my brine to make it "my" perfect, but you can adjust salt, sugar, and spices to make it your own. First, I like to use apple cider vinegar. One, it's healthier, and I think the flavor is better. Braggs apple cider vinegar is my vinegar of choice. If you aren't a big fan of ACV you can also use white vinegar. If you use white vinegar, I suggest getting organic.
Second, is your salt and sugar content. You may want your eggs more on the sweeter side. If this suits you better, you can taste your brine and add more salt or sugar for your taste.
Lastly, are the spices. For these jalapeno pickled eggs, I have added fresh jalapeno, black peppercorns, garlic, and red onion. There are other spices that would be great in these. Some other options are:
Pickling spice
Other hot peppers like habanero (which I would like to try in my next batch) or chilies. Jar jalapenos would also work if you don't have fresh.
Turmeric powder
Beet juice
Red pepper flakes
Fresh herbs like dill would be good or bay leaves.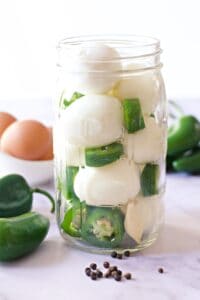 How long do pickled eggs last?
Pickled eggs can last up to 4 months in the fridge. You will want to wait about 4-7 days to eat them to make sure the eggs are good and pickled. Make sure that all parts of the eggs are kept below the brine. If you have to take an egg out of the jar to make this happen, just do it.
Even though pickled eggs will stay good for this length of time, always use your judgment. Your best judgment is your nose. If you think that something smells off, be safe and don't eat it.
For other preserving recipes check these out.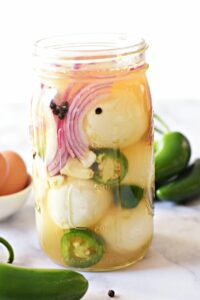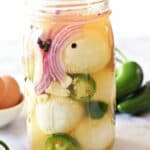 Print Recipe
Jalapeno Pickled Eggs
These simple-to-make jalapeno pickled eggs are the perfect high-protein delicious snack!
Equipment
1 quart wide mouth mason jar
Ingredients
10-12

eggs

depending on the size of your eggs

1

cup

apple cider vinegar

¾

cup

filtered water

1 ½

tablespoon

pink salt or sea salt

I would suggest not using table salt

2

tablespoon

sugar

1

teaspoon

black peppercorns

4

garlic cloves

2

jalapeno peppers

sliced

a few thin slices of red onion
Instructions
Hard boil your eggs. I like to use this method. Place your eggs in a saucepan and cover with water. Bring it to a boil then turn off the heat, cover, and let sit 12 minutes. Rinse with cold water for a couple of minutes, then peel. Or boil eggs with your own method.

Peel eggs and set in a bowl.

Slice your jalapenos, thinly slice some red onion, and peel your garlic cloves, and then hit them gently with the side of your knife to break them open.

In a saucepan over medium heat, heat water, vinegar, salt, and sugar. Bring to a simmer and stir until salt and sugar are dissolved. Turn off heat.

In a quart wide mouth mason jar layer in the eggs, peppercorns, garlic cloves, jalapeno slices, and red onion slices.

Pour hot brine over eggs and seasonings in the jar. Leave about a ¼ inch headspace. Make sure all eggs are under the brine for safety. Seal with a lid. It's best to use a plastic lid for this because of rust, but if you don't have one you can check for rust every week or so and switch lids when needed.

Refrigerate for about 4-7 days before eating for a well-pickled egg. Eat within 4 months.