By now many of us have tried alternatives to cow's milk. Almond, coconut, and oat milk are all delicious ways to swap them out. For me, it was an easy switch because I never really liked cow's milk, to begin with. Although it was easy for my husband and me, it's been a bit harder for my kids. Well, this just may be the simple solution. Homemade strawberry almond milk. It's creamy, a little sweet, and has a hint of vanilla. Simply the best!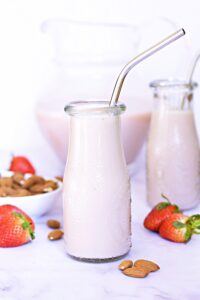 How to make strawberry almond milk
It's quite simple actually. You will just need a couple of things. First, a blender, and second, a cheesecloth or milk bag. I like a milk bag because they are easier to handle, but cheesecloth works fine too.
The first thing you will need to do is soak some plain raw almonds for a few hours or overnight in some filtered water. This will help to soften them up and make them easier to blend.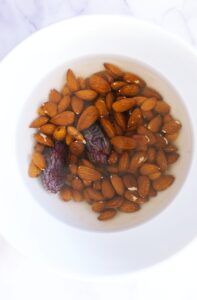 Once your almonds are soaked and ready to use. Put almonds, strawberries, pitted dates for sweetness, and a touch of vanilla and salt into the blender. Blend these ingredients until everything is blended up. After everything is blended well strain with your milk bag into a large measuring cup or a pitcher. Now you have creamy delicious strawberry almond milk.
Pretty simple ehhh?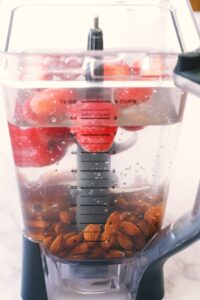 Is store-bought almond milk bad for you?
Yes, store-bought is always more convenient, but you will definitely compromise quality. If you are not an ingredient reader or wouldn't know what to look for if you did read the ingredients homemade is your best bet. Some of the most popular brands have added ingredients that are harmful to your health. Let's take a look at what may be in your almond milk.
Carrageenan – You may find this ingredient in nut milk, half and half, heavy creams, ice cream, and more. This horrible ingredient is linked to inflammation in the gut and even cancer. If your brand isn't adding carrageenan they may be adding guar gum which is better but can still cause some stomach irritation like gas and bloating.
Natural flavors– This ingredient is so irritating because it is in so many things. But, it's hard to find nut milk without it. Why is it bad? It's just a hidden way to make this ingredient sound good when really it's not. Natural flavors are similar to artificial flavors. It's made in a lab blending of hundred of compounds. According to Vani Hari, common additives may include glycerin, sodium benzoate, and more. These don't have to be labeled.
Sugars- I know lots of people that like sweet nut milk, but pre-sweetened nut milk is often too sweet. Adding your own sweetener is great because you can manage the amount you are putting in.
There are a few brands out there that are made without a bunch of added ingredients and are of good quality.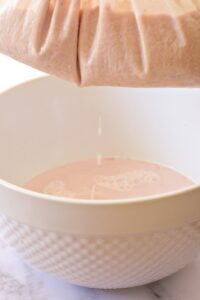 So, is almond milk good for you?
Making almond milk yourself is a game-changer. Making it yourself allows you to know exactly what's going into it. Almonds themselves have great benefits like fiber, plant protein, and almonds are rich in unsaturated fatty acids. This sounds pretty good for plant-based milk. Adding the strawberries, vanilla, and dates make this milk a delicious and nutritious treat for both kids and adults.
Are nut milk better than dairy milk?
I think the big switch in the last few years is because first of all a lot of people are allergic to dairy or have sensitivities. Cow's milk can cause some issues that maybe you would relate to dairy and maybe you wouldn't. Let's look at some of the common things that one may experience with dairy products.
Bloating due to digestion issues. Other digestion issues could be cramps, diarrhea, and nausea.
Less mucous production. Milk can stimulate mucous production and is said to be associated with asthma.
Did you know ditching dairy could help to clear your skin? Getting rid of dairy and taking a probiotic can help to clear up acne.
Dairy can increase inflammation and decrease the power of the immune system.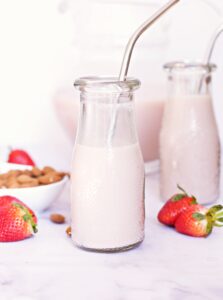 However, dairy-free milk can be anti-inflammatory and have many other health benefits. My favorite dairy-free milk is almond, homemade coconut, or cashew milk.
Although we have not cut dairy out of our diet, we have reduced the amount of dairy. I like to enjoy things like milk alternatives in my smoothies and coconut milk yogurt. We try to incorporate a vegan meal into our line-up at least one time a week. Some of my favorite vegan meals that I absolutely love are:
Chickpea Curry stew. I love this meal. It's full of flavor and it's so filling!
Nourish bowls are so much fun to eat and the tahini sauce gives a great punch of protein!
What I use to make almond milk.
It doesn't take much equipment to make plant-based milk. You will just need a couple of key things. Here's what I use.
Blender or Nutri-Bullet. Any type of good blender will work. I have a ninja( buy it here ), but any type you have should work.
Cheesecloth or milk bag. A milk bag is my preference but a cheesecloth will also work. Milk bags make it easier to keep the almonds or whatever you're straining from coming out. Where cheesecloth is a bit harder to keep ahold of. Here is the nut milk bag I have Buy it here!
Raw almonds. You want to use just plain raw almonds. You will be soaking them, so you don't want them to be roasted or salted.
Dates. Make sure not to just get any old date, but a Medjool date. These dates are sweet and caramelly and so delicious! If you would like to substitute for a different sweetener like maple syrup or honey.
I hope you enjoy this creamy, delicious strawberry almond milk as much as we do!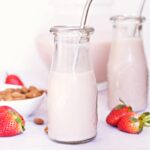 Print Recipe
Strawberry Almond Milk
This creamy strawberry almond milk is easy to make and is a delicious treat!
Ingredients
1

cup

raw almonds

12

strawberries

more or less according to your taste.

6

Medjool dates

remove pits

2

teaspoon

vanilla extract

pinch of pink salt or sea salt

6

cups

filtered water
Instructions
Soak 1 cup of almonds and the pitted dates in a bowl with warm filtered water. You can use cold water but you would need to soak them for about 6 hours or overnight.

Clean strawberries and remove the green ends.

Strain and rinse the soaked almonds and dates. Then, with a blender add soaked almonds and dates, 6 cups of filtered water, prepared strawberries, vanilla and salt.

Blend on high for about a minute or two.

Taste and adjust vanilla or sweetness to your liking. You could also use honey or maple syrup to sweeten.

Place your milk bag or cheesecloth in a large bowl. Pour the contents of the blender into a milk bag and strain into the bowl. Pour from the bowl into a pitcher.

Keep refrigerated for about a week.
Elke is a participant in the Amazon Services LLC Associates Program, an affiliate advertising program designed to provide a means for sites to earn advertising fees by advertising and linking to Amazon.com.
Clicking on an Amazon link from Elke does not increase the cost of any item you purchase.
We will only ever link to Amazon products that we think our visitors may be interested in and appreciate learning more about.