The immune system is key to our overall health. What we put in our bodies is one of the best ways to support a healthy immune system. Our bodies depend on the nutrition we put in. In short, we are what we eat. Juicing can be an easy and quick way to get concentrated nutrients into your body. This immunity juice will boost and support a healthy immune system.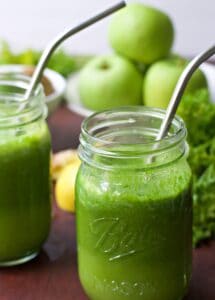 How to make immunity juice
First, you will need a juicer. Some people think if they have a Vitamix or some other type of blender, the results of juicing and blending will be the same.
First I want to say that while blending and making smoothies are wonderful, and have their own lists of benefits, blending and juicing are very different. Appliances like Nutri-Bullets and Vitamix are wonderful to have (I use my Nutri-bullet daily) but, this is NOT juicing because it doesn't remove the fiber for quick absorption.
Centrifugal Juicer- Processes juice by spinning quickly at a high speed. These juicers are less expensive, and you get less juice. The high speed can also destroy some nutrients. However, these juicers are cheaper and can be a great place to start if you have never juiced. I'm pretty sure we went through 4 of these through the years. We had 2 Hamilton Beach Check out a Hamilton Beach juicer Here (one I got at a yard sale) a Breville Buy a Breville juicer here , and a Jake Lalanne.Buy Jack Lalanne Juicer here. These juicers were ok, but far from great. They will let you know if you WILL juice.
Masticating Juicer- Processes the juice at a low speed and cold presses the juice which minimizes oxidation. With this type of juicer, you can ensure you are getting live enzymes and nutrients.  You get a lot more juice, and the pulp is a lot dryer. The slow juicer we have is the Tribest Slowstar Vertical Juicer and we love it Buy the juicer I use here. I read lots and lots of reviews, and I went with this one for the slow motor, easy cleanup, and vertical body style. The Omega Juicer is also very popular among slow juicers and is known for its ability to juice greens well Buy an Omega juicer here.
Once you have a juicer, juicing is easy! You can feed your ingredients through the juicer and enjoy the benefits!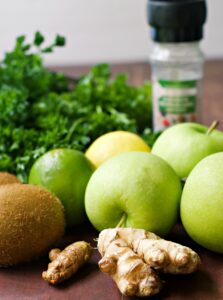 Benefits of Juicing
You can consume large amounts of fruits and veggies! Most of us aren't going to eat 8-10 whole carrots or a cup of parsley. When we juice all these veggies and fruits we are allowing our bodies to receive a large number of micronutrients (which are essential for normal growth, muscle growth, muscle response, digestion, production of hormones, and metabolism of nutrients) phytochemicals, (made by plants to protect against aging, infection, cancer, and disease) and live enzymes, (comes from food that is alive) and stimulates vital chemical reactions in virtually every life process! Cooked and processed food contains no live enzymes!
High in antioxidants– These antioxidants help your amazing body to fight against and lessen the effect of free radicals.  Free radicals are linked to disease and aging!
Cleansing and detoxifying– Juicing, especially greens, with chlorophyll, helps produce hemoglobin, which in turn helps produce oxygen for cells( and remember cancer lives where there is no oxygen in cells)  and produces energy. Chlorophyll is powerful for detoxification, infections, cancer, skin conditions, alkalizing the body, treating constipation and gas, helping prevent kidney stones, and more! Getting enough chlorophyll can be tough. Juicing can help to make this possible!
Quick Nutrient absorption-  Some people think that juice is wasteful because it separates the juice from the fiber. Because juice removes the fiber, it causes the body to bypass the long digestive process, and will, in just minutes, go directly to the cells and allow them to absorb the nutrients.  In turn, people with conditions like IBS, Chrones, etc… that can't tolerate a lot of raw veggies, can process juice.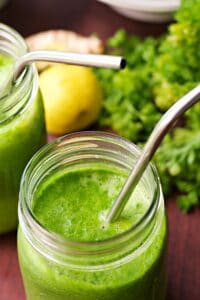 Immunity juice benefits
This juice is full of immune-boosting properties. Let's take a look at these ingredients and how they can fight inflammation,
Granny smith apples– these apples have less sugar and high levels of antioxidants, and aid in digestion. Some studies have also shown green apples may help the body detox. They also improve immunity with high levels of vitamin C.
Ginger– Ginger has powerful medicinal properties. It is great for fighting inflammation, improves circulation, and helps to clear the sinuses. It can also ease a sore throat! Ginger is a powerful antioxidant!
Turmeric– Tumeric is amazing at fighting inflammation. It is also a decongestant and speeds wound healing. It also helps to detox the body. I also added black pepper at the end to activate the turmeric and make in bioavailable to the body.
Parsley– Great for inflammation, poor immunity, and oxidative stress or free radical damage. It is a high source of antioxidants and is very high in vitamin C.
Lime– This little green fruit will boost your immune system. They have high levels of vitamin C. In fact, just one gives you about ⅓ of the vitamin C you need in a day. They also have plenty of antioxidants which protect your immune cells and help to fight off infections
Lemons– Lemons also are a great source of vitamin C and help to improve immune health. They are an antioxidant powerhouse. They contain quercetin to help fight pain and relieve inflammation.
Kiwi – Very high in vitamin C (even more than oranges). Antifungal and antibacterial capabilities.
Other posts to help with colds and flu!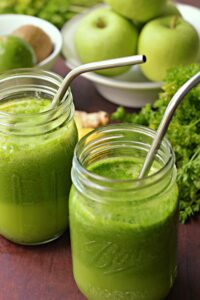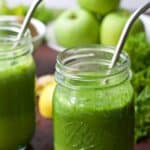 Print Recipe
Immunity Juice
This immunity juice will help to fight off colds and viruses. It is packed full of vitamin C and inflammation fighters!
Ingredients
1

bunch

parsley with stems - about 2-3 cups

washed

4

granny smith apples

2

inches

ginger root

1-2

inches

turmeric root

½

large

lime with skin

½

large

lemon with skin

4

kiwi

washed but you can leave the skin on

a couple of grinds of black pepper to activate the turmeric.
Instructions
Wash all produce and cut what is needed for your juicer.

Feed the produce through the juicer.

Grind the black pepper into the juice at the end and stir.

See recipe notes for tips!
Notes
If you are wondering if you can store this juice and drink it later, you can. Fill a glass jar with the leftover juice all the way to the top and seal with a lid. Store in the fridge for a day or two. 
If you don't have a juicer, see the post for examples of juicers.