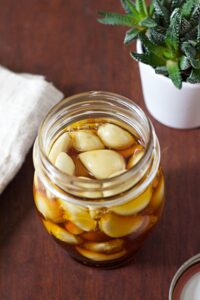 Garlic, yum…..honey, yum…..Put these two superfoods together and you get an awesome cold and flu remedy, and the amazing benefits of fermentation! fermented garlic & honey!!
Most of us love garlic and know it for the healing food that it is. We love cooking it in our dishes, but raw, fresh garlic is superior when it comes to the benefits. The majority of us can't just snack on raw garlic cloves, and even if we could, we would probably have the smell following us around for a couple of days…….nobody wants that.
How to ferment garlic
Fermenting garlic is easy! This ferment is just two ingredients. Although many people are hesitant to ferment, fermenting vegetables has been around for many years. For this ferment, you need a clean glass jar, raw organic garlic cloves, and local honey. That is all you need! Make sure your jar is clean, add the peeled garlic, then cover the cloves with honey. The honey is thick at first but will thin out over the next few days. In the first few days when the honey is thick turn your jar daily to ensure the cloves are covered with honey. After the honey starts to thin, you can just give it a shake and then return it to a dark cool place. Burping the jar to relieve pressure in the first couple of weeks will be necessary. Just release any air then re-tighten the lid.
How long do I let the fermented garlic set?
I like to let it set for 6 months or longer. If you want to try the garlic out before that they will have a bite to them and be pretty strong. The longer they set the more they will taste just like candy. After the garlic is gone use the leftover garlic to take medicinally or use it to cook with!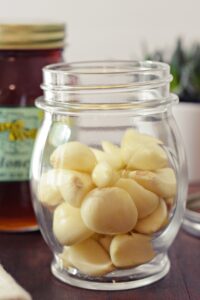 What are the benefits of fermented garlic & honey
Garlic:
Garlic helps the body detox by removing heavy metals which in turn helps prevent colds and even aging.
It helps fight cancer (in particular cancers like lung, colon, and breast) and helps fight tumor growth.
This amazing vegetable helps protect against bacterial and viral infections.
Improves digestion.
Boosts immune system.
Natural antibiotic.
It helps lower blood pressure and cholesterol.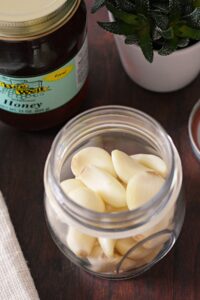 Local raw honey benefits
Soothes cough.
Reduces symptoms associated with allergies.
Boosts the immune system.
Blood sugar management.
Anti-bacterial.
As you see these two ingredients have great benefits, especially through the cold and flu season! This Fermented Garlic & Honey is simple to put together and should be on your list of things to make to prep for the winter months.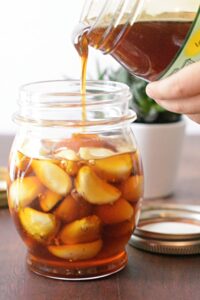 The best uses of fermented garlic & honey
Given the amazing benefits of both honey and garlic. At the first sign of a sniffle or you feel like you are getting the flu, you can eat a clove and take a teaspoon of the honey. If you aren't a fan of eating them plain. You can add honey or garlic to a homemade salad dressing or raw sauce. You could drizzle some of the honey on some delicious homemade crusty artisan bread or other savory or sweet foods!
Remember to find good-quality organic garlic. Some conventional garlic comes from China and is sprayed with harmful pesticides and could even be bleached so sprouting can't occur. 
Also, be careful of store-bought honey which is mostly highly processed, and may have hidden ingredients like corn syrup!!! Yuk!!
For other remedies to keep healthy try Honey Elixer!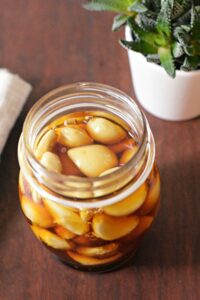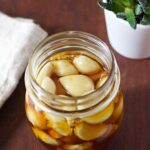 Print
Fermented Honey & Garlic
Garlic, yum…..honey, yum…..Put these two superfoods together and you get an awesome cold and flu remedy, and the amazing benefits of fermentation!
Instructions
Peel garlic by placing garlic under the flat part of a wide knife and hitting it gently. The peels should come off pretty easy, or place garlic in a jar with a lid and shake until garlic peels begin to loosen, then peel.

Use enough garlic to fill your small mason jar about ¾ the way full.

Pour local honey over until it just covers the garlic.

Place in a cool dark place, and turn or shake daily to make sure garlic is coated with the honey so mold doesn't grow.

Burp if necessary. (You may need to do this the first few weeks, but then it gets less active as it goes along.)

Do this for a month or up to a year. (I have some almost a year old, and it tastes like candy!)
Notes
After a week or two, you will notice the honey will get thinner because of the liquid being released from the garlic, and the garlic will start to sink rather than float. When it sinks you no longer have to shake or turn daily. 
You can eat a clove a day at the first signs of a cold.
Babies should not have honey until they are over a year old.
If you have a concern for botulism, do your research and test the PH level, although the average PH of honey is too acidic for botulism.
You could also consider adding a teaspoon or 2 of ACV, which can also reduce the chances of botulism.
Enjoy, and be healthy!!!
Elke/ is a participant in the Amazon Services LLC Associates Program, an affiliate advertising program designed to provide a means for sites to earn advertising fees by advertising and linking to Amazon.com.
Clicking on an Amazon link from Elke does not increase the cost of any item you purchase.
We will only ever link to Amazon products that we think our visitors may be interested in and appreciate learning more about.